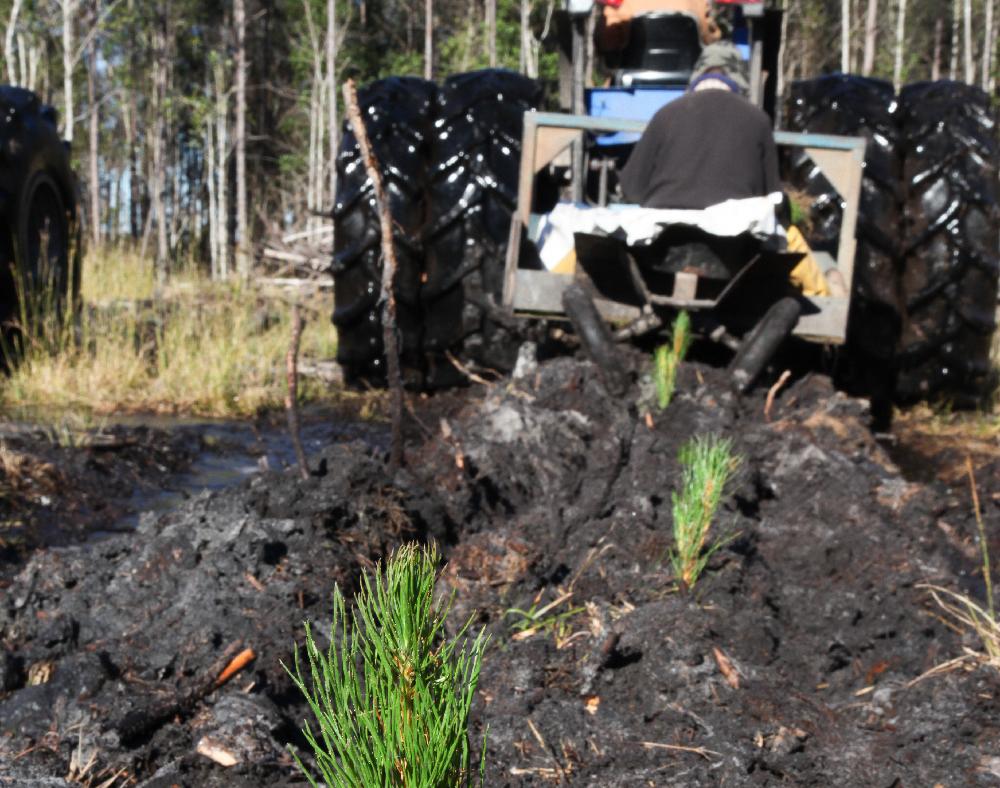 Are you planning to plant pine trees this coming year? If so you need to go ahead and start preparing now to ensure that you are fully prepared to get your trees planted. This is a large investment of money and time that needs to well planned and thought out. When a land owner plants pine trees they are making a 15-50-year commitment that needs to be done properly to ensure a proper stand of timber when it is time to harvest the trees. Landowners need to do their homework ahead of time. I like to tell clients that you are going to pay for it one way or another. If a land owner does things properly it might cost a few extra dollars, but it will pay for itself in the end as opposed to cutting corners that will come back around to bite you down the road in replant costs or lower stand counts that would mean less timber at harvest time.  
Landowners need to know what their goal for the timber is. Do you want to plant fast growing loblolly so that it can be cut in 15-20 years or do you want to plant a slower growing tree like longleaf for pine straw and then cut in 40-50 years? If you are planting longleaf sometimes growers need to book seedlings 1-2 years in advance of planting to ensure they can get seedlings when it is time to plant. Loblolly seedlings are usually available most of the time, but you should still book your seedlings 6 months to 1 year in advance.
Site preparation is the next thing to consider. A preplant herbaceous weed control application is recommended during the last week of August to the first week of October (September 15th is the sweet spot). This is the best time of year to make a site prep application because most perennial plants are transitioning into winter dormancy. The brush and weeds will be moving energy into reserves near the root system during this time of year, and the herbicides will be delivered down to the root also providing better weed control. Land owners should be working on lining up a forestry spraying service to make this application for at least 2-3 months in advance of September, but if you can get on someone booked earlier I highly suggest it.
Next thing to consider is who will be planting your trees? There are custom tree planting services, but landowners need to get on the list early. Let's say you have everything lined up to plant in early November, but it is too dry to plant so you have to wait a few weeks. Then rains a lot and you have to wait another couple of weeks, it could be December or January before they can plant your trees. If you are the person at the end of the list your trees might not get planted this year or they get planted late. The earlier your trees can be planted the longer period of time they have to cut new roots and the better chances they will have for survival for the next growing season.
An additional herbaceous weed control spray is another way to help your trees make it through their first growing season. This application is usually done in March or April in the spring following your trees being planted. This weed control spray is very important because weeds can rob essential nutrients and water from young seedlings. This helps provide greater survival and increase overall growth of the pine seedlings.
If you read this article and feel like you would want some assistance or just more information on this topic please contact the Evans or Candler County Extension Office and we can assist you with getting the right information so you can be prepared when you get ready to plant your next pine trees. Contact the Evans  County Extension Office at 912-739-1292 or the Candler County Office at 912-685-2408.