The amount of precipitation in Colquitt County over the last seven days is shown below (4-8-22).
Due to rainy field conditions, corn planting, land preparation, and burndown herbicide applications have all been paused. The corn crop is in various stages of development, from newly planted to V3. The wheat crop ranges from early heading to Feekes Stage 10.5.3. Wheat growers have been applying fungicides to wheat for head blight.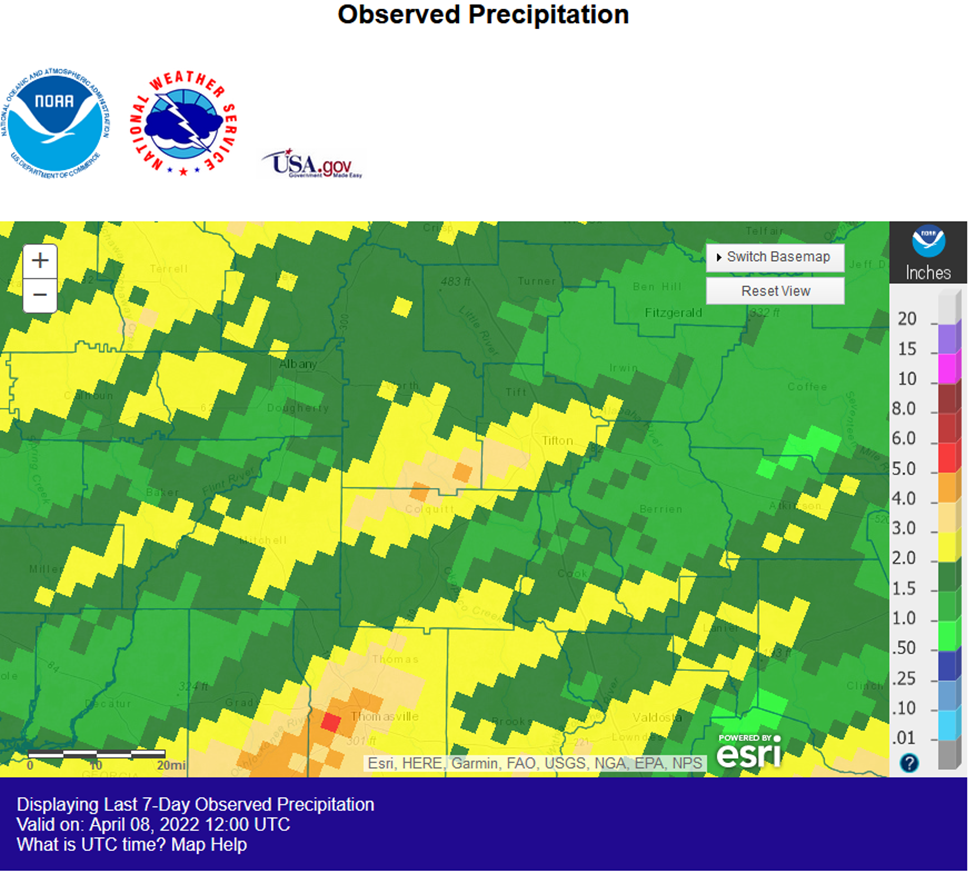 Is there a new Peanut RX available for the 2022 peanut season?
Why yes these is an updated Peanut RX for the 2022 peanut season. If is available HERE.
The Peanut Disease Risk Index, developed by researchers and Extension specialists at the University of Georgia, the University of Florida, and Auburn University, is officially known as "PEANUT Rx". It allows growers to assess their risk to tomato spotted wilt, leaf spot diseases and white mold. Check it out.
How late can we plant corn?
Generally speaking, yields decline at a rate of ¾ bushels per day as you progress later
in the planting window and can rise to about 2.5 bushels per day when planting after the optimal
window. If corn planting is delayed into the summer yield losses become much more dramatic.
Studies in Tifton indicate that stress and disease tolerant hybrids planted under irrigation in late-
May to early June only yield approximately 50% of mid-March to early-April plantings.
How do I do a corn stand evaluation?
Growers often ask about evaluating corn stands for plant populations. An easy way of doing this is the "1000th of an Acre method". Depending on your row spacing, count the plants at a designated distance down the row in various spots in the field. Table 5 below illustrates the length of row required for 1/1000th of an acre at common corn row spacing in Georgia. For example, if you plant corn on 38-inch rows then measure 13 ft, 9 in. If you count 33 plants in that distance then that equals a plant population of 33,000 per acre.

How much does early season weed competition decrease corn yield?
According to Dr. Eric Prostko, research has shown that weeds that emerge just prior to or at the same time as corn crop cause greater yield losses than later emerging weeds. Consequently, the use of effective weed control programs from 20 to 45 days after planting (DAP) usually prevents yield losses due to weed competition. Weeds that emerge 45 DAP will likely not cause competition-related yield losses but can have a negative influence on seed quality and harvest efficiency (i.e. annual morningglory). Other research has shown that corn can tolerate a certain level of weed pressure and that control strategies should only be implemented when the potential yield losses caused by the weeds exceeds the cost of control (i.e. economic threshold concept). Below is data that illistrates corn yield loss (%) caused by uncontrolled weeds in Eric's research trials from 2007-2021.