Ryegrass is the greatest weedy threat to wheat production in Georgia. Most ryegrass escapes are a result of 1) planting into fields already infested with emerged ryegrass and/or 2) making herbicide applications after the ryegrass is too large to control. However, herbicide-resistant ryegrass has become common with numerous populations being confirmed with resistance to Osprey, PowerFlex, Axial XL, and Hoelon. Ryegrass will likely achieve resistance to herbicides quicker than any other plant, even Palmer amaranth. Aggressive resistance management programs must be implemented; ignoring this warning may destroy long-term sustainability of grain production in a given field. Proper management includes planting into a weed-free seedbed, growing a healthy vigorous crop, identifying and treating ryegrass early (Tables 1 and 4), tillage including deep turning when feasible, crop rotation, and making wise resistance management decisions (Table 2).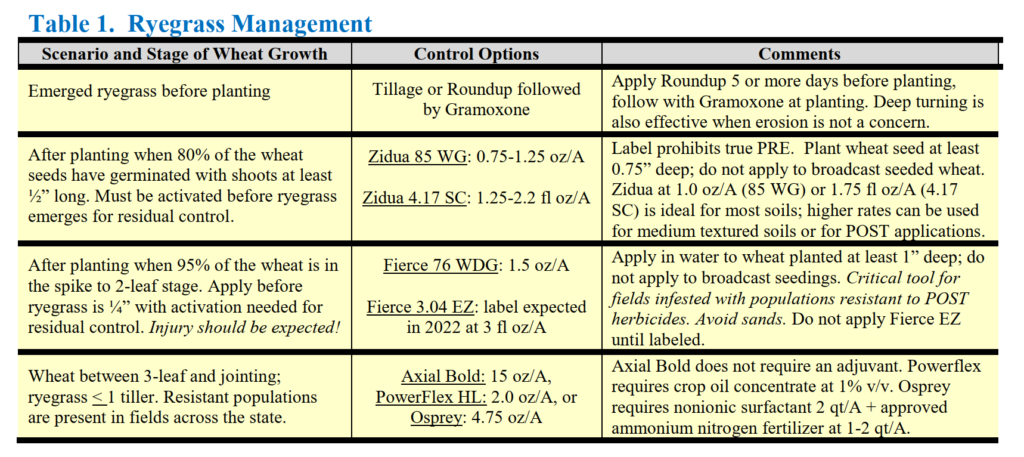 Table 2. Critical Thinking Points for Ryegrass Control
ABSOLUTELY NO ryegrass emerged when planting.
2. For normal developing wheat, postemergence ryegrass herbicides should be applied around Christmas.
3. Suggest not mixing ryegrass herbicide(s) with 2,4-D, MCPA, Quelex, or NITROGEN as antagonism can occur!!!
4. Zidua must be activated before ryegrass emergence but label does not allow preemergence application.
5. Fierce must be activated prior to weeds reaching ½ inch; be prepared for some crop injury.
Wild radish is the most problematic broadleaf weed infesting nearly every Georgia wheat field (pictures above). Its seedpods often contaminate harvested grain thereby reducing profits. The seedpod usually does not shatter, but instead, dries down and fragments into small sections. These seedpod sections are very close in size and shape to wheat seed and are difficult to remove in cleaning (below). Managing wild radish in wheat is not difficult if
timely control decisions are implemented (Tables 3, 4, & 5)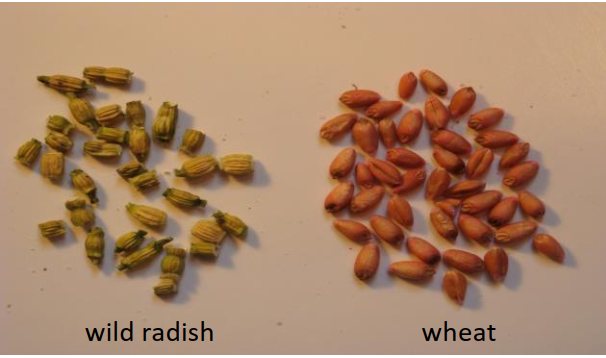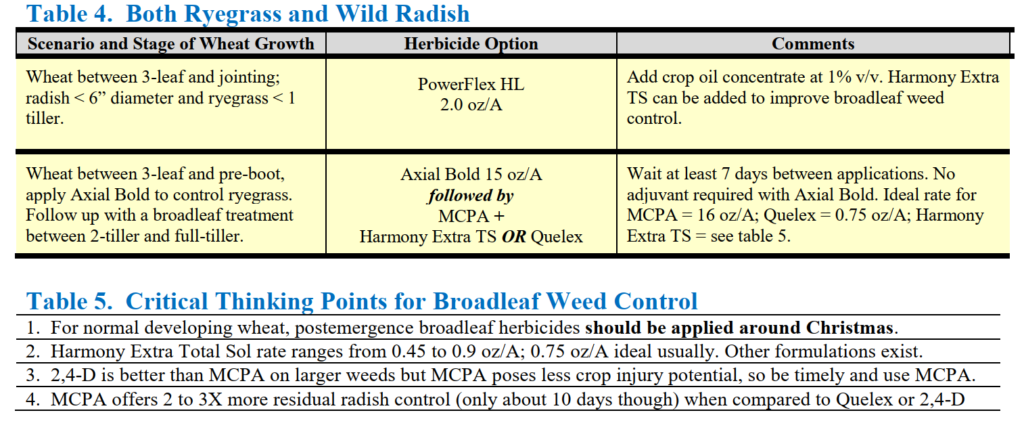 If you have any questions about weed control in wheat please contact your local county Extension agent.