Row Crop Disease Management Meeting:  There will be a row crop management disease management meeting at the Colquitt County Extension office on June 18th at noon. Dr. Bob Kemerait, UGA Plant Pathologist, will be hand to give growers an update on peanut soileborne programs, southern rust management in corn, and other row crop disease issues.  If you are interested in attending please contact Judy at the Colquitt County Extension office at 229-616-7455 or email me at jkichler@uga.edu  .
Cotton:  I have been getting some questions about Tarnish Plant bugs.  When scouting for plant bugs check one fruiting position per plant and examine where the tiny square should be located. Scouts should check to see if it is a normal, healthy green square and firmly attached to the plant.   Below are thresholds for plant bugs according to Philip Roberts.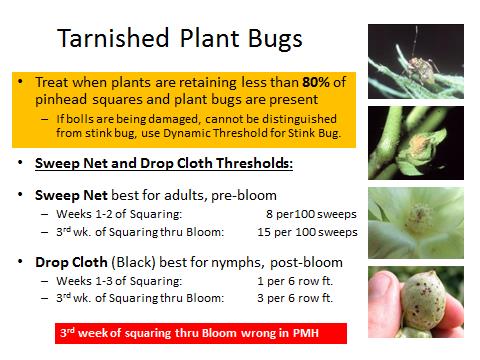 Peanuts:  Below are some comments from Dr. Eric Prostko, UGA Weed Specialist, about Cadre applications following cracking sprays.
1) Generally, Cadre almost always looks better after an EPOST (i.e. at-crack) application of paraquat + Basagran or Storm and this would be my preferred recommendation in most cases (Figure 1). With that said, there are some exceptions when paraquat + Basagran or Storm may not be justified including the following:
a) Irrigated fields that have been treated with a Prowl or Sonalan + Valor (+/- Strongarm) and these residuals are working well.
b) The only weed present is nutsedge.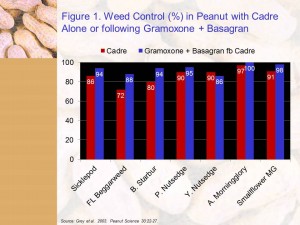 Corn:  Southern Rust was found in Mitchell County late last week, according Dr. Bob Kemerait, UGA Plant Pathologist. Bob, says that this is the EARLIEST find of southern corn rust in his 15 years in Georgia.  Corn growers in south Georgia should be very much aware NOW that rust is here.  Current weather patterns increase the risk.  At this point any irrigated field corn with good yield expectations and that is at tassel or beyond is a good candidate for treating with a fungicide. Corn approaching tassel is also certainly at risk.  NOTE:  do not mix an adjuvant or crop oil with the fungicide if prior to tassel stage.
Also, irrigation requirements for corn increase at tassel time.  Below is a table showing water requirements for corn at tassel until milk stage of development. To effectively schedule irrigation, determine soil moisture conditions in the rooting zone frequently and keep a record of your findings. Devices such as soil water potential sensors can be used to monitor water use and increase water-use efficiency by more accurately helping to schedule irrigation.
Water Requirements of Corn from Tassel until Milk Stage of Development in inches per day.
Tassel emerging, ear shoots elongating
0.31 in/day
Pollination and Silk emerging.
0.32 in/day
0.33 in/day
Blister Stage
0.33 in/day
Milk Stage
0.34 in/day
Below is corn in Colquitt County late last week in the pollination stage of development.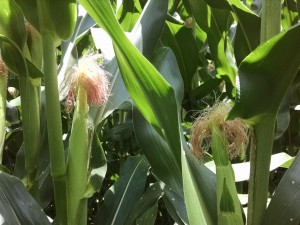 GA-FL Tobacco Tour:  See the GA – FL Tobacco Tour Schedule and Directions on our website at https://www.caes.uga.edu/commodities/fieldcrops/tobacco/tours/index.html
Jeremy Kichler
County Extension Coordinator
Colquitt County