March 2019 was near normal in temperature across the state, but almost all areas received much less than the normally expected rainfall, leading to an expansion in abnormally dry conditions in the southern half of the state as well as the introduction of some moderate drought in the southeast. A widespread severe weather outbreak on March 3 caused a number of injuries due to tornadoes and strong winds.
In Atlanta, the monthly average temperature was 55.4 degrees F (1.1 degrees above normal), in Athens 53.5 degrees F (0.8 degrees below normal), Columbus 57.7 F (0.1 degrees below normal), Macon 50.8 F (2.8 above normal), Savannah 60.5 F (1.3 above normal), Brunswick 62.1 F (1.8 above normal), Alma 60.4 F (0.2 above normal), Augusta 57.0 F (1.1 above normal), Albany 60.3 F (1.1 above normal), Rome 52.2 F (0.1 above normal), and Valdosta 59.9 F (0.2 degrees below normal).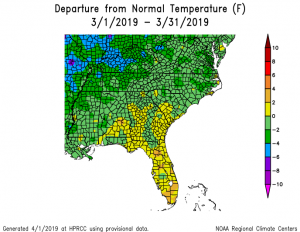 No temperature records were broken in March 2019 across the state.
Precipitation was drier than normal across most of Georgia in March 2019 with the exception of counties along the northern border. The highest monthly total precipitation from National Weather Service reporting stations was 5.18 inches in Rome (0.23 inches above normal) and the lowest was in Macon with 1.52 inches (3.03 inches below normal). Atlanta received 2.17 inches (2.64 inches below normal), Athens received 2.09 inches (2.34 inches below normal), Columbus 2.46 inches (3.00 below normal), Savannah 1.70 inches (2.03 below normal), Alma 1.67 inches ( 3.08 below normal), Brunswick 1.76 inches (2.12 below normal), Augusta 2.23 inches (1.95 below normal), Albany 2.60 inches (2.45 below normal) and Valdosta 3.11 inches (1.76 below normal).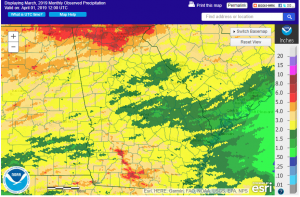 No precipitation records were set in Georgia this month.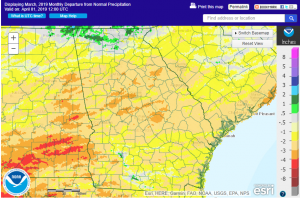 The highest daily rainfall total from CoCoRaHS observers in March was 3.27 inches observed north of Fitzgerald in Ben Hill County on March 4, followed by 2.81 inches measured near McRae in Telfair County on the same day. The highest monthly amount was 7.48 inches measured northwest of Ellijay in Gilmer County, followed by 6.88 inches measured in Rabun Gap in Rabun County. No snow was reported in March.
The low precipitation amounts led to the expansion of abnormally dry conditions across the southern half of the state along with the development of some moderate drought west of Savannah.
Severe weather occurred on six days in March. The vast majority of it occurred on March 3 in a widespread outbreak of strong winds, hail and tornadoes that stretched from Alabama across the southern half of the state. Numerous tornadoes were observed, and at least nine injuries were caused by the storms, including seven in Talbot County and one each in Liberty and Crawford Counties. An additional tornado was observed on March 14 east of Cove Springs in Floyd County. One of the tornadoes came within 200 feet of the University of Georgia weather station in Cairo, GA, which measured a wind gust of 102 mph as the tornado formed nearby.
Wet soils diminished during the month and soil temperatures rose, allowing the start of corn planting in southern parts of the state. Some producers noted that dry conditions were causing problems with forage production. Some livestock producers were feeding hay to their cattle to make up for the poor pasture conditions. The dry conditions also made it hard for newly planted seeds to germinate and get established. Frost in the first half of the month caused some limited damage to peaches and blueberries.
The outlook for April 2019 and for the April through June period shows that the temperatures for the next three months are expected to be warmer than normal. Precipitation leans slightly towards wetter than normal conditions in April, especially in southern Georgia, but a stronger wet signal is seen in the April through June period. If wet conditions occur, then the current dry conditions would be expected to go away as we get deeper into the growing season.
For more information please see the "Climate and Agriculture" blog at https://site.extension.uga.edu/climate/. We are also on Facebook at SEAgClimate and on Twitter at @SE_AgClimate.  Please feel free to email your weather and climate impacts on agriculture to share on the blog to pknox@uga.edu.