Georgia experienced many different weather and climate patterns in 2018. Here are five that stand out for their impacts on the state, listed in more or less chronological order.
Snowy January
Two different snow storms affected parts of Georgia in January 2018. Early in the month, snow fell in a swath across southern Georgia, bringing 3.0 inches to Alma (the first snow ever on that date, and the second highest daily snowfall on any date) and 1.2 inches to Savannah on January 3. This was Savannah's highest snow since 3.2 inches on December 23, 1989. On January 17 a separate storm brought snow to northern parts of the state, with Atlanta receiving 2.4 inches, Columbus 2.0, Athens 1.1 and Macon 1.0 inches, all record snowfalls for that date.
Record-setting warmth in February setting up for March frost
The month of February set new records for heat around the state, with every National Weather Service station reporting a temperature at least nine degrees warmer than normal. Numerous daily high temperature records were set during the month. The warm temperatures caused an early break in dormancy in flowering trees and shrubs, including some fruit trees and early blueberries. When colder temperatures returned in March, frost nipped blooming plants, resulting in reduced yields in some blueberries and peach trees for a second straight year.
Near-record wet year
Above-normal precipitation fell in most months of the year, resulting in annual totals which are expected to be in the top five wettest years on record for most stations in Georgia. The associated wet soils, cloudy conditions, and high humidity caused nighttime temperatures which were much warmer than normal and contributed to record-setting strings of days with high dew point temperatures. Athens set a record for 19 days in a row of measurable precipitation from May 15 to June 2. The wet conditions delayed spring planting and also delayed fall harvest at many locations across the state.
Hot early fall
A strong high pressure system centered over the Southeast from late August to mid-October caused record-setting high temperatures as well as a string of dry days across the region. The dryness and heat led to the development of moderate drought across eastern parts of the state by mid-September which lasted until early December, although it never covered more than 9 percent of the state's area. The dry conditions caused problems with establishment of winter grains and pastures but provided some temporary relief from the wet soil caused by ample rain earlier in the year.
Hurricane Michael and the tropical season
Georgia was slightly impacted by the indirect effects of Subtropical Storm Alberto in June, Tropical Storm Gordon in early September, and Hurricane Florence in mid-September, as each of these storms grazed the state, bringing moderate rainfall to different parts of the state. But by far the biggest impact during the tropical season came from Major Hurricane Michael, which traversed the state from the southwest corner of the state northeast to Augusta on October 10-11. A wind gust of 115 mph was recorded at Donalsonville by a University of Georgia weather station and the storm was still at hurricane force south of Macon. While several inches of rain fell at some locations, the major impact from the storm was due to the extreme winds, which caused a 25-mile-wide swath of tornado-force damage from the southwest corner all the way to Albany. The impact on agriculture was severe since the storm hit just as harvest of cotton and pecans was underway. Estimates of losses to agricultural crops and timber topped $3.4 billion.
The figure below shows the daily high and low temperature in Macon, GA for each day in 2018 compared to the normal high and low (in green) and the record high (in red) and record low (in blue) for each date, from the Midwestern Regional Climate Center.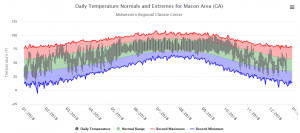 The graph below shows the accumulation of daily precipitation for Atlanta. Note that the rainfall in mid-July to early August really accelerated the increase in rainfall over normal accumulation.