December 2018 was two to four degrees warmer than normal across most of Georgia, ending a warm but not record-setting year for the state. Precipitation in most of the state was much wetter than normal, with a significant fraction of the state receiving well in excess of 10 inches of rain. A number of stations reported an annual precipitation total that was in the top five wettest for their locations. A little snow was observed in some of the northern counties this month.
In Atlanta, the monthly average temperature was 48.6 degrees F (3.3 degrees above normal), in Athens 47.4 degrees (2.0 degrees above normal), Columbus 51.9 (2.8 degrees above normal), Macon 50.8 (2.8 above normal), Savannah 54.5 (2.8 above normal), Brunswick 56.6 (2.5 above normal), Alma 54.6 (2.0 above normal), Augusta 50.8 (3.6 above normal), Albany 54.3 (3.3 above normal), Rome 46.2 (3.5 above normal), and Valdosta 55.2 F (2.1 degrees above normal). This was quite a change from November, when most of the state was at least two degrees colder than normal.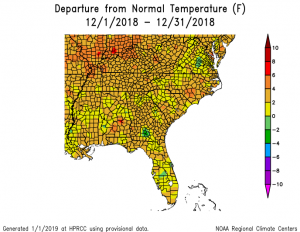 No daily temperature records were broken during the month, but several were tied. Atlanta and Athens tied their record highs on December 2, reporting 74 and 75 F respectively, which matched observations in several previous years. Alma tied their daily high temperature on December 31 with a value of 79 F, matching the observation in 2006. Brunswick tied their record low maximum temperature of 45 F on December 10, previously observed in 1974.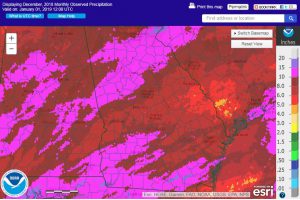 Precipitation was much wetter than normal across Georgia in December 2018. The highest monthly total precipitation from National Weather Service reporting stations was 13.69 inches in Valdosta (10.52 inches above normal) and the lowest was in Alma with 5.90 inches (2.61 inches above normal). Atlanta received 11.83 inches (7.93 inches above normal), Athens received 10.89 inches (7.16 inches above normal), Columbus 7.93 inches (3.66 above normal), Macon 6.26 (2.22 above normal), Savannah 8.14 inches (5.19 above normal), Brunswick 8.62 inches (5.98 above normal), Augusta 5.94 inches (2.55 above normal), and Albany 9.05 inches (5.30 inches above normal). Valdosta received 9.06 inches of rain in just the first three days of the month.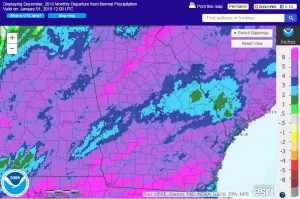 This was the wettest December on record for Brunswick in 70 years of observations. It was the 3rd wettest December for Athens (112 years) and the 4th wettest for Atlanta (141 years of record). It was also the 3rd wettest for Savannah in 144 years of record.
Alma reported a daily record precipitation amount of 1.74 inches on December 1, breaking the old record of 1.70 inches set in 1996, and Brunswick reported a new record of 2.05 inches on December 2, smashing the old record of 0.78 inches set in 1981. Savannah also broke a daily record precipitation amount of 2.92 inches on December 2, surpassing the old record of 2.70 inches set in 2009.
The highest daily rainfall total from CoCoRaHS observers in December was 6.68 inches observed near Manor in Ware County on December 3, followed by 6.50 inches measured near Chauncey in Dodge County on December 2. The highest monthly amount was 17.27 inches measured near Dillard in Rabun County, followed by 16.57 inches measured by the Manor observer. Snow was reported at a few stations in the northeastern counties during the month, including a total of 2.1 inches in Hiawasee in Towns County and 1.8 inches in Rabun Gap in Rabun County.
The heavy rainfall during the month eliminated all drought in the state early in December. Due to continuing rainy conditions no drought is expected to occur for at least the next few months.
Nearly all the severe weather this month occurred on December 1 through 3. Seven tornado reports were received, although not all have been verified. Of those, an EF-2 tornado on December 2 caused four injuries at Kings Bay Naval Base in Camden County along the coast. A Coast Guard vessel reported a wind gust of 120 mph from the storm. Numerous heavy rain reports were also noted on December 28.
A strong low pressure center brought record-setting low pressure for December to many stations in Georgia on December 20-21, including Alma, where the daily record pressure of 1008.0 mb was broken by a new low pressure of 996.0 mb on the 20th. This also broke the all-time lowest pressure for December at that station. Strong gusty winds were observed at a number of sites on those days, including a 58 mph gust on Jekyll Island on the 20th.
The continuing wet conditions caused problems for farmers throughout the month. Farmers in the areas affected by Hurricane Michael in October were still trying to harvest some crops, although the wet conditions reduced quality significantly. Wet soil continued to hamper the planting of small grains and drowned out some newly planted pastures. In spite of warmer weather in December, accumulated chill hours for fruit crops are nearly the same as last year and at some locations are ahead of the past few years due to the cold November.
The outlook for January shows that there is no strong signal for temperature deviation from normal for the next month, although January through March is leaning towards colder than normal conditions. Precipitation is expected to be above normal in both January and the January through March period under the continuing influence of El Nino-like conditions that are occurring in the Eastern Pacific Ocean.
For more information please see the "Climate and Agriculture" blog at https://site.extension.uga.edu/climate/. We are now also on Facebook at SEAgClimate and on Twitter at @SE_AgClimate.  Please feel free to email your weather and climate impacts on agriculture to share on the blog to pknox@uga.edu.