Although the month of December ended in a blast of chilly air for most of the Southeast, average monthly temperatures for almost the entire state of Georgia were above normal due to warm conditions at the beginning of the month. Precipitation varied across the state, although in most areas it was drier than normal. A heavy snowfall affected parts of Georgia west and north of Atlanta, downing trees and causing power outages in some areas.
In Atlanta, the monthly average temperature was 46.8 degrees F (1.5 degrees above normal), in Athens 46.5 degrees (1.1 degrees above normal), Columbus 51.1 (2.0 degrees above normal), Macon 50.1 (2.1 above normal), Savannah 53.0 (1.3 above normal), Brunswick 55.6 (1.4 above normal), Alma 53.2 (0.6 above normal), Augusta 49.6 (2.4 above normal), Albany 53.5 (2.5 above normal), Rome 43.9 (1.3 above normal), and Valdosta 54.0 (0.9 degrees above normal).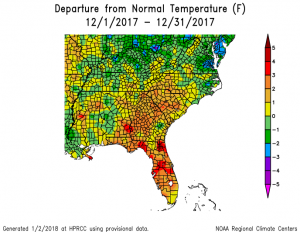 Only one temperature record was set in December. Alma reported a high minimum temperature of 45 F on December 9, breaking the old record of 47 F set in 1969.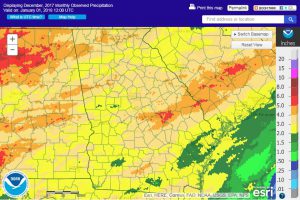 The highest monthly total precipitation from National Weather Service reporting stations was 4.81 inches in Rome (0.43 inches above normal) and the lowest was Valdosta with 1.58 inches (1.59 inches below normal).  Atlanta received 4.38 inches (0.48 inches above normal), Athens received 2.75 inches (0.98 below normal), Columbus 2.55 inches (1.72 below normal), Macon 3.26 inches (0.78 below normal), Savannah 2.35 inches (0.60 below normal), Augusta 4.11 (0.72 above normal), Albany 3.12 inches (0.63 below normal), Brunswick 2.83 inches (0.19 above normal), and Alma 1.86 inches (1.43 inches below normal).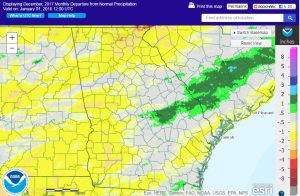 Daily precipitation records were set at Savannah on December 7, where 0.79 inches broke the old record of 0.66 inches set in 1969, and in Augusta on December 8, where 1.86 inches surpassed the old record of 1.64 inches set in 1924. Daily snowfall records were set in Atlanta, Athens and Columbus on December 9: Atlanta received 1.5 inches and Athens and Columbus a trace, the first time any snow was measured on that date for all three cities.
The highest daily rainfall total from CoCoRaHS observers was 2.90 inches near Moultrie in Colquitt County on December 8, followed by 2.64 inches measured near LaFayette in Walker County on December 20. For the entire month, the highest total was 6.85 inches measured by the Moultrie observer, followed by 5.47 inches measured east of Summerville, also in Colquitt County. The highest one-day snow total was 12.0 inches measured in Dillard in Rabun County on December 9, which was also their total for the month.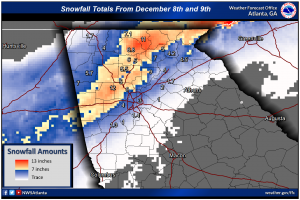 The snow storm of December 8-9 produced up to 12 inches of snow in parts of Georgia, including a streak west and north of Atlanta. The snow caused many broken trees and downed power lines in that region. The National Weather Service office in Peachtree City produced a report on the storm which is available at http://www.weather.gov/ffc/20171208_Winter_Storm. The report also shows a nice satellite image of the snow streak across the region. The Atlanta Journal-Constitution reported that up to 365,000 customers lost power due to the storm.
Severe weather occurred on just one day in December, the 20th. On that day a weak tornado was reported near Imlac in Meriwether County and several high wind reports were also noted, all in west central Georgia.
Dry conditions expanded in December due to the low precipitation amounts received. Abnormally dry conditions expanded from 75 to 88 percent of the state, while moderate drought decreased slightly from 45 to 41 percent.
The snow on December 8 and 9 broke many trees and collapsed several poultry houses and barns. The cold weather late in the month delayed the growth of some small grains and stressed livestock in the northern part of the state. Hay quantities were reported to be sufficient and chill hours were accumulating at a good pace for fruit producers.
The outlook for January shows that the cold conditions early in January should give way to milder conditions in the second half of the month. Warmer and drier conditions than normal are expected across the state for January through March, consistent with the La Niña that is currently underway. It is expected to last until spring. Drought is expected to expand due to the drier conditions.
For more information please see the "Climate and Agriculture" blog at http://site.extension.uga.edu/climate/  or visit our web page at http://www.gaclimate.org.  We are now also on Facebook at SEAgClimate and on Twitter at @SE_AgClimate.  Please feel free to email your weather and climate impacts on agriculture to share on the blog to pknox@uga.edu.