The latest hurricane track for Hurricane Irma was released late this morning by the National Hurricane Center. The new track is slightly shifted to the west from the previous forecast.  However, all of Georgia is still in the cone of uncertainty, which depicts the possible movement of the storm for the next five days. Since hurricane winds extend out 70 miles and tropical storm force winds 185 miles out from the center of the storm, everyone in Georgia is expected to be hit by strong winds. Impacts will be felt far outside the forecast cone.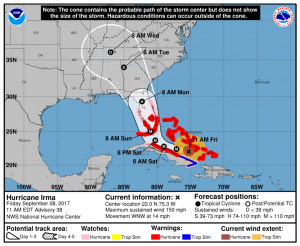 In general, the strongest impacts from the storm will be to the east of the path, wherever it ends up going, and weaker impacts will be on the west side of the path, although there will still be winds and rain.  So watch the storm's motion carefully to see where you are in relationship to the center of the storm and its location as it is occurring.  Areas to the north and east of the storm will be the most likely area for tornadoes to develop along the spiral bands of the storm.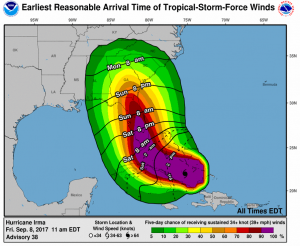 Winds: The earliest possible arrival of tropical storm force winds in south Georgia is expected to be around 6 pm on Sunday, but the most likely time is about ten hours later, overnight into Monday. In central Georgia, the strong winds could arrive as early as late Sunday evening but they will more likely come during the day on Monday. High winds in northern Georgia could arrive as early as Monday morning but it will most likely be about 12 hours later.  Don't be fooled if conditions don't look bad on Monday morning as they will deteriorate during the day. The timing and strength of the winds depends both on the path the storm takes and how quickly it weakens over land. Note that in this particular forecast, Irma could enter Georgia near Valdosta at near hurricane strength but is expected to weaken quickly after that. Check future forecasts for updates.
In my husband Dr. John Knox's discussion online (he's a meteorologist too) he says: if the centerline of the forecast becomes reality, Irma enters Georgia Monday afternoon around 2 pm, and then angles toward the northwest to near Atlanta by 3 am Tuesday morning, and then is over Chattanooga by 2 pm Tuesday. As noted, Irma would be a Cat 1 hurricane near Valdosta; it would be a strong tropical storm up to, say, Cordele; a tropical storm over Macon; and finally a tropical depression (but with winds of 35 mph sustained) over Atlanta, and then weaker by the time it's over Chattanooga Tuesday afternoon.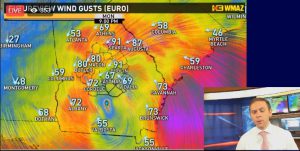 In addition to the strong sustained winds, damaging gusts are also possible. One estimate from the European model (screen captured from Matt Daniel's Facebook chat today), which has closely tracked the official forecast, shows that wind gusts into the 90 mph range may be possible. But keep in mind that this is just one forecast and the storm could weaken more quickly than that, bringing somewhat less strong winds into the area.
Estimates from John:
>> Hurricane-force sustained winds (say, 75 mph) with gusts to 100 mph over far south Georgia.
>> Tropical-storm-force sustained winds over much of central Georgia, with gusts to hurricane force possible.
>>> Close to tropical-storm-force sustained winds over north Georgia, with gusts to say 50-60 mph.
Storm surge: The present track of the storm is an improvement for folks who live along the Georgia coast.  While strong winds from the east will pile up water along the shore, storm surge amounts should be less than originally feared.  The exact amount of storm surge will depend on your location and the timing with respect to high tide but could be 3-5 feet in height above normal water levels.  Check with local government officials for more information and heed evacuation warnings along the coast. Damage could still be significant.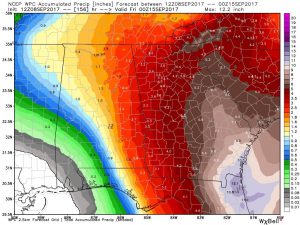 Rainfall: The amount of rainfall that you get will also depend on exactly where the storm goes.  Highest amounts are expected to be on the east and south side of Irma's path, with amounts of up to ten inches near Brunswick decreasing to around three inches in the far northwest part of the state. Again, this will depend on the speed and path of the storm.  In general, the slower the storm moves, the longer it will rain at any one spot and the higher the rainfall accumulation is likely to be. Since most deaths in hurricanes and tropical storms are caused by water and not by wind, be careful in driving in wet conditions and do not attempt to cross roads that are covered by water, since you could be swept away. "Turn around, don't drown" is an excellent rule to follow. The exact timing of when the rain begins will depend on your location, the organization of Irma's spiral bands, and how the storm moves.
With high winds and soggy soil, many trees are going to fall or drop limbs.  That will cause problems for many buildings with roof and window damage but will also disrupt power for many people. In some cases, areas may be without power for a week or more. Power outages are estimated to affect as much as 40 percent of households in parts of south Georgia, while northern areas will receive 10-20% outages unless they are in areas with a lot of trees (like my subdivision, unfortunately). The exact locations will of course depend on the track of the storm and the cells within the spiral bands.
If you are an agricultural producer, you will want to prepare as much as possible for the flooding rain, high winds and power outages as you can. That means moving equipment to higher ground, making sure that you have removed loose tools and other materials from outside where they can be lofted into windows and roofs, and checking to make sure your generators are working and well fueled. If you have livestock, make sure they are protected as much as possible and move them to higher ground if you have areas that flood in heavy rains. Have enough feed stored to feed them for a week if necessary.
In general, you should get all of your preparations done no later than the earliest reasonable time for tropical winds, although it would be better to have them done sooner.  Find a safe place to shelter for as long as 12 hours, since large hurricanes take a long time to pass a particular spot.  Most people do not need to evacuate except for those who live along the coasts, in flood-prone low-lying areas, or in homes or buildings that cannot stand up to strong winds like mobile homes. You really don't want to be caught out in the open in a car with 100 mph gusts! Follow your local government officials' recommendations for what to do.
If you are in your home, look for an interior room with no or few windows similar to what you would use for a tornado warning.  However, keep in mind that you are likely to be in there for hours as the storm passes, so make sure it is comfortable and stocked with food (including pet food if needed). Make sure you have flashlights or lanterns and plenty of batteries in case of power outages. Take important papers with you in waterproof bags in case your roof gets breached. Bike or football helmets or other head protection can be used to help protect yourself in case of falling debris or roof collapse.
If you are a first responder working for the NWS, a local government, or a hospital–bless you for taking care of us all while your own family, home and pets might be threatened.  Your service is invaluable!
I may post additional information as time permits over the weekend, but do not rely on my blog posts for information. Please monitor local officials and the National Hurricane Center and National Weather Service forecasts for more information as the storm progresses. I hope that this information is useful and that we all come through the storm safely together!
Special resources:
National Hurricane Center: https://www.hurricanes.gov
National Weather Service: https://www.weather.gov
Extension resources for hurricane preparedness: https://extension.uga.edu/
NOAA Extreme Weather Information sheets with contact info by location: https://www.ncddc.noaa.gov/activities/weather-ready-nation/newis/
How to communicate about risks, especially storm surge, from Jill Gambill: https://seacccop.wordpress.com/2017/09/06/storm-surge-risk-communication/#jp-carousel-632
Disaster Distress Helpline: https://disasterdistress.samhsa.gov or text "TalkWithUs" to 66746 or call 1-800-985-5990