With almost half the year gone, it is a good time to look ahead to what is likely to happen the rest of this year and in 2017 based on the current climate pattern.  While this outlook is specific to Georgia, most of the information is generally applicable to the entire Southeast.
This year began with a strong El Niño dominating the global climate.  El Niño has strong influences on the climate of the Southeast, and so it is no surprise that Georgia experienced weather that was dominated by the El Niño signal this winter and spring. In typical El Niño years, southern Georgia has the best chance of above-normal rainfall, while northern Georgia is sometimes wetter and sometimes drier than average.  This year, the wettest conditions in the South have been located to the west of Georgia in Texas and Louisiana, but parts of Georgia have also seen plentiful rain, especially those areas near the path of Tropical Storm Colin in early June.  Often, a dying El Niño leads to a dry spring, and we have seen that as well, particularly in north Georgia, where severe drought developed over the last month.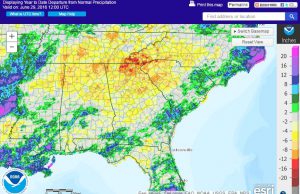 Figure 1. Precipitation departure for January 1-June 28, 2016.  Source: NOAA (http://water.weather.gov/precip).
El Niño is now officially over and we are in neutral conditions.  Statistically, neutral conditions are more favorable for an active hurricane season in the Atlantic, and so it is likely that we will see more named storms than average this year, although they may or may not cross over Georgia.  In areas where no tropical storms hit, drier than normal conditions are more likely; this may continue through the summer and into fall and winter.
With El Niño gone, climate models predict that the opposite phase, La Niña, is very likely to develop by late summer.  La Niña is likely to last at least through next winter and may impact our climate conditions well into 2017. Most of the climate models indicate that La Niña is likely to be moderate in strength, which means the strongest effects will be seen in southern Georgia and prediction is less certain for northern areas.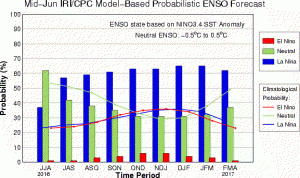 Figure 2. Predicted likelihood of La Niña by 3-month period.  Source: International Research Institute for Climate and Society, Columbia University.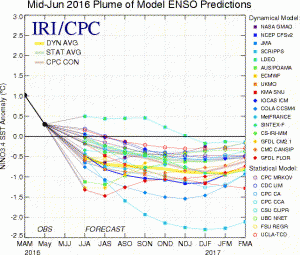 Figure 3. Predicted strength of La Niña from a variety of climate models.  Source: International Research Institute for Climate and Society, Columbia University.
The outlook for the next three months from the Climate Prediction Center shows that for the rest of the summer through September, Georgia is likely to be above normal in temperature.  This is based mainly on historical trends in temperature rather than El Niño phase, since there is no strong correlation between El Niño or La Niña and summer temperatures.  It is also hard to forecast rainfall in the summer because so much of it happens at small scales like individual thunderstorms, but there is a hint of above normal rainfall near the Gulf Coast and in Florida where tropical activity is most likely.
Figure 4. Temperature (left) and precipitation (right) outlooks for July through September.  Source: NOAA Climate Prediction Center.  You can find more seasonal predictions at http://www.cpc.noaa.gov/products/predictions/.
Later in fall, we are expected to feel the impacts of the La Niña as it strengthens in the Eastern Pacific Ocean.  This means that warmer and drier conditions than usual are likely from late fall through the winter months, especially in southern Georgia.  That could set up the state for the development of drought in 2017, since soil moisture and water supplies may not fully recharge over the winter months.  Recent droughts in 1998-2002, 2007-2009, and 2011-2013 occurred during La Niña episodes, although they did not affect all areas of Georgia equally in each drought.
Figure 5. Temperature (left) and precipitation (right) outlooks for December through February 2016-2017.  Source: NOAA.
The bottom line: Hotter and drier conditions than normal are expected in most of Georgia through fall, except where tropical storms bring rain to the area.  Warmer and drier conditions are likely this winter as well, especially in southern Georgia, as La Niña dominates the global climate.   A drought may be a possibility in 2017 in areas that did not get good rainfall over the winter.  Spring 2017 could have good field conditions for farm equipment and soils could reach optimum temperature earlier than usual, but moisture for germination could be lacking.  This winter would be a good time to harvest low-lying areas of timber that are inaccessible in wetter years due to soggy soils.  Also note that according to my post on La Niña from yesterday (June 28), there is a decent probability that La Niña could last for more than a year, making drought conditions even more likely over the long haul. That may be something to keep in mind if you are considering investing in irrigation equipment or trying to establish orchards, woodlots or other plants that require a lot of water.