Precipitation across Georgia in August 2015 varied from over ten inches near the coast and in north central Georgia to less than 2 inc hes in the southwest corner of the state.  A few isolated areas received over 15 inches during the month, according to CoCoRaHS observers.  Temperatures were very close to normal across the state. The coolest areas were generally also the wettest.
Temperatures across the state were very close to normal.  In Atlanta, the monthly average temperature was 79.9 degrees F (0.5 degrees above normal), in Athens 79.8 degrees (0.2 degrees above normal), Columbus 81.6 (0.3 degrees below normal), Macon 80.6 (0.3 below normal), Savannah 81.8 (0.3 above normal), Brunswick 81.6 (0.2 below normal), Alma 82.0 (0.7 above normal), Augusta 80.6 (0.1 above normal), Albany 82.8 (0.8 above normal), Rome 78.5 (0.2 below normal), and Valdosta 82.5 (1.3 degrees above normal).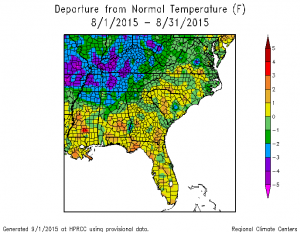 No temperature records were broken this month, but a record high minimum temperature of 75 F was tied in Alma on August 12 (last time in 2013) and a record low maximum temperature of 84 F was tied in Brunswick on August 2 (last time in 2007).  Columbus also tied their record high maximum temperature of 99 F on August 4 (last set in 2011).
The highest monthly total precipitation from National Weather Service reporting stations was 7.84 inches in Savannah (1.28 inches above normal) and the lowest was in Augusta at 3.74 inches (0.58 inches below normal).  Atlanta received 5.77 inches (1.87 inches above normal), Athens received 6.78 inches (3.25 inches above normal), Columbus 7.50 inches (3.73 above normal), Macon 5.07 inches (0.97 above normal), Alma 4.65 inches (0.76 below normal), Brunswick 6.76 inches (0.46 above normal), Albany 5.42 inches (0.58 above normal), Rome 4.38 inches (0.25 above normal), and Valdosta 6.39 inches (1.05 inches above normal).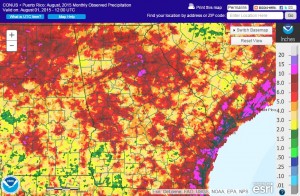 Coastal areas of Georgia as well as areas to the east of Atlanta were the wettest parts of the state.  The driest area was in the southwest near Thomasville.
Three daily rainfall records were set in August.  Columbus received 3.80 inches on August 6, breaking the old record of 1.65 inches set in 1966.  Brunswick received 4.07 inches on August 31, breaking the old record of 1.36 inches set in 1991 and Alma received 4.65 inches on August 28, breaking the old record of 1.64 inches set in 1954.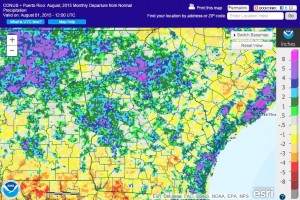 The highest single-day rainfall from CoCoRaHS stations was 5.22 inches west of Valdosta in Lowndes County on August 31, followed by 5.04 inches received west of Bethlehem in Gwinnett County on August 23. The highest monthly total rainfall was 18.55 inches, observed east of Savannah in Chatham County.  Another nearby observer reported 16.06 inches in August.
Severe weather was observed on 15 out of 31 days during the month.  Almost all of them were due to scattered wind damage.  A microburst caused significant tree damage to the Rock Eagle 4-H facility near Eatonton on August 6 along with widespread wind damage in other parts of the state on that day.
Crops generally did well in August across the state, although dry conditions caused some stress and increased pest pressure.
The Drought Monitor shows that drought increased across the state again in August.  Drought conditions across large parts of the state are expected to increase for the next three months.  However, if El Nino conditions come early this winter, wet conditions could reduce dryness drastically.  This could occur early this year due to the strength of the El Nino, so farmers should harvest in a timely manner, especially on fields that are prone to flooding.  Temperatures in September are expected to be above normal across the state and may aid in maturing crops.  The expected dry conditions could hamper efforts to plant wheat, cool season vegetables, and fescue.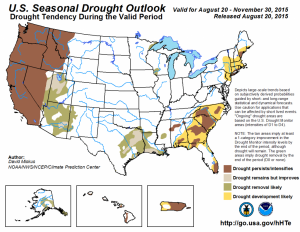 For more information please see the "Climate and Agriculture" blog at http://site.extension.uga.edu/climate/  or visit our new web page at http://www.gaclimate.org.  Please feel free to email your weather and climate impacts on agriculture to share on the blog to pknox@uga.edu.