Warm conditions in Georgia from April continued into May, but a pattern shift in the atmosphere caused a dry spell to dominate most of the state until late in May, when rain returned to the area.  This shift caused both positive and negative impacts on agriculture in the state.
Temperatures across the state were above normal in May, although departures from normal were lower than in April.  In Atlanta, the monthly average temperature was 73.1 degrees F (3.0 degrees above normal), in Athens 72.4 degrees (2.4 degrees above normal), Columbus 74.3 (1.3 degrees above normal), Macon 73.0 (1.1 above normal), Savannah 74.1 (0.8 above normal), Brunswick 75.6 (1.1 above normal), Alma 74.3 (0.6 above normal), Augusta 72.4 (1.3 above normal), Albany 76.3 (1.8 above normal) and Valdosta 75.9 (2.1 degrees above normal).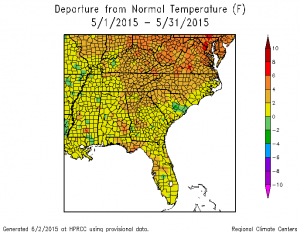 One daily temperature record was broken this month.  In Brunswick, the maximum temperature reached a new record of 93 F on March 19, surpassing the old record of 92 F set in 1965.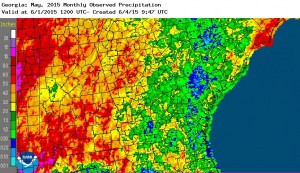 The highest monthly total precipitation from National Weather Service reporting stations was 4.44 inches in Atlanta (0.77 inches above normal) and the lowest was in Augusta at 0.93 inches (1.72 inches below normal).  Athens received 2.63 inches (0.37 inches below normal), Brunswick received 2.60 inches (0.74 above normal), Macon received 1.15 inches (1.57 below normal), Columbus 3.18 inches (0.01 below normal), Savannah 1.23 inches (1.75 below normal), Alma 1.28 inches (1.19 below normal), Valdosta 2.06 inches (0.47 below normal), and Albany 1.18 inches (1.51 inches below normal).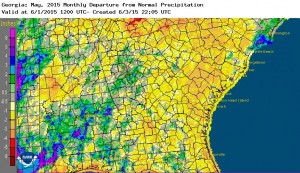 Columbus and Brunswick set daily precipitation records in May.  Columbus received 1.94 inches on May 26, surpassing the old record of 1.00 inches set in 1959, and Brunswick received 1.83 inches on May 19, breaking the old record of 1.72 inches set in 1969.
The highest single-day rainfall from CoCoRaHS stations was 3.16 inches near Fort Valley in Peach County on May 27, followed by 3.15 inches received northwest of Hawkinsville in Houston County on the same date. The highest monthly total rainfall was 6.61 inches, observed near East Point in Fulton County, followed by 6.50 inches east of Atlanta in DeKalb County.
Many stations reported their driest start to the month on record with little to no rain until the last week of the month.  This was due to a stalled weather system in the central and southern Plains, which caused disastrous flooding in that region but left Georgia high and dry.  This system started to move to the east towards the end of the month and brought most of the rain for the month on May 26-28, although scattered showers were observed in mid-month, especially around Atlanta.
Severe weather was observed on eight days during the month.  An EF-1 tornado occurred on May 26 two miles west of Warm Springs in Meriwether County, knocking down a number of trees.
The dry conditions were welcome to many farmers after a very wet April.  Agricultural producers were able to get out into the fields and finish planting many crops.  Hay harvest was also ahead of schedule due to the excellent drying conditions.  However, those conditions caused problems with germination in some dryland peanuts and other crops and stressed corn and other crops that were already planted.  Producers held off planting those fields until the rain returned and in some cases switched from cotton to soybeans due to the late planting date.  The dry conditions caused the Drought Monitor to identify a developing region of severe drought in southern Georgia by the end of the month.
The outlook for June shows a slightly increased chance of warmer conditions in southeastern Georgia but equal chances of above, below or near normal for the rest of the state.  Above normal precipitation has an increased chance of occurrence in June. This temperature pattern is expected to continue through August, but precipitation is less certain since El Nino tends to suppress the development of tropical weather which often brings rain to Georgia in the summer months.
For more information please see the "Climate and Agriculture" blog at http://site.extension.uga.edu/climate/  or visit our new web page at http://www.gaclimate.org.  Please feel free to email your weather and climate impacts on agriculture to share on the blog to pknox@uga.edu.