In this series on sources of climate and weather information, we've looked at the state climatologists and the National Climate Data Center (NCDC–now part of NCEI, the National Centers for Environmental Information) so far.  In between these two levels of data sources are the regional climate centers, also part of NOAA.  The map of regional climate centers is shown below.  Each of the RCCs uses the same NOAA data sets as NCDC and the state climatologists, but they provide unique packages of information on their web sites designed to meet the needs of their regional climate data users.  I use products from several of them in my work.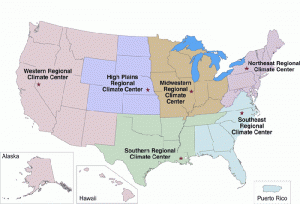 The Southeast Regional Climate Center covers the Southeast region and Puerto Rico.  Their web site is http://www.sercc.com.  They have many products including normals for all NWS cooperative observer stations as well as ways to manipulate the data.  One of my favorite products from SERCC is the Climate Perspectives tool at http://www.sercc.com/perspectives?user=true, which allows you to look for rankings of temperature and precipitation on maps or in text listings.  This is a very helpful tool to use when reporters call to ask if we are near record-setting temperatures, for example, since it allows you to look at past records and rank them.  On the map below, May 9 maximum temperatures were ranked to show where the values fell in the historical record for that date and show that many stations in or near the Southeast were in the top twenty for the date and a few areas set new daily records.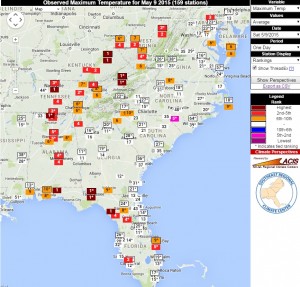 The High Plains RCC has summary climate maps which I find useful in looking at patterns of temperature and precipitation around the country.  Their web site is http://www.hprcc.unl.edu/ and the climate maps are at http://www.hprcc.unl.edu/maps/current/.  The map below shows the May to date temperature departure for the US, showing the cooler than normal conditions we have seen in the Southeast due to the cloudy and rainy conditions we had at the beginning of the month.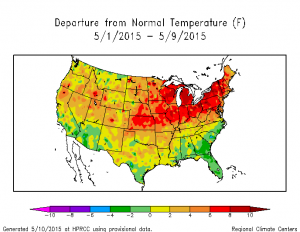 Another RCC I often use is the Midwestern Regional Climate Center at http://mcc.sws.uiuc.edu/.  Their cli-MATE database tool is very useful in looking at station data for individual stations and also allows you to sort through data for occurrences of rainfall over 2 inches for example.  The database is at http://mrcc.isws.illinois.edu/CLIMATE/; you need to create an account and log on but access is free.
All of the RCCs have service climatologists on staff who can help you find data or answer questions about the climate in their regions.  I encourage you to take advantage of these specialists the next time you need help with weather or climate data, and you are sure to get quick, friendly help.