November 2014 was one of the top five coldest Novembers on record for many stations across Georgia.  Statewide, this is also likely to be in the top five coldest Novembers on record, although a final value has not yet been determined as observations continue to come in.  Precipitation across the state ranged from well above normal in the southeast to drier than normal in the west central and far northwest regions of the state.
In Atlanta, the monthly average temperature was 49.0 degrees F (5.0 degrees below normal), in Athens 48.1 degrees (5.7 degrees below normal), Columbus 50.8 (6.5 degrees below normal), Macon 49.2 (6.7 below normal), Savannah 56.5 (2.8 below normal), Brunswick 56.4 (5.4 below normal), Alma 53.3 (6.6 below normal), Augusta 49.2 (6.0 below normal), Albany 52.8 (5.9 below normal) and Valdosta 54.2 (5.7 below normal).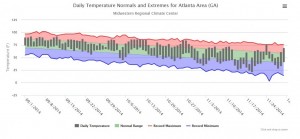 The thermograph for Atlanta shows the change in the weather patterns that has occurred over the fall.  September had days that were very close to normal throughout the month.  This continued into most of October with some deviations.  By comparison, November experienced big swings in temperature over the month, with some periods well below normal and others near or above normal.
A number of daily record temperatures were set this month.  Because of the variability of weather conditions, both record highs and lows were observed.  Atlanta reported a record high of 76 F on November 24, surpassing the old record of 75 F set in 1900.  Columbus set a record low temperature of 21 F on November 19, beating the old record of 25 F set in 1949.  Macon set a record low of 17 F on November 19, smashing the old record of 24 set in 2008.  Record low maximum temperatures (cold days) as well as high minimum temperatures (warm nights) were set during the month at a number of stations.
Savannah set a record low of 26 F on November 19 (old record 27 F set in 2008) and just a few days later tied their record high temperature of 83 F on November 24.
Augusta reported a record low of 15 F on November 19, much lower than the previous record of 22 F for that date.   This is the earliest that a temperature below 20 F was ever observed at that location.  The previous date was November 21, 1951.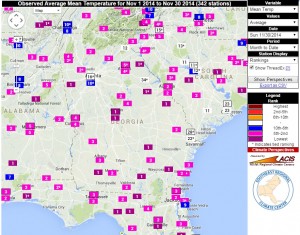 The preliminary map showing rankings of monthly temperature for available stations from the Southeast Regional Climate Center (shown above) indicates that most of the stations in Georgia and surrounding areas were in the top five coldest for the month.   The exceptions were Atlanta (16th coldest) and Savannah (28th coldest). Macon experienced the coldest November in 123 years of record, beating the old value of 49.3 F set in 1901.  Columbus and Athens were 4th and 5th coldest for their periods of record.
The highest monthly total precipitation from National Weather Service reporting stations was 4.95 inches in Alma (2.47 inches above normal) and the lowest was in Columbus at 2.96 inches (1.14 inches below normal).  Atlanta received 3.85 inches (0.25 below normal), Athens received 3.04 inches (0.98 below normal), Macon received 4.31 inches (0.99 above normal), Albany 4.32 inches (1.13 above normal), Brunswick 3.50 inches (1.47 above normal), Augusta 3.19 inches (0.37 above normal) and Valdosta 4.48 inches (1.92 above normal).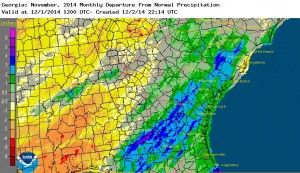 Daily rainfall records were set at Macon, Savannah, Alma and Brunswick this month.  Most of the heaviest rains fell on November 23 or 25 as thunderstorms moved through the region.
The highest single-day rainfall from CoCoRaHS stations was 4.44 inches near Bremen in Haralson County on November 17, followed by a Jackson County observer in Braselton reporting 4.07 inches on November 24. The highest monthly total rainfall was 8.90 inches, observed by an observer five miles north of Valdosta in Lowndes County, followed by 7.41 inches at a station five miles east of Thomasville in Thomas County.
Severe weather occurred in Georgia on three days in the month.  Wind damage occurred on November 16, 17 and 23, with one tornado in Twiggs County on the 17th and several on the 23rd.  You can read about the Twiggsy County tornado at https://www.srh.noaa.gov/ffc/?n=20141117_twiggs_tor and the tornado outbreak on November 23 at https://www.srh.noaa.gov/ffc/?n=20141123_svrwx.  Four tornadoes touched down on that day, including one with a semi-continuous path of 118 miles long.
Harvest was winding down across most of the state.  Frost and cold weather ended the season for cotton and dry conditions aided farmers in getting into the fields for harvest.  However, the dry conditions meant that canola and winter forage was stressed in some areas.
The outlook for December shows that the first half of the month should be fairly dry with temperatures that are variable.  Other areas of the country have a good chance of seeing above normal temperatures, in contrast to the cold blasts that have occurred in November.  The three-month outlook for December through February continues to show the signs of an El Nino, which will bring cooler and wetter conditions to south Georgia through the winter months.