The state was split into "haves" and "have nots" in October as precipitation was plentiful in western Georgia but sorely lacking in the east.  Temperatures across the state were generally above normal and many record highs were broken or tied.
In Atlanta, the monthly average temperature was 66.2 degrees F (2.9 degrees above normal), in Athens 64.2 degrees (1.2 degrees above normal), Columbus 67.5 (1.0 degrees above normal), Macon 65.3 (0.4 above normal), Savannah 70.0 (2.1 above normal), Brunswick 70.0 (0.5 below normal), Alma 67.9 (0.5 below normal), Augusta 65.3 (0.9 above normal), Albany 67.9 (0.2 below normal) and Valdosta 68.2 (0.5 below normal).
Eleven record highs were tied at various stations across the state and eight new record high temperatures were set.  Most notable among them was the 90 F set in Savannah on October 27, which broke the old record of 89 F set in 1940 and set a new record for the latest 90 F day in their long history, eclipsing the old date of October 21, 1943.  Climate records in Savannah date back to 1871.
In addition, Athens set a record low of 38 F on October 5, beating the old record of 39 F set in 1974; Macon tied their low on the same date with 37 F.  Athens also set a record low maximum on October 4, reaching only 66 F, which beat the old record of 71 F set in 1941.  Macon had a new record low maximum of 69 F on the same date, undercutting the old record of 73 F set in 1911.
Most stations had their average maximum temperatures in the top ten highest for their periods of record; however, probably because of the relatively dry conditions, daily minimum temperatures were more seasonal, keeping the average temperatures closer to normal.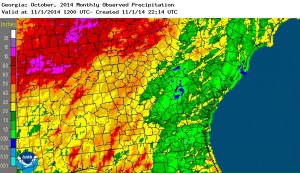 The highest monthly total precipitation from National Weather Service reporting stations was 4.26 inches in Columbus (1.68 inches above normal) and the lowest was in Augusta at 0.61 inches (2.66 inches below normal).  Atlanta received 3.54 inches (0.13 above normal), Athens received 3.41 inches (0.14 below normal), Macon received 1.57 inches (1.22 below normal), Albany 3.56 inches (0.97 above normal), Brunswick 2.83 inches (1.63 below normal), Alma 1.72 inches (1.31 below normal) and Valdosta 1.36 inches (1.84 below normal).
Most of the rain that fell at the wetter stations was reported on a single day, October 14.  On that day, a developing low pressure center in Oklahoma brought a stationary front to western Georgia, dumping copious rain on the area.  Atlanta, Athens and Columbus all set new record high precipitation amounts for that date.  Atlanta received 2.54 inches (old record 1.92 set in 1959), Athens got 2.78 inches (old record 1.30, also in 1959) and Columbus a whopping 3.91 inches (old record 1.49, set in 2009).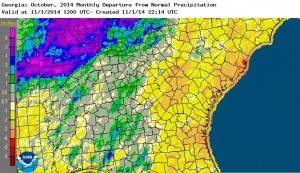 The highest single-day rainfall from CoCoRaHS stations was 4.57 inches near Rabun Gap in Rabun County on October 15, followed by a Meriwether County observer in Greenville and a Jackson County observer in Braselton reporting 3.97 and 3.94 inches on October 14 and 15, respectively. The highest monthly total rainfall was 10.19 inches, observed by an observer 3.5 miles northeast of Dillard in Rabun County and 9.11 inches by the Rabun Gap observer mentioned previously.
Severe weather occurred in Georgia on six out of 31 days in the month.  Wind damage occurred on October 3, 10, 13 and 14, with hail damage on October 6 and 9.  The most notable severe weather occurred on October 13, when six small tornadoes were observed in Atlanta and central Georgia.  Five of the six were seen in the Atlanta metro area early in the morning on the north edge of a radar-indicated bow echo.  Of these, the greatest damage came in an EF-1 tornado in Alpharetta.  You can read about all the tornadoes at https://www.srh.noaa.gov/ffc/?n=2004101_northga_tors.
The dry conditions for most of the state this month aided farmers in finishing their harvesting of peanuts, cotton and other crops.  However, dryland peanuts and cotton are not grading well due to the drought the past few weeks.  Cotton was also hurt by the heavy rains that fell on October 14 and 15 as the bolls were opening.  Dry conditions in eastern Georgia delayed planting of small grains and winter grazing.  Frost ended the growing season in a few areas of the state.
Local hospitals are preparing for a baby boomlet which is occurring nine months after the winter storms of January and February in northern parts of the state.  Typically, July and August are the peak months for births in Athens.
The outlook for November shows that conditions are expected to continue to be relatively quiet.  The tropical storm season is nearly over and very little additional activity is expected this year.  Predictions of temperature and precipitation show equal chances of above, near and below normal conditions. The three-month prediction for November through January shows no favored temperature pattern but an increased chance of above normal rainfall, especially in south Georgia.  This is linked to the expected development of a weak El Nino in the next couple of months which should affect the Southeast through winter.