Here is the 4 pm temperature map from the Georgia Automated Environmental Monitoring Network: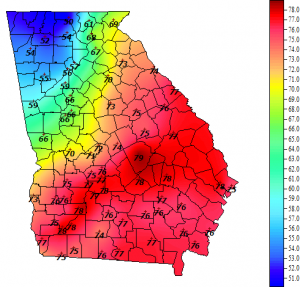 And here is the surface analysis at the same time: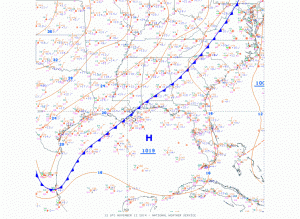 Can you find the front on the temperature map?  Cold fronts mark the boundary between warm air in place and the cold air that is advancing into the warm air.  In this case, the warmest air is a little to the east of the surface front, where warm air coming north from the Gulf of Mexico ahead of the front is being enhanced by the solar radiation we are receiving on this nice warm fall day.  Tomorrow will be a different story as the cold front moves through the area, bringing temperatures 20 degrees colder than today.  This should end the growing season  for large parts of the Southeast, with the exception of coastal areas and Florida.