A small area of drought returned to Georgia at the end of July following a record-setting dry July in Alma. The station received only 0.44 inches for the month, much lower than the previous record of 0.77 inches set in 2006. Most of the state received less than the normal rainfall, but cooler temperatures helped keep down soil moisture losses.
In Atlanta, the monthly average temperature was 77.9 degrees F (2.3 degrees below normal), in Athens 79.3 degrees (1.3 degrees below normal), Columbus 80.3 (2.2 degrees below normal), Macon 78.9 (2.9 below normal), Savannah 82.9 (0.3 above normal), Brunswick 82.1 (0.7 below normal), Alma 81.8 (0.2 below normal), Augusta 80.4 (1.3 below normal), Albany 81.7 (0.7 below normal) and Valdosta 84.1 (2.7 above normal).
Macon was the 10th coldest July on record in 122 years of observations.
A number of temperature records were set this month. Record low temperatures were set on July 17 at Atlanta, Augusta and Alma, and tied at Columbus and Macon. Previous records were surpassed by one to three degrees. Record low temperatures were also broken on July 30 at Atlanta, Columbus and Macon by 2-3 degrees and tied at Athens. The cold conditions were associated with a high-amplitude wave pattern which brought continuing drought, forest fires and warm temperatures to the western US while bringing cool and dry Canadian air to the eastern half of the country.
A record low maximum temperature of 80 F was reported at Brunswick on July 12, breaking the old record of 83 F set in 1975.
Some high temperature records were also tied or broken this month. Alma reported a record high of 99 F and Brunswick a high of 97 F on July 3, equal to the observations from 2006. A record high minimum temperature of 77 F was also set at Alma on July 28, breaking the old record of 76 F set in 2011.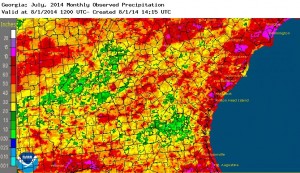 The highest monthly total precipitation from National Weather Service reporting stations was 5.24 inches in Augusta (1.06 inches above normal) and the lowest was in Alma at 0.44 inches (4.92 inches below normal).  Atlanta received 4.60 inches (0.67 below normal), Athens received 4.22 inches (0.25 below normal), Macon received 5.04 inches (0.09 above normal), Albany 0.53 inches (4.93 below normal), Brunswick 2.70 inches (1.38 below normal) and Valdosta 3.84 inches (2.79 below normal).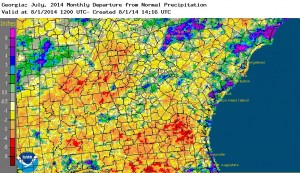 Several daily precipitation records were set in July. On July 19, Atlanta set a daily record of 2.18 inches, surpassing the old record of 2.09 inches set in 1897. On the same day, Athens received 2.81 inches, breaking the old record of 1.72 inches set in 1919. Augusta received 1.81 inches on July 25, breaking their old record of 0.64 set in 1952.
The highest single-day rainfall from CoCoRaHS stations was 6.00 inches east of Savannah in Chatham County on July 22, with two other Chatham County observers nearby reporting 5.25 and 4.88 inches on the same day, respectively. The highest monthly total rainfall was 12.11 inches, observed on Tybee Island in Chatham County, followed by 12.09 inches from another Tybee observer and 10.25 inches inches reported east of Savannah.
Severe weather occurred in Georgia on eight out of 31 days in the month. All of the wind damage was due to scattered thunderstorms associated with fronts passing through the area.
Crops were progressing across the state, but areas with less rainfall observed significant stress on crops and an increase in pests and diseases. Some delays in planting soybeans after wheat were noted in the drier areas. Lack of rain hindered growth of pastures in some areas but helped promote drying of hay in others.
August has a slightly increased chance of warmer than normal temperatures in Florida and southern Georgia and Alabama but equal chances elsewhere. There are also equal chances for above, near or below normal rainfall. As we enter the most active period of tropical storm development, Tropical Storm Bertha has developed in the Atlantic Ocean but is expected to turn before reaching the coast. However, additional storms are likely to develop this month, but their paths and intensities cannot be determined at this point.
For more information please see the "Climate and Agriculture" blog at https://site.extension.uga.edu/climate/ . Please feel free to email your weather and climate impacts on agriculture to share on the blog to pknox@uga.edu.