May was a near-average month for both temperature and precipitation across the state as a whole, although there was some variability in rainfall due to thunderstorm activity.  Drier conditions in many parts of the state made it possible for farmers to finish field work and planting and see their crops start to develop.
In Atlanta, the monthly average temperature was 71.2 degrees F (1.1 degrees above normal), in Athens 70.8 degrees (0.8 degrees above normal), Columbus 72.8 (0.2 degrees below normal), Macon 71.4 (0.5 below normal), Savannah 75.2 (1.9 above normal), Brunswick 74.6 (0.1 above normal), Alma 73.8 (0.1 above normal) and Augusta 71.6 (0.5 above normal).
Alma set a record low maximum temperature of 68 F on May 2, breaking the old record of 69 F set in 1969.  Macon tied a record low of 43 F on May 17.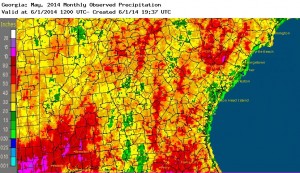 The highest monthly total precipitation from National Weather Service reporting stations was 5.50 inches in Augusta (2.85 inches above normal) and the lowest was in Brunwick at 1.55 inches (0.31 inches below normal).  Atlanta received 2.29 inches (1.38 below normal), Athens received 3.46 inches (0.46 above normal), Macon received 2.97 inches (0.25 above normal), Alma 3.26 inches (0.79 above normal), Columbus 2.77 inches (0.42 below normal), and Savannah 3.48 inches (0.50 above normal).
Augusta received the bulk of its monthly rainfall on a single day, May 15, when they reported 3.75 inches for the date.  This set a new daily record, breaking the old record of 1.68 inches set in 1957.
The highest single-day rainfall from CoCoRaHS stations was 5.17 inches near Danville in Twiggs County on May 15.  Observers near Moultrie in Colquitt County and Tifton in Tift County reported 4.52 and 4.51 inches, respectively, on the same date.  The highest monthly total rainfall was 8.46 inches, observed east of Thomasville in Thomas County, followed by 8.25 inches measured near Danville in Twiggs County.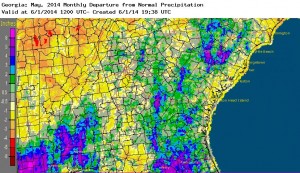 Severe weather was observed somewhere in Georgia on eleven days out of the month.  Most notable were two tornadoes which occurred on May 14.  A rare anticyclonic tornado rated EF0 was observed near Eastman in Dodge County and caused considerable roof damage.  An EF1 tornado was observed near Homer in Banks County; it damaged mainly trees and three houses.  A report on these tornadoes can be found at https://www.srh.noaa.gov/ffc/?n=20140515_tornado.
The wet conditions this spring have contributed to delays in planting and hay cutting and have also increased diseases in wheat and other crops, although the dryness at the end of the month improved conditions in many parts of the state.
These monthly climate summaries, along with other information on climate and agriculture in Georgia and the Southeast, will now be posted on the "Climate and Agriculture" blog at https://site.extension.uga.edu/climate/ as well as other sites.  Please feel free to email your weather and climate impacts on agriculture to share on the blog to pknox@uga.edu.