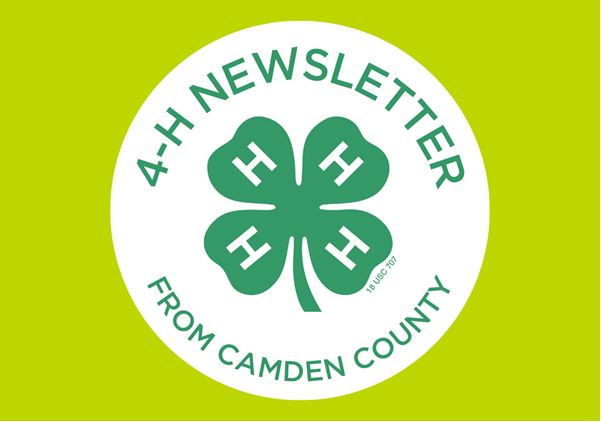 50 Camden County 4-H'ers in 5th-10th grades competed in Georgia 4-H's annual District Project Achievement contests. Four Senior 4-H'ers (grades 9-12) competed at Rock Eagle on February 4 and 46 Cloverleaf 4-H'ers (grades 5 & 6) competed in Bacon County on March 18th.
The Camden teams excelled at both events.  Madison McDonald, a 9th grader from St. Marys, won 1st place in her project area at the District Junior Project Achievement event with a one-hour cooking demonstration and will advance to the state competition this summer to compete against the winners from the three other Georgia 4-H districts. Naomi Anderson, a 9th grader from St. Marys won 2nd in her project area with an entry in the Art category. Megan McDonald (10th, St. Marys) and Isaac Sahadeo (9th, Kingsland) both received honorable mention in their categories.
The Cloverleaf 4-H'ers also outdid themselves at their district competition. Five 6th graders attended this event and all placed in their project areas: Carter Ellis (3rd), Ally Madden (2nd), Colton Port (1st), Kaden Joseph-Roddenberry (1st), and Elisabeth Sepulveda-Nieves (1st). Of the 41 5th grader in attendance, 8 received 1st place in their project areas, 11 placed 2nd, 12 placed 3rd, and 10 received honorable mention.
Georgia 4-H Project Achievement empowers young people with skills for a lifetime. Students choose a project area of interest, research the topic, and write and present a presentation. 4-H'ers develop leadership, creativity, public speaking, record keeping, and other skills. As students become older, a record keeping component that promotes independent thinking, research and implementation is added. The participants in this program gained valuable life experience and were able to learn and practice skills that will help them as they go forward in life.
Camden County 4-H would like to thank all of the teachers, parents, sponsors, and volunteers who supported our efforts to "Make the Best Better" through funding, recruiting, coaching, and chaperoning these events.
List of 5th Grade Participants:
Dakota Binkley (1st)
Jackson Bledsoe (3rd)
Audrey Blumer (1st)
Parker Bordelon (2nd)
Claire Bowman (3rd)
Sofia Bratcher
Camille Chen (2nd)
Madilyn Dean (3rd)
Delia Diaz
Sofia Dominici (1st)
Cassia Douglas (3rd)
Summer Douglas (2nd)
Abi Due (2nd)
Bailey Ellis (3rd)
Halsey Fey (1st)
Sophia Galarza
La'Dorian Gaylor
Madelyn Graw
Ellianna Halligan (1st)
Bella Hayes (3rd)
Walker Hays
Hallie Holland (3rd)
Brooke Johnston
Banana Johnston
Gabrielle Kiongo (3rd)
Declan Kosiba (2nd)
Rylee Leewright (2nd)
Conor Lehnert (2nd)
Leland May (3rd)
Saylor McGarity (2nd)
Demetrius Moore (3rd)
Elsa Nerthercott (1st)
Tenleigh Perkins (2nd)
Emily Pittman (3rd)
Zoey Price (2nd)
Zahra Raoof (1st)
Jaelyn Sanderlin (3rd)
Addison Suddath
Garrett Williams (2nd)
Kennedy Williams (1st)
Layla Wolf