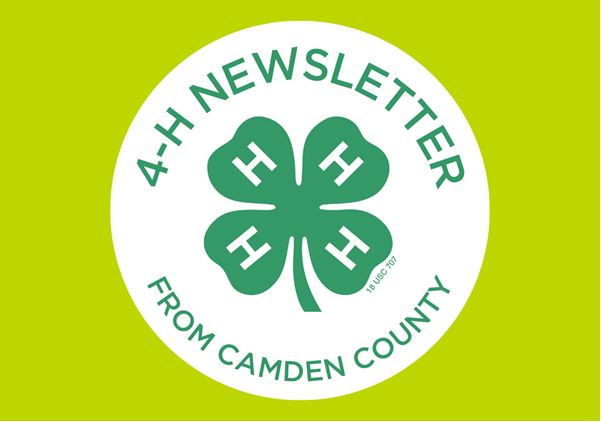 Hello Parents and 4-H'ers!
Thank you for making our local presentation contest for 4-H project achievement a HUGE success! We had 302 people turn in presentations! A big thank you to our 5th grade teachers for helping us with this!!!
Keep reading to final out more about all that is happening in 4-H!
Click on the link below to view the 4-H Newsletter.
The Camden Clover – Your Monthly 4-H Newsletter – March 2023
Because our newletter is fully accessible to everyone, the newsletter is also written out in plain text without all the graphics. An equal opportunity, affirmative action, veteran, disability institution.
4-H Pledge
I pledge my Head to clearer thinking, my Heart to greater loyalty, my Hands to larger service, and my Health to better living, for my club, my community, my country, and my world.
FlowPage
Follow the link below where we list all of our registration links. You can join our Facebook group, e-newsletter, and find the latest on all of our activities here. Website address: Flowpage Web Link
Vidalia Onion Fundriaser
Call our office to order your Vidalia onions and support your local 4-H program!
Cloverleaf Camp
Our Cloverleaf Camp for 5th & 6th graders is filling up fast! We will be camping at Rock Eagle 4-H Center June 19-23. Register at our office today to secure a spot! Last day to register is March 30!
Project Achievement
Congratulations to all of our Project Achievement participants so far!
Jr/Sr DPA Participants:
Naomi Anderson, Maddie and Megan McDonald, and Isaac Sahadeo! These 4-H'ers competed at Rock Eagle on Feb. 3-5. Naomi received 2nd place and Maddie received 1st place and will be advancing to our state competition in July!
Local Cloverleaf Participants:
We had 303 presentations turned in! Thank you to all of our 5th grade teachers that helped with this process! 99 5th graders have been invited to advance to our district competition on March 18!
4-H News and Things
Special Interest Club Meeting Reminders:
Cooking I: March 27 (Must have pre-registered in the fall for this club)
Cooking II: March 28 (must have pre-registered for this club)
Fishing Club: March 4, April 22 (must have pre-registered for this club) *date may change due to weather
STEM: March 16, 5:30-7pm @ our college room location (Room 143, 8001 Lakes Blvd in Kingsland). ALL 4th-6th grade 4-H'ers invited to attend!
County Council (for all 7th-12th Graders): March 23, 5:30-7pm at our college location.
Homeschool Clubs: March 28 in our college room location (Room 143, 8001 Lakes Blvd in Kingsland) 2nd-4th graders @ 11:30, 5th -12th grades @ 12:30
Important Dates & Upcoming Events
District Cloverleaf Project Achievement Competition in Alma: March 18
Last day to sign up for summer camp: MARCH 30
Jr. Conference at Jekyll 4-H Center: April 22-23. For all 6th-8th grade 4-H'ers. Please email Ms. Shawnie for registration information and details.
Summer Programs calendar will be out in April! There will be lots to do with us May 22-June 9!
Jr/Sr 4-H'er and Teen Leader Opportunities
Teen leaders can help at Cooking 1, STEM, and Fishing Club meetings. Email Ms. Shawnie to sign up.
Need to be teen leader certified? Send your name to Ms. Shawnie to be added to the list. We are working on getting this set up in March or April.
We need certified teen leaders AND screened adult volunteers to go with us to our District CPA contest on March 18! See Ms. Shawnie for more information.
See Jr. Conference details above!
Summer Camp Info
5th-6th Grades: Cloverleaf Camp at Rock Eagle, June 19-23
Mandatory Camp Orientation for all registered 5th-6th grade and new campers on April 27, 6-7:30 in the college auditorium (8001 Lakes Blvd. Kingsland).
Register in person at our office.
Upcoming Events
Presentation workshops for Project Achievement Competition:
March 2
March 7, 8 , 9 & 11
March 14 & 15
MARCH 2: KES club meetings
MARCH 8: MHES club meetings
MARCH 9: SMES club meetings
MARCH 10: MLC Club meetings
MARCH 11: SAFE competition-Shamrock Shootout in Alma
MARCH 13: DLR Club meetings
MARCH 13: KBYC 4-H Club meeting
MARCH 15: WES Club meetings
MARCH 16: Cloverleaf STEM club
MARCH 18: Cloverleaf DPA competition
MARCH 23: County Council
MARCH 24: MLG Club meetings
MARCH 27: CRES Club meetings
MARCH 27: Cooking 1 Club
MARCH 28: Cooking 2 Club
MARCH 29: SES club meetings
APRIL 3-7: Happy Spring Break!
5th Grade 4-H
Points:
WES (2390)
SMES (2069)
SES (3721)
MLG (745)
MLCES (3475)
MHES (2743)
KES (2429)
DLR (1670)
CRES (901)
This is the LAST month to earn points for your school and to trade for some cool 4-H merch in April! Bring in those tabs and make sure to wear green!