By: Bob Kemerait
Every peanut farmer in Georgia will benefit from some disease management program and, for most growers, fungicides are at the heart of such a program. Growers are aware that a fungicide program generally begins approximately 30 days after planting, but the exact starting date is effected by several factors, to include the history of the field, what has already been applied at planting and what specific fungicides will be used in the future.
Peanut Rx can be helpful in deciding when to initiate a peanut fungicide program. Where fields are found to be at "low risk" to leaf spot, perhaps because of a long rotation away from peanuts or because a leaf-spot resistant variety is being planted, start of the fungicide program can be delayed by a week to 10 days from when it would have been initiated under moderate, high, or unknown risk conditions. Long rotations away from peanuts help to reduce the initial inoculum (spores of the disease causing
fungus) and delay disease onset. A variety with greater resistance to leaf spot can also delay onset of disease, as can reduced tillage.
Weather conditions can also affect timing of a fungicide program. Very hot and dry conditions early in the season can reduce the urgency of beginning a fungicide program at 30 days (even for irrigated peanuts) and likely allows for a delay of about a week for a start date. Hot dry conditions both delay the development of new spores to infect the young crop and also reduces the "infection efficiency" when spores do land on the leaves. This means that with higher temperatures, lower humidity, and lower
moisture, the spores that cause leaf spot are less efficient at infecting the leaf. Environmental conditions early in the season not only affect when to start a fungicide program, but can
also determine whether a grower needs to treat for leaf spot diseases or for white mold as well. For Georgia's peanut farmers, the "magic" date to begin including a fungicide for white mold control is approximately 60 days after planting, or with the third application of a traditional seven-spray program. Prior to 60 days after planting, the peanut plants are typically too small to capture higher humidity or to extend leaf-wetness periods at the crown of the plant which favor outbreaks of white mold. However,
high temperatures, especially where there is adequate soil moisture, can fuel early-season outbreaks of white mold just beneath the soil surface. In such instances, including a fungicide for white mold control with the first leaf spot spray of the season is advised, rather than waiting until 60 days after planting.
Products that are applied in-furrow at-planting time can have impact on risk to leaf spot diseases and can influence a grower's decision on when to "best" begin a fungicide program. For example, if a grower uses Velum Total, Velum Prime, or Propulse in-furrow, then there is enough systemic activity in these products that the first leaf spot spray can be delayed until 40-45 days after planting. Use of Thimet in-furrow also reduces threat from early-season leaf spot disease; however the extent to which a fungicide program can be adjusted continues to be investigated.
Finally, the choice of product with which to begin a program can affect the timing of the start date. Where Priaxor (6.0 fl oz/A) or Lucento (5.5 fl oz/A) leads a fungicide program, initiation can be delayed until 45 days after planting. Where Aproach Prime (6.7 fl oz/A) is the lead fungicide, initiation can be delayed until 40 days after planting.
In summary, the decision for the timing of the first fungicide application in a season should be based upon on a number of factors. These factors include A) early-season risk to disease, as determined using Peanut Rx and considering weather conditions, B) products already used in-furrow at planting time, and
C) the choice of product to be used in that first fungicide application.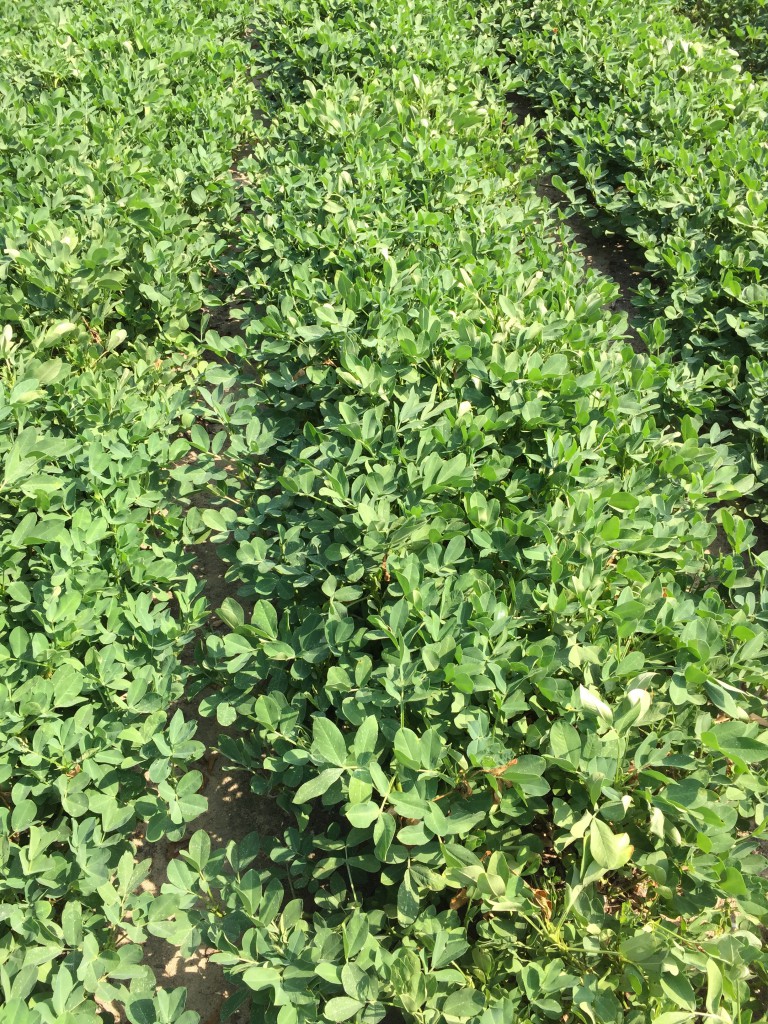 You can access the online Peanut Rx Calculator Here: https://peanuts.caes.uga.edu/extension/peanut-rx.html
To see the Peanut Fungicide Spray Schedules from each company check this site: https://peanuts.caes.uga.edu/