The Georgia pecan crop continues to appear early in its development. The hot nights we are currently experiencing will keep that at a good pace. Nuts are sizing very well at the moment. With the good crop load I see in most orchards, there may be some growers thinking about fruit thinning. If so, be aware of nut development in your orchards because timing is critical for fruit thinning.
I cut some nuts last week and saw that the ovule in Pawnee was about 75-80% expanded. Thus, I expect Pawnee should be thinned no later than the end of this week. See images below. At this rate I expect the crop to be at least 10 days early if not more. Which means we would be shaking for harvest by mid-September. This also means that you need to go to 100% of your irrigation cycle by early next week (July 27) on Pawnee for kernel filling.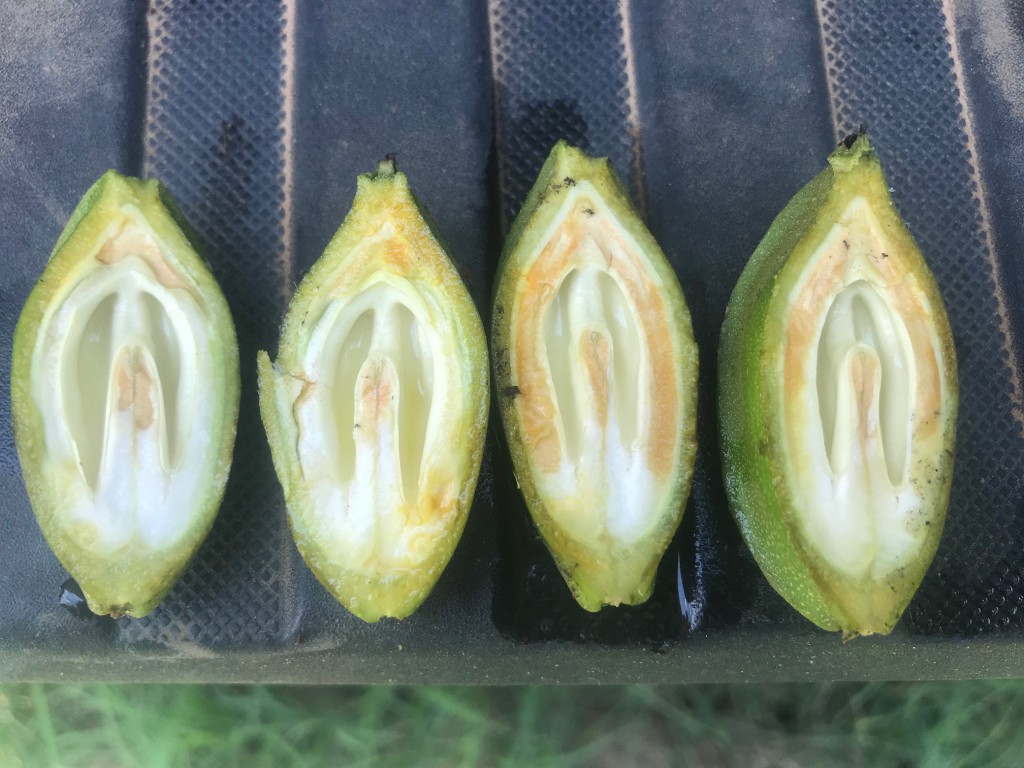 Cape Fear, which is usually a mid-October harvested nut, is of course behind Pawnee but still a little ahead of schedule. This photo from last week shows that ovule expansion had not yet reached the half way point. Thus, you could probably begin to thin Cape Fear and other varieties in the same harvest window by the end of this week and you should be able to effectively thin through the end of July.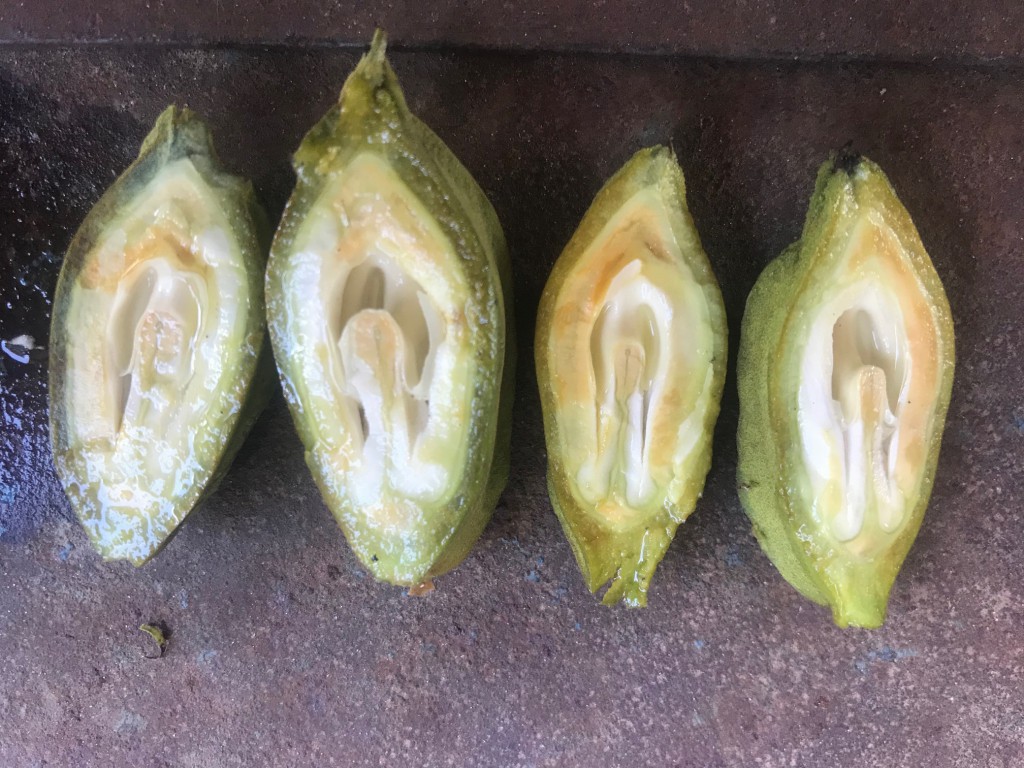 After 2 years of virtually no crop many growers are likely not considering thinning the crop. However, in addition to 2020 market considerations, growers should also weigh a couple of other factors. 1) Hurricanes such as Michael tend to throw trees into a severe alternate bearing cycle. Crops are generally off the year after the storm as we saw for 2019 and they come back strong the second year after the storm as we see for 2020. Thus, it appears that we are indeed in a severe alternate bearing swing (especially for older trees) if we allow things to run their natural course. 2) Long range forecasts call for yet another very hot and dry August/September. This means it will be especially difficult to fill nuts on overloaded trees. If these conditions do occur and we have overloaded trees we will likely see fruit abortion on prolific cultivars like Stuart much like we have seen in the recent past.
The crop estimate that came out of the virtual Texas Pecan Conference this year puts the GA crop at 87 million lbs, which seems about right to me. The total U.S. crop estimate came in at 241.5 million lbs, which is a pretty good ways off the normal 300 million lb U.S. crop. However, there are a lot of dark rumors and rumblings out there about potential market price right now.
According to the latest industry report (May 2020) from APC, total in-shell basis (which includes in-shell and shelled adjusted to in-shell numbers) inventory was at a little over 257.8 million lbs, which is a 7% increase from the same period in 2019. Commitments to ship are at nearly 95 million lbs for shelled meats, an increase of 19%. Commitments to ship for in-shell were 11.5 million lbs, a 141% increase from the same period in 2019. Shipments were also up from 23.8 million lbs in May 2019 to 25.9 million lbs in May 2020. See full report here
This all looks like good news, but I have heard that China is not buying much of the South African crop at this time. Does this mean they are not in the pecan market at all or does this mean they are waiting for the U.S. crop? China has committed to a 40-50 billion dollar U.S. Ag product purchase. But, as we have learned politics and the resulting relations between the two countries is a tricky game. At this point no one knows for sure what will happen. As usual with the pecan business, it all seems to be speculation and rumor. I am sure COVID19 will play a role in this year's market as well but we do not know at this point what that role will be.
I have not been able to obtain reliable information on Mexico's crop. I have heard from some that it is shorter this year due to a freeze they had back in the spring. However, I have heard from others that there seems to be a decent crop.
Needless to say there is a lot of uncertainty out there in the market. One thing I do know is that we can't survive on $1.30 blends and Desirables at less than $2.00. Therefore, as a grower, you need to keep an accurate account of your inputs this year in order to realize what you need to get for your crop. Spend what you need to in order to make the crop but be very careful of your inputs.