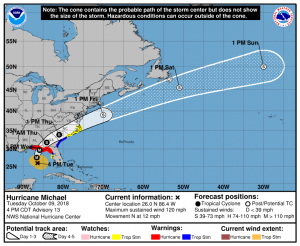 As we all prepare for Hurricane Michael's arrival we hope things do not turn out as bad as they appear. At this time, the storm's forecast takes a direct route through the heart of Georgia's major pecan production region as a hurricane or strong tropical storm when it arrives. In preparation for the cleanup, I spoke with Tas Smith, state director of FSA for Georgia regarding the steps growers need to take in preparation for potential ECP funds.
Unfortunately, most growers became very familiar with this process last year following Irma. The normal protocol is for growers to start cleanup only after they have contacted their local FSA office and FSA staff has visited the orchard to document damage. Following last year's storm, FSA developed procedures to expedite cleanup with the damage occurring so close to harvest. This year's storm is, of course, even closer to harvest and is indeed in the middle of harvest for those with early varieties. Therefore it is even more important for growers to get debris out of the way for nut harvest as soon as possible. In order for growers to be eligible for ECP funds once they become available and be able to begin cleanup ASAP, growers should immediately go to their FSA office to sign a waiver to start cleanup and Form 848. Growers should also take photos of their damage to document. Once the waiver has been signed growers should be able to remove debris and trees from the orchard but do not burn it until FSA officials have made their visits. Be sure to take photos of the middles between tree rows to show that the debris impedes harvest. Ask your FSA officials for further instructions. Please contact the Georgia Pecan Growers Association if you have trouble with this process so that we can make sure everyone is on the same page. Normally counties become eligible for ECP funds after a disaster has been declared in that county. Congress must approve the funding before it becomes available.
I pray everyone stays safe and our trees and crop make it through the storm ok.