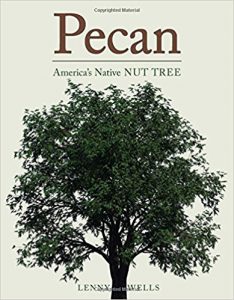 I've always loved books and have wanted to write one myself for a long time. They say, "write what you know", so about six or seven years ago I started writing about pecans. The fascinating history of the pecan and its development into the commercial crop we know today is a story of which few people are aware. In my role as UGA pecan specialist, I was fortunate to find a treasure trove of pecan history left by my predecessor Dr. Tom Crocker when I was hired to this position in 2006. The files he left behind were a great source of information on pecan production and helped me immensely in learning about the biology of the pecan tree and its requirements for producing a crop, most of which I use on a daily basis in my job.
But, in addition, I found a box full of early pecan literature—trade magazines, pamphlets, and letters from early pecan growers dating back to 1902—donated to Dr. Crocker by the family of an early Georgia pecan pioneer named JB Wight.  As I dug through this material and decades worth of Pecan South, Pecan Grower, and Pecan Journal magazines, it dawned on me that this wealth of information on the history of the pecan, first as a tree and later as a crop, should be compiled in one place.
In order to make it a little more interesting to the average reader, I dug deeper into the stories of the people involved in making the pecan the international crop it is today. From native Americans and conquistadors to our founding fathers and the pioneering scientists and growers that first saw promise in this crop that is currently undergoing a rebirth, the pecan and the people associated with it have created a rich story. I like books that contain a little bit of everything so that's what I've tried to create with "Pecan: America's Native Nut Tree". Its got a little science, a little history, and a little biography, all of which I've tried to combine in a reader-friendly format for those who already have an interest in the pecan as well as those who don't yet know about it.
Pecan: America's Native Nut Tree is available now from Amazon, Barnes and Noble, and Books A Million.