Reminder- there are still spots available for this great opportunity!
Georgia 4-H is happy to host Mission Make-It: The Georgia 4-H Engineering Challenge, held this year on Saturday, August 21, 2021, at Rock Eagle 4-H Center from9:15 AM – 4:30 PM. Mission Make-It is an exciting educational, non-competitive event for middle school students to engage in the engineering design process, teamwork, and critical thinking.   Plus, we will have a helicopter on site for youth to explore – – – it's going to be great!
Due to generous 4-H donor support, registration for the 2021 Mission Make-It is $5.00/person, which includes lunch, facility fees, supplies, and insurance. Mission Make-It is open to any 6th-8th grade 4-H member in the 2021-2022 school term. Registration is limited to the first 200 people (youth and adults), after which individuals will be placed on a waiting list. There is no limit to the number of 4-H'ers a county may bring. Event Registration is now open and will remain open until Tuesday, August 17, at 11:59 PM.
The full event letter, editable promotional flyer, and social media graphics are attached to this email and are available in the downloads section of Event Registration.
Military Installations that are interested in advertising on-base, having staff attend with middle schoolers, or the like should reach out to their local point of contact. In many cases, your local point of contact is the UGA Extension Office that the military installation is in. If you are unaware of who to contact please email laurwalt@uga.edu.
Parents and Volunteers similar to installation staff if you are interested in sending your teen to Mission Make It reached out to the 4-H leader in the county you reside in.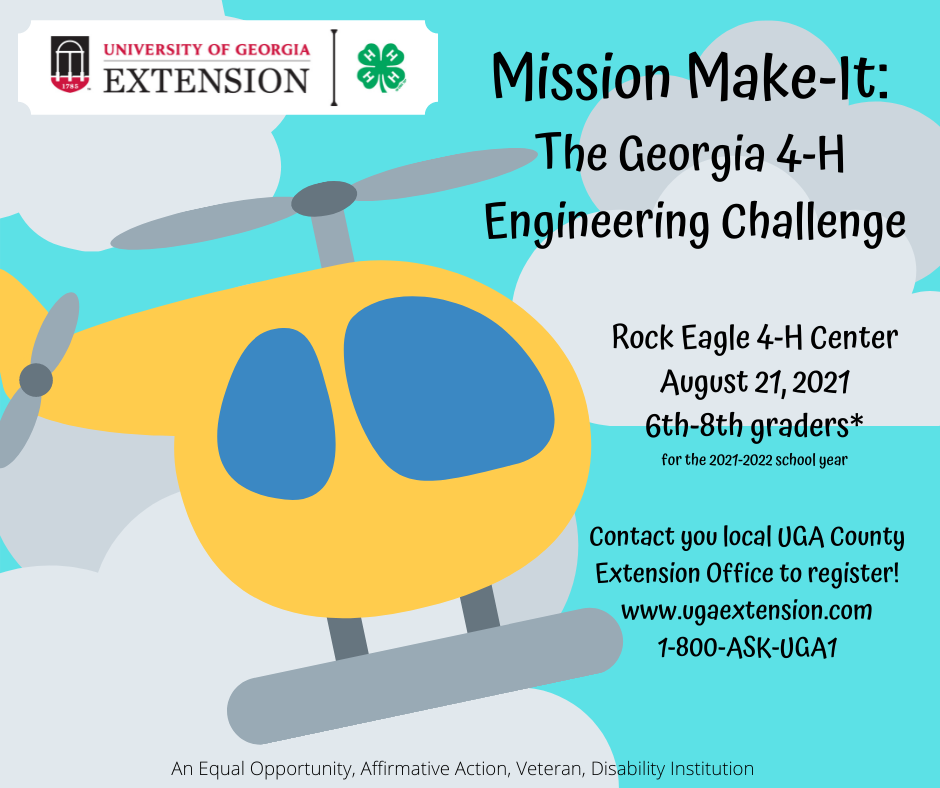 There is an editable flyer available. Laura is happy to share as needed or connect with your local office to learn how they are promoting, transporting children, and advertising.
This event is being planned by Kasey Bozeman, Extension 4-H Specialist, and team.