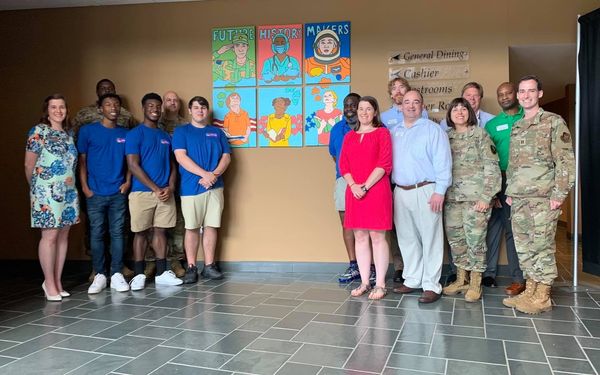 Through unique partnerships, Georgia 4-H can empower youth with important life and leadership skills. Extension means "reaching out," and—along with teaching and research—land-grant institutions through the Cooperative Extension Service "extend" their resources, solving public needs with college or university resources through educational programming. Since the early 1990s, the Georgia National Guard and Air Guard have been strong partners of Georgia 4-H. Throughout the partnership, programs have been created and resources shared to support military-dependent children through the Georgia 4-H Military Partnership. 
On July 12th Rock Eagle 4-H Center and Georgia 4-H staff accepted a Month of the Military Child mural completed by the Georgia National Guard Youth Program. The mural is a result of a partnership with the Foundation for Hospital Art. The Foundation for Hospital Art designed the mural for the Georgia National Guard Youth Program. The mural highlights that military-dependent youth are "future history makers." Recent high school graduates Noah Sherman and Ethan Johnson emphasized the strength of the partnership through stories of volunteering, leading, and teaching. Major Clay (MFSB Chief), Chaplain Chandler (SFPD), Mark Richards (Youth Director) highlighted the resiliency of the Guard families and the strength of partnerships.
Georgia 4-H is proud of our strong partnership with the National Guard. The Month of the Military Child mural proudly hangs in the entryway to the dining hall at Rock Eagle 4-H Center. As a result, 4-H'ers and guests will see they can accomplish big things. Former Georgia 4-H State 4-H Leader, Dr. Bo Ryles often shares that "If you want to touch the past, touch a rock; if you want to touch the present, touch a flower; but if you want to touch the future, touch the life of a child." All those who pass through the dining hall will see the important role of military children, and the impact the Georgia National Guard partnership has had and will continue to have for Georgia children.