Congratulations to Melissa Mattee Murphy, Agriculture and Natural Resources Extension Agent in Fulton County, for being selected to receive the Award of Excellence! Melissa is the third recipient of this award sponsored by the Georgia Master Gardener Association (GMGA). Created in 2019, this award is given annually to an Extension agent for outstanding support to Georgia Master Gardener Extension Volunteers.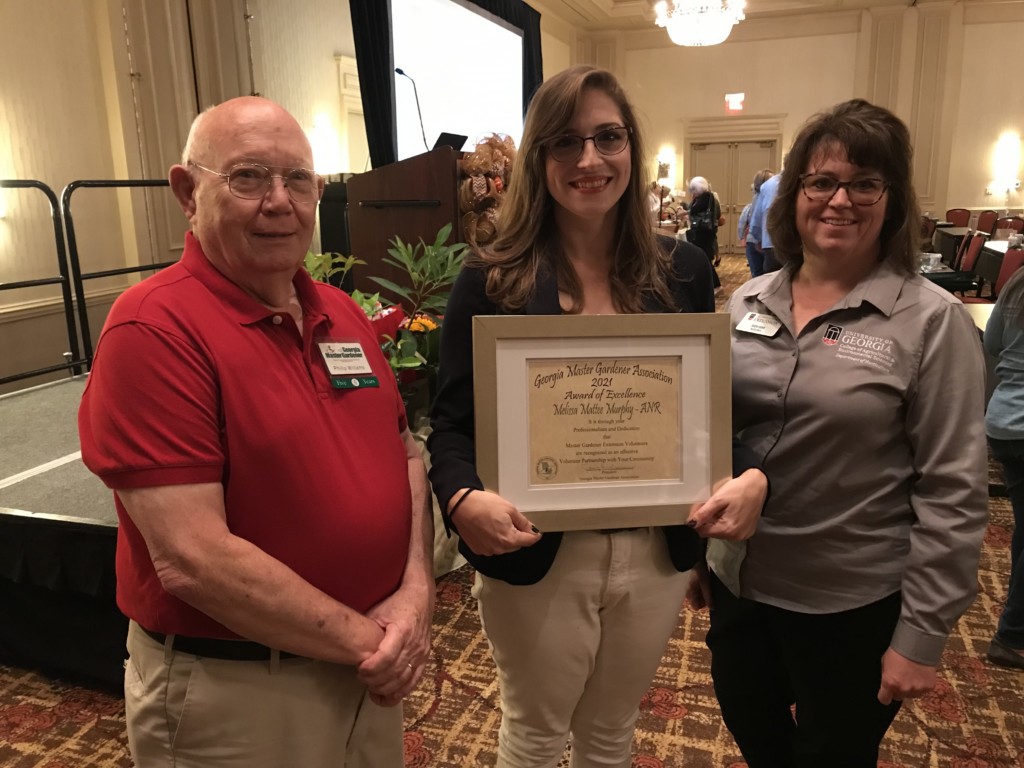 Originally from Stockbridge, Georgia, Melissa attended the University of Georgia in Athens where she received her bachelors and Masters degrees in Entomology. She first started with UGA Extension in 2016 as the Union and Towns Agriculture and Natural Resources Agent. While working in the Blue Ridge Mountains, her work focused on traditional small-scale agriculture, beef cattle production, and viticulture. In 2018, she transferred to Fulton County where she currently serves as an ANR agent. Her favorite topics to teach on are insects (of course), snakes and reptiles, and herb gardening. She resides in Dekalb County with her husband, Rockdale County ANR Agent James Murphy, and fills her spare time with hiking, baking and gardening.
In her application, Melissa highlighted several educational programs of the previous year. Of note were several community and demonstration gardens, virtual home horticulture programming, and STEM/STEAM education. MGEVs work with Melissa to manage two community gardens that have almost 100 total beds. Ten of these are demonstration plots for the public, and three are rented by teachers and classes. MGEVs host monthly educational seminars at the GROWL Garden in College Park. Additionally, North Fulton Master Gardeners and Melissa offer regular webinars delivered multiple times a month in the spring and fall. She also described how MGEVs partner with six schools to deliver programming to first through sixth-grade students. Over 500 seed starting, terrarium and seed saving kits were created and distributed for with online learning.
Melissa has provided leadership for an MGEV training class in Fall 2020. She led the effort to train in a virtual classroom, with assistance from colleague Carol Stringer (ANR Agent, Fulton) and Tami Cousin, Program Assistant. There efforts and experiences contributed to the development of the virtual MGEV training classroom piloted in several other counties during 2021.
Melissa and her colleagues organize quarterly continuing education and fellowship meetings with speakers and project
highlights to promote volunteer opportunities across Fulton. Field trips in the Atlanta area supplement learning and connections between volunteers. MGEV accomplishments are shared in the quarterly MGEV newsletter, Fulton County Leaves, across social media, and in Extension's newsletters.
Congratulations to Melissa for her distinction! She was recognized Saturday at the GMGA annual conference in Augusta. She will also be recognized in November at the Georgia Association of County Agriculture Agents (GACAA) professional meeting. Thank you, GMGA, for sponsoring this award and supporting Extension agents coordinating MGEV programs!