Are you picking copious amount of squash every day? Have you picked any okra yet? Are your hydrangeas blooming? Are you watching those plump tomatoes getting more red every day? (It's almost BLT Day at my house, celebrated with fresh bread on the harvest day of the first ripe slicing tomato!) If it weren't for these seasonal indicators, I wouldn't be sure that it is summer. Spring felt unnaturally like a time warp, with days blending in with days and weeks disappearing like morning mist. I certainly hope that each of you is healthy, well, and enjoying some extra time in your gardens.
In May, I had the pleasure of leading a group of youth in a neighboring county through the planting of tomatoes, peppers, and petunias in container gardens — via a Zoom session! Figuring out how to guide them through the process using both hands to plant AND trying to hold a phone camera made for an interesting afternoon (many thanks to my daughter for her assistance!). I was thankful for the hosting agent who moderated the session, watched for questions from youth, and generally kept order!
My main take-home from that session was how best practices for youth protection and safety apply even to virtual settings. Many of us have children or grandchildren. Many of us have volunteer roles that support youth, in addition to that of Master Gardener. We all sense the importance of providing quality learning opportunities for youth and protecting youth from harm. We can certainly appreciate the need to be organizationally prepared for youth audiences, even if we do not choose to work with them directly.
So along with heat, hydrangeas, and fresh tomatoes, July brings the renewal of risk management training (RMT). Each July, we refresh our knowledge of UGA protocols for working with youth in anticipation of a new youth programming year. We want to be our best and do our best to protect the youth we may interact with or be responsible for.
As in previous years, your training status has been reset in MGLOG. This reminder on your MGLOG homepage will remind you to update your RMT: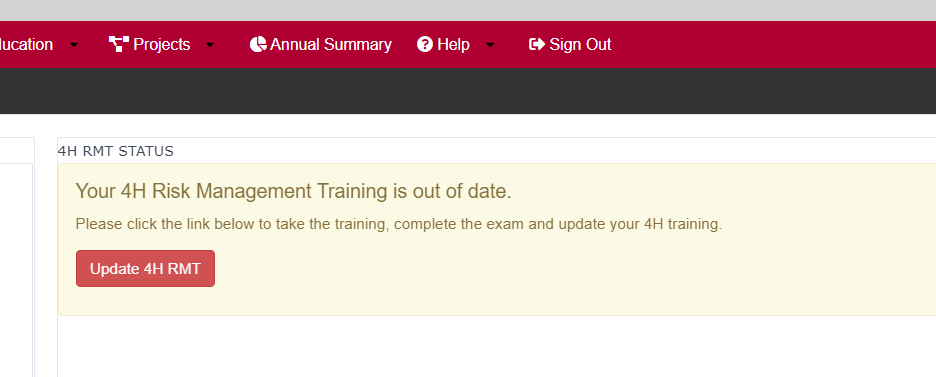 In case you need a refresher for completing the training, we have provided a pdf file with additional directions for completing the training. The training takes about 30 minutes to complete, including the video and quiz. Be sure to record your time in MGLOG.
I encourage you to take advantage of the RMT update to check in with Extension. Update your MGLOG account and poke around in the new version if you haven't done so already!
In the meantime, I have the bread machine preparing the dough for fresh bread, and I am headed out to the tomato patch!