The birds are singing and the weather is more warm than winter. It feels as if gardening season might be near, and so will be the calls and questions from the public seeking guidance for their plants and landscapes. To keep you on top of things during the gardening season, we offer the third season of  Thoughtful Thursdays.
What is Thoughtful Thursdays? I'm SO glad you asked! Think of it as an extra monthly speaker at your fingertips! Thoughtful Thursdays is a monthly webinar series offered to MGEVs to stay current on gardening information. It is short and concise, just 30 minutes. Our speakers are mostly UGA Extension specialists, meaning they specialize in their topic area. They come online with us and share updates on what they are seeing in their field of expertise or what we should expect during the growing season.
When are Thoughtful Thursdays? These webinars are on the second Thursday of every month from 2-2:30 pm. We run the series from February through November.
How much does it cost to attend? Nothing! The webinars are FREE!
How do I view the webinar? Simply click the live zoom link just prior to 2 pm on the day of the webinar. (If you click the link at another time, you won't see anything in the zoom classroom.) We will post the link with the session details. Details for the February session will be posted next week.
What if I am not available during the session? Absolutely no problem! We record the sessions and post the video links in MGLOG. Simply log in to your account and look for the Thoughtful Thursday link. Many MGEVs watch the video links at a time convenient for them.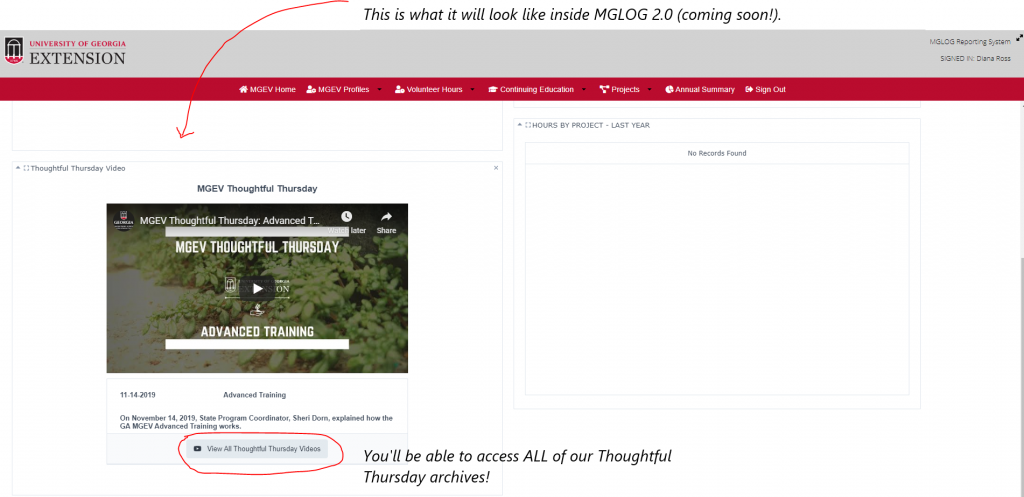 Can I record hours for Thoughtful Thursdays? Yes, you may record a half-hour of Continuing Education for each Thoughtful Thursday webinar that you watch. This holds true for the live or recorded session.
We hope you'll join us for the whole season!