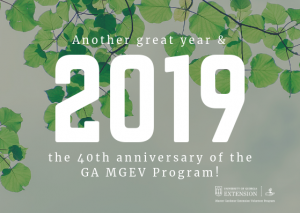 Wow! I can't believe 2018 flew by so quickly and another year is here already! I hope you had a wonderful holiday season with family and friends and I look forward to hearing about all Georgia MGEVs accomplish in communities, gardens, schools, Extension offices, and more in 2019. Even though you may mentally still be in 2018 (like me!) as 2019 has just arrived and is expected to be dreary, gray, and rainy – this weather provides the perfect opportunity to sit down with your favorite cup of hot coffee or tea and brand new planner or pull up your smart phone/computer calendar, and add these dates in so that you don't miss any trainings you wish to attend. Please note that these are only a few of the important dates to add to your calendars and be sure to check in at local meetings and visit social media outlets for more 2019 trainings and events!
Click the links below for more information, including dates and times: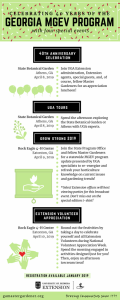 In addition, don't forget that all 2018 volunteer service and continuing education hours must be recorded in MGLOG by January 25, 2019 for inclusion in annual report statements. We are planning an extended 2018 Annual Report and look forward to showing off all your hard work!
Questions about reporting? Support resources are available in a previous blog post.