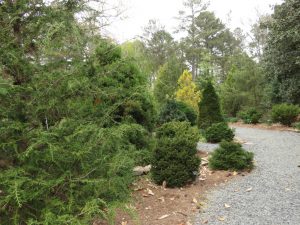 On March 8, 2018, Dr. John Ruter joined us for our second Thoughtful Thursday webinar session to discuss conifers in Georgia. Dr. Ruter is with the UGA Department of Horticulture and is a Professor and UGA Trial Gardens Director. He currently has a 60% research, 30% teaching, and 10% Extension appointment. Prior to 2011, Dr. Ruter served as the Nursery Crop Research and Extension Specialist on The University of Georgia Tifton Campus. Classes taught include Environmental Issues in Horticulture and Herbaceous Plant Identification. His research activities are focused on herbaceous and woody ornamental plant breeding and selection, and nursery crop production.
During our Thoughtful Thursday session, Dr. Ruter shared about several conifers that vary in morphological characteristics. He reminded us that some species are deciduous and lose their leaves in the winter. If chosen correctly, conifers are low maintenance, easy to use in the landscape, and an attractive contribution providing texture and color to resident and commercial landscapes. Conifers are botanically interesting and have male and female strobili, instead of flowers, that are wind pollinated.
While conifers are relatively low maintenance landscape plants common in Georgia, heat is a limiting factor, and long summers can inhibit their performance. They are usually happier in northern Georgia where temperatures are lower and precipitation is higher, but they are also successful in southern Georgia, which is demonstrated by Dr. Ruter's research trials in Tifton. High day and night temperatures and high humidity are challenging for conifers native to areas like Japan, where precipitation is higher and drought and extreme heat are not as common. Supplemental irrigation is beneficial or necessary, depending on weather conditions. In addition, weather condition changes from long drought periods to heavy rainfall also have a significant impact and may cause root rot.
However, there are many conifers well adapted to local climates and soils, and these are listed below. These conifers are relatively pest free, have good form and growth rate, and are low maintenance.
Conifers Suitable for Georgia Plant List:
Abies firma — This is a true fir from Japan and is resistant to most soil diseases. It is Dr. Ruter's favorite fir.
Abies nordmanniana
Cedrus atlantica 'Glauca Pendula' – Cedars do well in local climates and are hardy in northern Georgia.
Cedrus deodara 'Bush's Electra' – This cedar is well adapted to southeast and has showy cones in the winter landscape.
Cephalotaxus – These conifers are well suited for deep shade.
Chamaecyparis pisifera 'Yadkin Gold'
Crytomeria japonica 'Gyokuryu'
Crytomeria japonica 'Yoshino'
Cupressus arizonica var. glabra 'Blue Pyramid'
Cupressus arizonica var. glabra 'Chaparral'
Cupressus arizonica var. glabra 'Limelight'
Juniperus
Juniperus chinensis 'Hetzii Columnaris'
Juniperus conferta 'Silver Mist'
Juniperus formosana
Juniperus horizontalis 'Monber' Icee Blue ®
Juniperus virginiana 'Royo'
Juniperus virginiana 'Taylor'
Keteleeria evelyniana
Metasequoia
Picea abies 'Acrocona'
Picea alcoquiana 'Howell's Dwarf'
Picea morrisonicola
Picea orientalis
Picea smithiana
Pinus densiflora 'Golden Ghost'
Pinus glabra
Pinus heldreichii 'Smidtii'
Pinus nigra 'Oregon Green'
Pinus strobus 'Angel Falls'
Pseudolarix amabilis
Pseudotsuga sinensis
Sciadopitys verticillata 
Taiwania cryptomerioides
Taxodium
Thuja occidentalis 'Conabe' Fire Chief™
Thuja occidentalis 'RutThuj1' Hothead ®
Thuja 'Green Giant'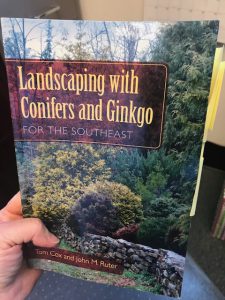 To learn more, check out Landscaping with Conifers and Gingko for the Southeast, written by Tom Cox and John M. Ruter.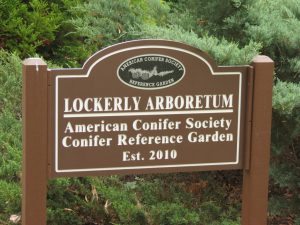 Gardens to visit in Georgia to observe Conifers:
Cox Arboretum and Gn (Athens and Gainesville)
Lockerly Arboretum (Millegeville)
Smith-Gilbert Gardens (Kennesaw)
Upcoming Thoughtful Thursdays:
Time: 11:00 am – 11:30 am
Dates & Topics:
April 12, 2018 | Spring Green-Up of Turf with Dr. Clint Waltz
May 10, 2018 | Troubleshooting Vegetables and Trap Cropping with Bob Westerfield
*more dates to be added!