Congrats to the 5 counties receiving complimentary AT! Free Advanced Training was offered to the first 5 counties to achieve 100% completion of 2017-18 Risk Management Training (RMT). We are excited to recognize Rockdale, Paulding, Bibb, Fayette, and Clayton counties for achieving this recognition.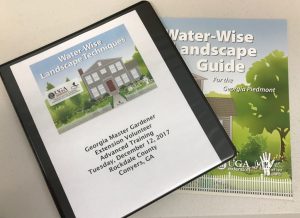 We had fun with the first AT, Water-wise Landscaping, yesterday in Rockdale. Twenty or so MGEVs took advantage of the opportunity to learn about the 7 steps to a water-wise landscape and how to share that with individuals asking Extension for advice and direction. This training comes complete with a workbook that is packed with publications and articles.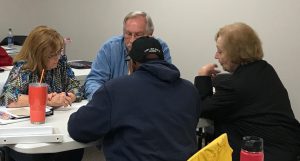 Throughout the day, we had interactive activities. These activities helped MGEVs practice the decision-making that goes into developing a water-wise landscape. Some activities required group discussion. One scenario involved the parking lot island in front of the Cowart Building here on the UGA Griffin campus. MGEVs decidedly did NOT care for that garden!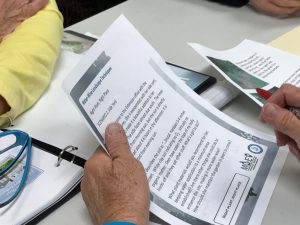 Other activities built on the pre-training assignment. Before training, MGEVs were asked to choose a landscape or garden site and answer some questions about it. Then, they were asked to create a rough sketch of the site, noting characteristics about location, use, weather patterns, and other elements of site analysis. We used this drawing as the basis for other activities related to hydro-zoning.
Overall, it was a great training day! The State Program Office will enter into MGLOG 6 hours of Advanced Training in the Water Quality and Management category for each MGEV who completed training yesterday.
We'll be headed to Paulding County in late January to give MGEVs there a free day of Advanced Training! They chose "Teaching with Demonstration Gardens" to help prepare them for "rethinking" some of their space and gardens.
Curious about Advanced Training? Find more information on our Advanced Training page. Look for the 2018 MGEV Advanced Training schedule to be posted in January!