Hello! As your GACAA Secretary, I have updated the blog to keep you abreast of our activities this week. Sam Ingram will be assisting me through the week as well.
This week is the National Association of County Agricultural Agents AM/PIC in Sioux Falls, South Dakota. Georgia is well represented with 28 agents, with two of them being first timers.  We also had two life members with us this week.  This week is unique in that NACAA is celebrating the 100 year centennial birthday.
Here is some interesting information on South Dakota from the South Dakota Agent Association President-Connie Strunk: Agriculture is the number one industry in South Dakota with a 20.9 billion dollar impact on the South Dakota economy.  There are 43.7 million acres that are farmed by 31800 farms of which 98% are family owned. The agriculture in the state is very diverse involving  fruit and wine production,  forestry, small grain and row crop production, ethanol production, dairy production and manufacturing, poultry, swine and beef production, in fact the number of beef animals out number humans 4.7 to 1. Corn is the top commodity with over 4 million acres planted each year. South Dakota is 1st in planting genetically engineered plant varieties.
South Dakota which in the Sioux language means " friends or allies" has one of the largest Native American populations with 9 official tribes made up of Lakota, Dakota, and Nakota which makes up  the Sioux Nation.
Here are some snapshots of some of the things that have gone thus far: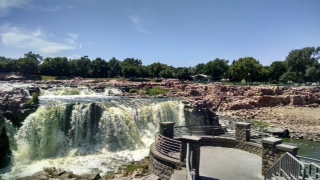 Sam Ingram took this snap shot of these water falls that run through downtown Sioux Falls.  These falls are on the "Big Sioux River," this is where the name Sioux Falls is derived from.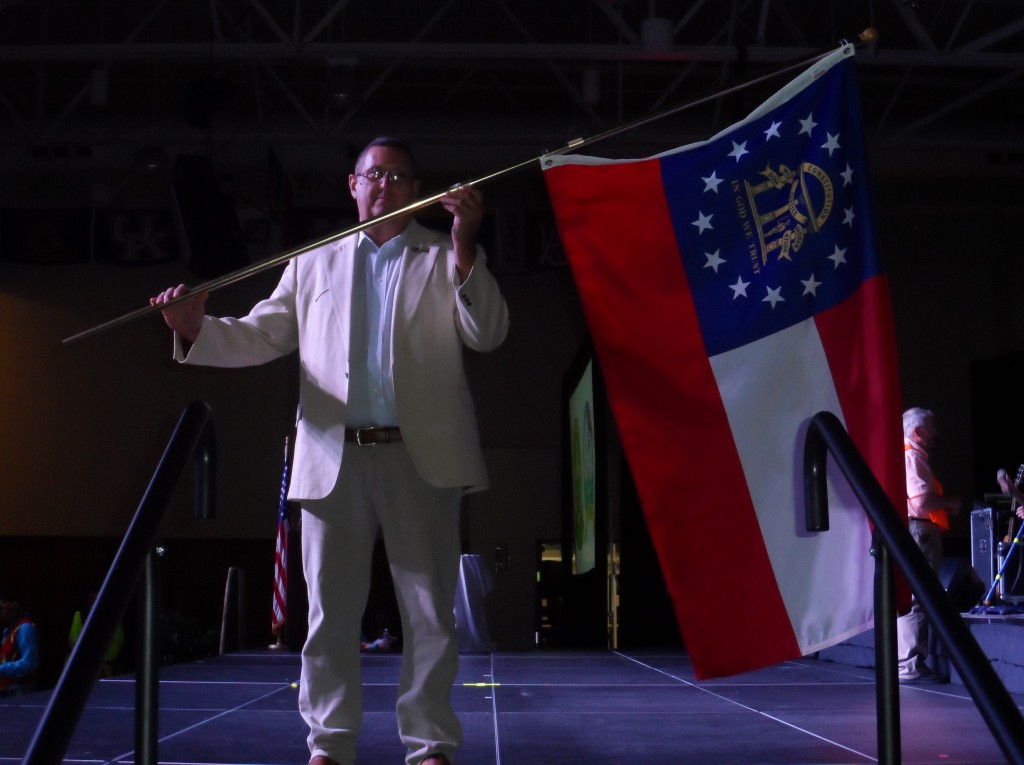 Ray Hicks, GACAA President displays the Georgia flag during the opening ceremony. Ray is the County Extension Coordinator in Screven County and is currently leading our organization.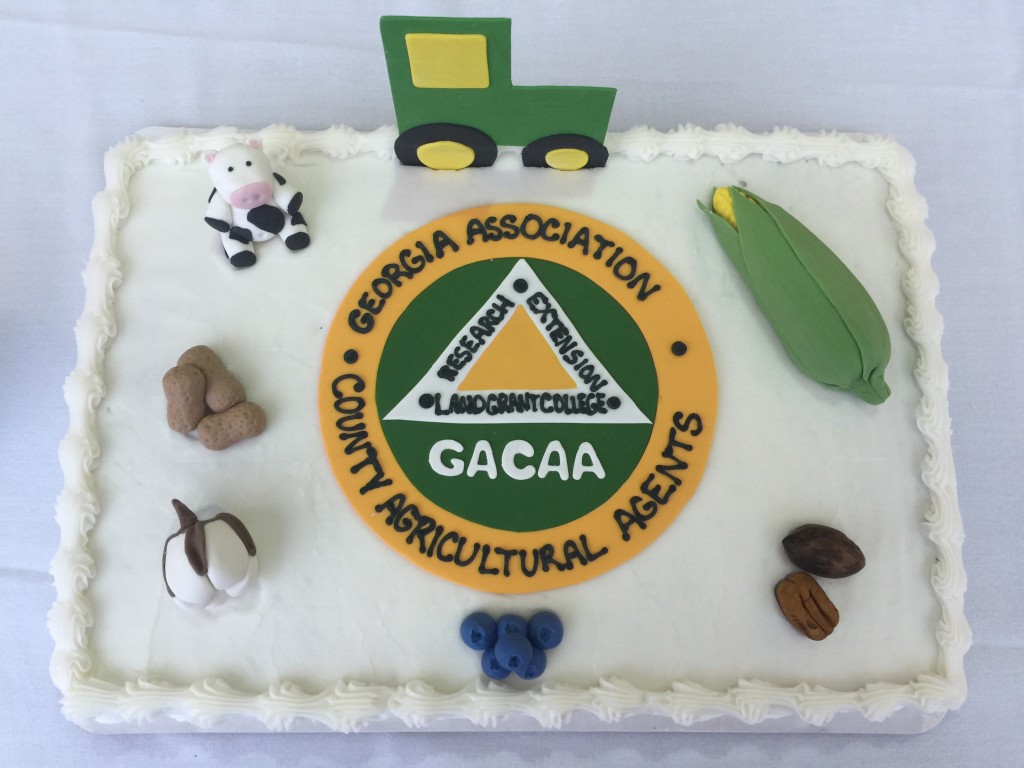 To help celebrate the 100 year anniversary of NACAA, each state was asked to decorate a cake. Not only do we have skilled county agents in Georgia, but we also have some skilled cake decorators! After the cakes were judged, members got the chance to sample the cake of their choice along with some ice cream.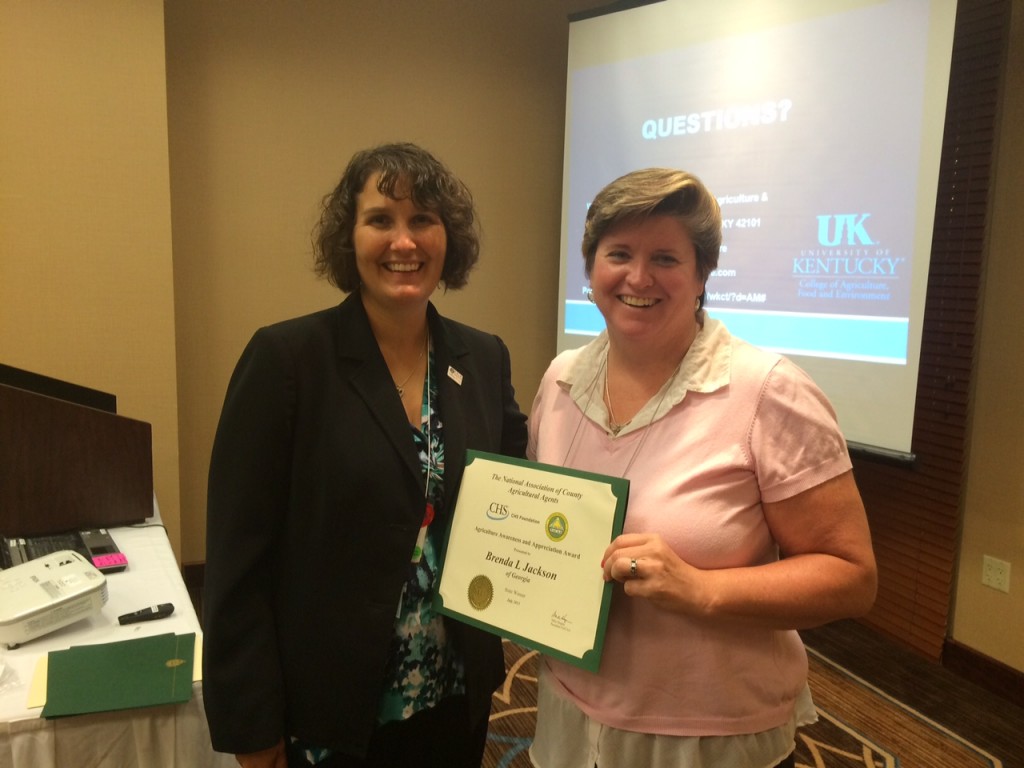 Paula Burke, Chairman of the Public Relations committee is shown presenting an agricultural appreciation award to Brenda Jackson. This award is presented to the agent that has demonstrated outstanding agricultural leadership in their community. Paula says this award can be applied for during the normal application period in March.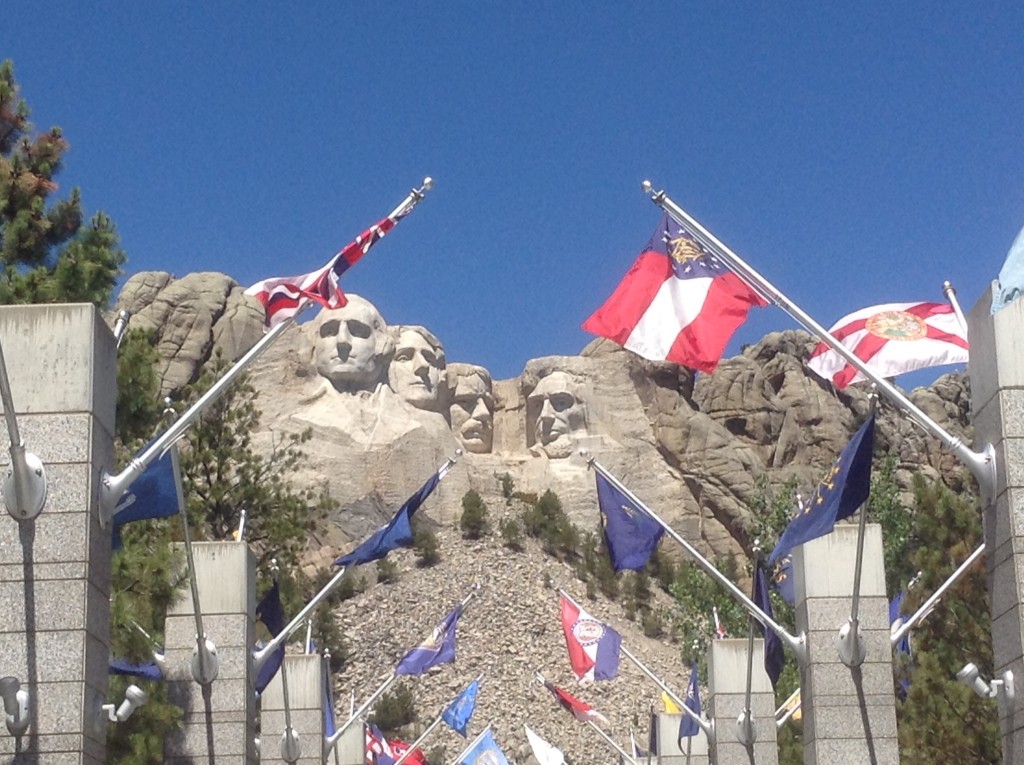 Ronnie Barentine took this picture of Mount Rushmore. Ronnie signed up for one of the pre-conference professional tours, in which Mount Rushmore was featured. Take note of the Georgia flag flying in the entrance way. Mount Rushmore is the granite mountain in which a sculpture of George Washington, Thomas Jefferson, Theodore Roosevelt, and Abraham Lincoln is carved into the side. Mount Rushmore is an American icon that attracts over two million people annually.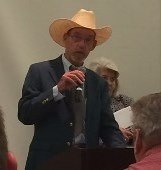 Wes Smith is running for NACAA treasurer and is shown giving his nomination acceptance speech during the southern region meeting this afternoon. Wes has plenty of experience with being treasurer, as he served a 3-year term as GACAA treasurer a few years ago. Let's wish Wes luck as he represents Georgia in this position.
Tomorrow is full day of professional presentations and other professional improvement activities. Stay tuned!