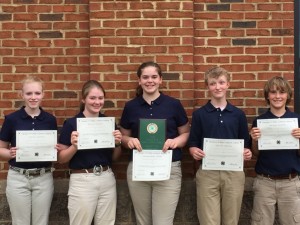 Franklin County's Junior 4-H livestock judging team came away with 2nd place honors. In the 2016 State Livestock Judging Contest. Merrit Eavenson was ranked 5th high individual in the contest, with Lex Turner and Lydia Rolison tying for 1st in the sheep and goats category.
Members of the local teams are Laura Goolsby, Lydia Rolison, Merrit Eavenson, David Goolsby, and Lex Turner.
At the State competition, the 4-H'ers matched judging skills against other teams from across the state.  The contestants judged 2 classes of beef cattle, 2 classes of swine and 2 classes of sheep/goats, according to Raymond Fitzpatrick, County Extension Agent and Will Cabe volunteer team coach.
Each class contained four animals, and each team member placed them according to the proper characteristics of breeding and market animals such as conformation, finish and breed character.  To back up their decisions, each member gave oral reasons for their placement of the animals in certain classes.  4-H'ers also answered two sets of questions based on their observations in certain classes.
The state contest culminated months of weekly practices for the team. Each 4-H'er was recognized for their accomplishments with an award card and award medal sponsored by the contest donors, the Georgia Department of Agriculture and the Georgia State Fair in Macon.
Through their participation in Livestock Judging, these youth have practiced important life skills including goal setting, decision making, communication, teamwork, contribution to group effort, self motivation, critical thinking, problem solving, planning, organizing, keeping records, and cooperation.
4-H is the Youth Program of the University of Georgia College of Agricultural and Environmental Sciences.  For information about 4-H, call the Franklin County Extension and 4-H Office at 706-384-2843 or visit Georgia 4-H on the web at www.georgia4h.org.
###
Written By:
Cheryl Varnadoe
Extension 4-H Specialist
Marketing, Public Relations, and Recruitment