I have received a call or two about army worms in winter annual grazing from cattlemen in Colquitt County.  Fall army worm, beet army worm, yellow-striped army worm, and cutworm infestations usually occur in the fall on seedling plants.
What is the economic threshold for this pest in winter grazing? According to the 2021 UGA Pest Management Handbook, the economic threshold for this pest is when worm populations exceed 3 larvae (1/2 "long or larger) per sq ft in winter annual forages.
"Mr. Kichler, What insecticide options do I have for this pest?" Numerous insecticide options are in the table below along with REI and grazing restrictions for each product. When selecting insecticides, growers should keep in mind that some army worm populations were difficult to manage with pyrethroids this past year.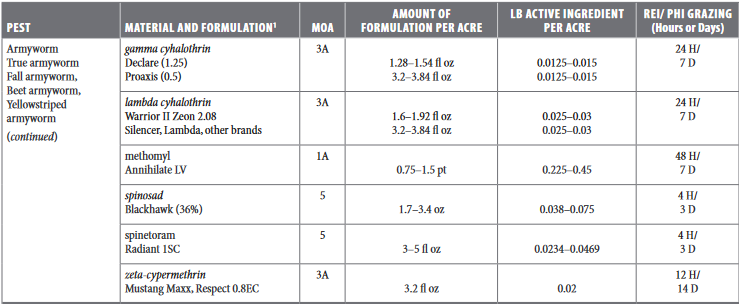 If you would like more information on army worms in forages please refer to an earlier blog post from the Colquitt County Ag Report.
If you would like an update on the current insect situation in forages please contact your local county Extension agent.