Variety selection is one of the most important steps in cotton production.  Dr. Jared Whitaker, UGA Cotton Agronomist, discussed variety information at the Colquitt County cotton production meeting a few weeks ago.  Below is information on variety performance over the last two years from 44 locations around the state.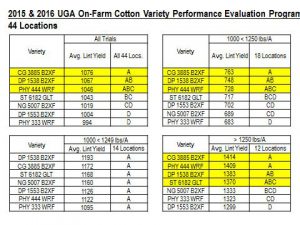 Below is cotton variety performance from last year from 20 locations, which included 9 irrigated and 11 dryland environments.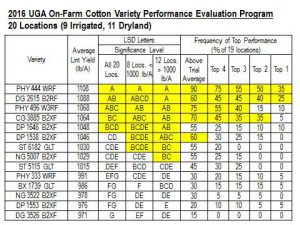 How did they perform in Colquitt County?  Below are the two Colquitt County locations which were both irrigated which were located at the Packer Farm Pivot and the Sunbelt Ag Expo.
2016 Colquitt County Extension _packer farm
2017 Colquitt County Extension On Farm Cotton Variety Trial