While the final statistics for 2019 are still being analyzed, here is a first look at the yearly climate of 2019 for the Southeast.
Temperatures across most of the Southeast were well above normal again. A number of stations had an all-time record high for the year, including Atlanta, Macon, and Savannah GA, Key West and Gainesville FL, Muscle Shoals AL, and Cape Hatteras and Norfolk VA. It is likely to be among the warmest years on record for Georgia and other states in the Southeast.
Precipitation across the region varied quite a bit. The wettest areas were in northern Alabama and Georgia and western North Carolina. The driest areas were in the Florida Panhandle, southern Georgia and southeastern Alabama. Parts of south Florida were also very dry.  Most Southeast stations with long records were not in the top ten wettest or driest other than Tallahassee FL, which was the 9th driest on record for that location. These dry conditions along with the very warm temperatures contributed to the development of a flash drought in September which persisted and then slowly declined later in the fall.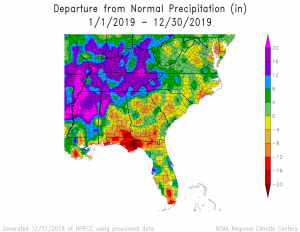 You can see more maps at https://hprcc.unl.edu/maps.php?map=ACISClimateMaps and https://sercc.com/perspectives.