A wetter and cooler than normal April helped reduce drought conditions across the northern three-quarters of the state going into the start of the growing season. Dry conditions remained in the southeastern corner. Farmers kept busy doing planting and other field work during the month when soil conditions permitted.
In Atlanta, the monthly average temperature was 59.8 degrees F (2.2 degrees below normal), in Athens 58.8 degrees (2.9 degrees below normal), Columbus 63.3 (1.3 degrees below normal), Macon 61.2 (2.2 below normal), Savannah 64.2 (1.4 below normal), Brunswick 68.4 (0.1 below normal), Alma 64.8 (1.4 below normal), Augusta 60.6 (2.1 below normal), Albany 64.3 (1.9 below normal), Rome 58.0 (1.8 below normal), and Valdosta 64.4 (1.5 degrees below normal).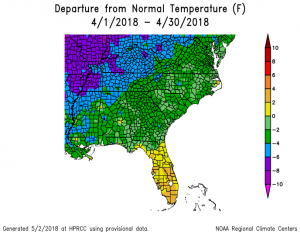 No temperature records were set this month.
Precipitation was above normal in most of the state in April 2018. The highest monthly total precipitation from National Weather Service reporting stations was 6.53 inches in Atlanta (3.17 inches above normal) and the lowest was in Alma with 2.02 inches (0.79 inches below normal).  Athens received 5.49 inches (2.34 inches above normal), Columbus received 5.02 inches (1.47 above normal), Macon 4.99 inches (2.03 above normal), Savannah 4.33 inches ( 1.26 above normal), Augusta 3.47 inches (0.63 above normal), Brunswick 4.16 inches (1.67 above normal), Valdosta 5.24 inches (2.37 above normal), Albany 3.90 inches (0.26 above normal) and Rome 4.50 inches (0.45 inches above normal).
One daily precipitation record was set this month. On April 23, Atlanta reported 4.16 inches of rainfall, which surpassed the old record of 2.40 inches set back in 1883.
The highest daily rainfall total from CoCoRaHS observers in April was 5.00 inches west of LaFayette in Walker County on April 23. An observer near Townsend in McIntosh County received 3.77 inches on April 24 along with a Dillard observer in Rabun County, who received 3.54 inches on the same date. The highest monthly precipitation amount was 10.44 inches from the observer near Dillard, followed by 10.01 inches by the LaFayette observer and 9.10 inches measured near Trenton in Dade County.
A lone tornado occurred on April 7 in Laurens County as reported by the police chief there, with two additional tornadoes reported on April 15 in Decatur County in southwestern Georgia and in Camden County along the coast. Some hail was also reported in Lumpkin County on April 27 by a CoCoRaHS observer.
Drought conditions gradually eroded over the month as plentiful rains covered most of the state. By the end of the month the area of severe drought in the southeast was reduced and many other parts of the state saw their drought eliminated altogether.
The colder conditions in April slowed the development of corn and other plants during the month. The rainfall enhanced soil moisture and encouraged the growth of crops and pastures but caused problems for the harvest of onions and transplanting of tobacco. Fungal diseases also affected watermelons and small grains. Windy conditions throughout the month caused problems for application of pesticides and herbicides and caused lodging of some wheat and oats.
The outlook for May and the May through July period shows enhanced chances for above-normal temperatures. The northern part of the state continues to have a higher chance of above-normal precipitation in May.  Equal chances of above, near or below normal precipitation are present for May through July. Drought is expected to persist in southeastern Georgia in May.
For more information please see the "Climate and Agriculture" blog at https://site.extension.uga.edu/climate/. We are now also on Facebook at SEAgClimate and on Twitter at @SE_AgClimate.  Please feel free to email your weather and climate impacts on agriculture to share on the blog to pknox@uga.edu.