Chilly temperatures enveloped Georgia in January 2018, with most stations reporting between two and four degrees F below normal.  A big change from last year when many locations were about 9-10 degrees above normal! In fact, nearly all of the eastern half of the US was well below normal this year, with very warm conditions in the western US.  Rainfall was variable across the Southeast but most places reported below normal precipitation, which contributed to an increase in drought in some locations.
In Atlanta, the monthly average temperature was 40.4 degrees F (2.9 degrees below normal), in Athens 40.9 degrees (2.6 degrees below normal), Columbus 44.7 (2.5 degrees below normal), Macon 43.4 (2.9 below normal), Savannah 46.7 (2.8 below normal), Brunswick 48.0 (3.5 below normal), Alma 47.2 (3.5 below normal), Augusta 43.2 (2.3 below normal), Albany 46.8 (2.5 below normal), Rome 37.8 (3.3 below normal), and Valdosta 46.5 (3.9 degrees below normal).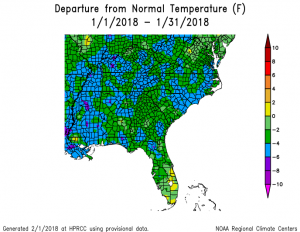 A number of record lows were tied or set in January. Athens reported a daily record minimum temperature of 11 F on January 2, lower than the old record of 12 F set all the way back in 1887. Savannah reported a record low maximum temperature of 30 F on January 3, breaking the old record of 32 F, also set in 1887. Brunswick reported a low of 25 F on January 4 breaking the old record of 26 F set in 2016. On January 2 and 3 they had low maximum temperatures of 37 and 32 F, beating the old records of 42 F set in 2008 and 36 F set in 1979. The NWS noted that the 3rd was only the fourth time ever that Brunswick has been at or below freezing for the entire day.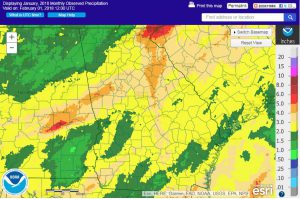 The highest monthly total precipitation from National Weather Service reporting stations was 4.63 inches in Athens (0.58 inches above normal) and the lowest was in Savannah with 1.07 (2.62 inches normal).  Atlanta received 3.26 inches (0.94 inches below normal), Columbus received 1.60 inches (2.25 below normal), Macon 2.14 inches (2.10 below normal), Augusta 2.09 inches (1.82 below normal), Alma 1.55 inches (2.71 below normal), Brunswick 3.47 inches (0.25 above normal), Valdosta 2.07 inches (250 below normal), Rome 1.22 inches (3.60 below normal) and Albany 2.87 inches (1.95 inches below normal).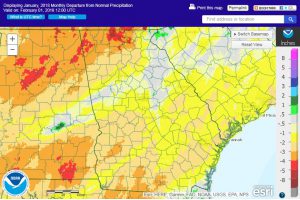 Two separate snow storms dropped frozen precipitation across Georgia in January. Early in the month snow fell along the southern part of Georgia, bringing 3.0 inches to Alma and 1.2 inches to Savannah on January 3. This was Savannah's highest snow since 3.2 inches on December 23, 1989. Valdosta received 0.6 inches. On January 17 a separate storm brought snow to northern parts of the state, with Atlanta receiving 2.4 inches, Athens 1.1 inches, Columbus 2.0 inches and Macon 1.0 inch. Albany also received 0.1 inches in this storm. All of the monthly snow totals were the result of single-day events.
Several daily precipitation records were set in January.  Brunswick reported 2.03 inches of rain on January 28, breaking the old record of 1.27 inches set in 1994.  Alma reported their first snowfall ever on the date of January 3 with 3.0 inches. This was their second-highest snowfall ever, although it did not beat out the old record of 4.4 inches set on February 10, 1973. Savannah's 1.2 inches of snow on the 3rd was also a daily record for the date. Atlanta, Athens, Columbus, and Macon all set daily snowfall records on January 17. For most it was the first time snow had ever fallen on that date other than Atlanta, which received a trace in 2016.
The highest daily rainfall total from CoCoRaHS observers was 4.82 inches near Dillard in Rabun County on January 12, followed by 2.64 inches on St. Simons in Glynn County on January 29. The highest monthly precipitation amount was from the same Dillard observer with 10.22 inches of rain plus melted snow, followed by 5.85 inches from a Rabun Gap observer; both of these are in the mountainous Rabun County in northeast Georgia.
A Newnan observer in Coweta County received an estimated 4.5 inches of snow on January 17, the highest daily snowfall in the state this month.  This was also the highest monthly amount of snow, followed by 4.1 inches measured by an observer in Jesup in Wayne County.
Due to the cold weather, it is not surprising that the only local storm reports this month came from freezing rain, sleet, severe wind chills and other wintry weather. No tornadoes or high wind damage was reported.
Because of below-normal precipitation this month, drought expanded in the state and extreme drought was introduced to a large area of Southwest Georgia, covering 18% of the state as a whole. The dry conditions are expected to continue for the next few months so no significant relief is expected, although most areas will see some beneficial precipitation.
The cold weather and dry conditions delayed the growth of small grains and pastures, and hay quantities were reported as sufficient but depleting quickly due to lack of pasture growth. Livestock conditions were generally good but the cold was causing stress. The USDA reported that cold weather injured onion foliage in many fields and that freezes caused damage to vegetables. The cold weather has provided good numbers of chill hours for fruit trees, however.
The outlook for February and the February-April period shows that warmer than normal conditions have an enhanced risk of occurring again throughout the month, especially in the southern half of the state. Some cold outbreaks are still likely to occur, however. Drier than normal conditions have an increased chance of occurring in southern Georgia for the next three months due to the continuing effects of the current La Nina.
For more information please see the "Climate and Agriculture" blog at http://site.extension.uga.edu/climate/. We are now also on Facebook at SEAgClimate and on Twitter at @SE_AgClimate.  Please feel free to email your weather and climate impacts on agriculture to share on the blog to pknox@uga.edu.