Dry conditions and moderate drought moved into Georgia in November as temperatures were above normal almost everywhere in the state and little rain fell at most stations.
In Atlanta, the monthly average temperature was 56.2 degrees F (2.2 degrees above normal), in Athens 54.8 degrees (1.0 degrees above normal), Columbus 59.4 (2.1 degrees above normal), Macon 56.9 (1.0 above normal), Savannah 60.1 (0.8 above normal), Brunswick 63.0 (1.2 above normal), Alma 60.6 (0.7 above normal), Augusta 55.5 (0.3 above normal), Albany 60.9 (2.2 above normal), Rome 53.3 (2.5 above normal), and Valdosta 60.1 (0.2 degrees above normal).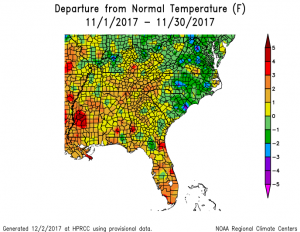 Two high temperature records were broken in November. Athens reported 84 F on November 7, breaking the old record of 80 F set in 2005, 2003, and 1921. Augusta reported 86 F on November 4, surpassing the old record of 85 F set in 1961. A number of other high temperature records at Atlanta, Athens, and Augusta were tied during the first week of the month in the warm conditions.
Everywhere in the state received below-normal rainfall this month. Columbus had the highest monthly total precipitation for National Weather Service stations in November with 1.62 inches (2.48 inches below normal). The lowest precipitation was in Albany with 0.46 inches (2.73 inches below normal).  Atlanta received 1.04 inches (3.06 inches below normal), Athens 1.22 inches (2.60 below normal), Macon 1.09 inches (2.23 below normal), Augusta 1.36 inches (1.46 below normal), Alma 0.76 inches (1.72 below normal), Brunswick 1.22 inches (0.81 below normal), Rome 0.76 inches (4.09 below normal), Valdosta 0.92 inches (1.64 below normal), and Savannah 1.29 inches (1.08 below normal).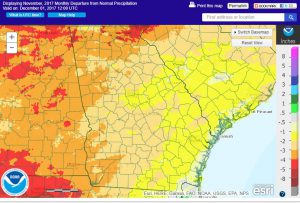 No precipitation records were set in November.
The highest daily rainfall totals from CoCoRaHS observers were 2.24 inches southwest of Kennesaw in Cobb County and 2.00 inches from an observer near Tunnel Hill in Catoosa County in northwest Georgia.  The highest monthly total was 3.84 from the Tunnel Hill observer followed by 3.36 inches at Ringgold also in Catoosa county, and 3.24 inches from the Kennesaw observer.
The state had only two days of severe weather this month. Hail of up to 1.25 inches in size and isolated gusty winds caused damage in northeast Georgia on November 7. Strong winds caused tree damage and power outages in northwest and west central Georgia on November 18.
Due to the dry conditions this month, abnormally dry conditions expanded and by the end of the month almost 14 percent of the state was in moderate D1 drought. Further expansion is expected in December.
The dry conditions were great for farmers trying to finish up their harvest.  The above normal temperatures helped fall grass and small grains to germinate but the dry conditions caused some delays in planting.  Many pastures are very dry and farmers are already feeding hay to their livestock. Frost hit most of the northern half of the state but other areas have not had frost yet, several weeks later than average conditions.
The outlook for December shows an increased chance of colder than normal conditions is likely, particularly in mid-month as a strong cold front is expected to move through the area around December 7. Precipitation has an equal chance of below, near and above normal. For the next three months, the most likely scenario is the typical La Nina pattern of warmer and drier than normal conditions across the Southeast.
For more information please see the "Climate and Agriculture" blog at http://site.extension.uga.edu/climate/  or visit our web page at http://www.gaclimate.org.  We are now also on Facebook at SEAgClimate and on Twitter at @SE_AgClimate. Please feel free to email your weather and climate impacts on agriculture to share on the blog to pknox@uga.edu.