Georgia was well above normal in temperature again in July, following a warm June. This is the second or third warmest June-July period on record for much of the state. Temperatures ranged from almost 2 to 3.5 degrees above the 1981-2010 average.  Rainfall was less than 50% of normal in nearly half the state, causing the southward expansion of drought and an increase in extreme drought in northern Georgia.
In Atlanta, the monthly average temperature was 83.4 degrees F (3.2 degrees above normal), in Athens 84.0 degrees (3.4 degrees above normal), Columbus 84.4 (1.9 degrees above normal), Macon 85.1 (3.3 above normal), Savannah 86.1 (3.5 above normal), Brunswick 85.5 (2.7 above normal), Alma 84.4 (2.4 above normal), Augusta 84.6 (3.0 above normal), Albany 84.9 (2.5 above normal), Rome 82.4 (2.8 above normal), and Valdosta 83.8 (2.4 degrees above normal).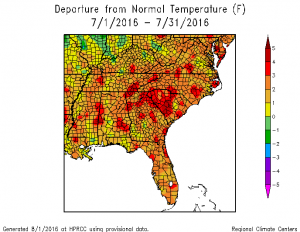 In spite of the warm conditions, only one temperature record was set in July 2016.  Alma reported a new daily high minimum temperature of 77 F on July 8, replacing the old value of 76 F set in 2011.  Several other maximum and high minimum temperatures were tied at stations around the state this month.  Alma and Brunswick also reported their warmest July temperatures on record based on almost 70 years of data.  Many other stations were in their top five warmest.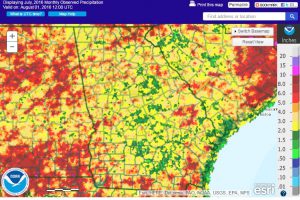 The highest monthly total precipitation from National Weather Service reporting stations was 9.71 inches in Valdosta (3.08 inches above normal) and the lowest was in Columbus at 0.96 inches (3.80 inches below normal).  Atlanta received 3.66 inches (1.61 below normal), Athens received 1.60 inches (2.87 inches below normal), Macon 2.34 inches (2.61 below normal), Savannah 1.21 inches (4.39 below normal), Augusta 1.31 inches (3.02 below normal), Alma 1.63 inches (3.70 below normal), Brunswick 1.29 (2.79 below normal), Albany 2.23 inches (3.23 below normal), and Rome 1.45 inches (2.87 inches below normal).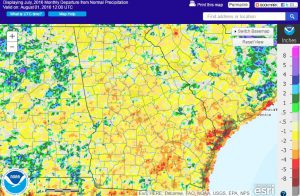 No daily rainfall records were set this month.  Columbus recorded its driest July on record based on 115 years of data.  Savannah was the second driest based on 143 years of record, and Augusta and Brunswick were the third driest on record for each of those stations.
The highest single-day rainfall from CoCoRaHS stations was 3.40 inches measured north east of Savannah in Chatham County on July 18, followed by 3.20 inches south of Savannah on the same date.  Garfield reported 3.08 inches on July 10 in Emanuel County.  The highest monthly rainfall of 9.27 inches was measured east of Midway in Liberty County, followed by 8.31 inches at a second station nearby. Rabun Gap in Rabun County reported 7.94 inches for the month.
Severe weather was observed on eighteen days during the month.  Almost all of the reports were for scattered wind damage.
Because of the hot temperatures and lack of rainfall, drought deepened across the northern half of the state and was introduced into central Georgia south of Macon.  Abnormally dry conditions also expanded southward.  By the end of the month, 65% of the state was in abnormally dry conditions or drought.  Extreme drought expanded across northern Georgia.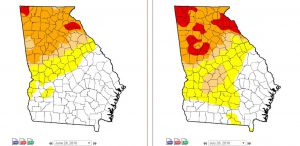 Agriculture continued to be severely impacted by the drought.  Drought limited the size of peaches in northern Georgia.  Livestock producers in northern Georgia were feeding hay because the pastures were doing so poorly, and hay was being imported into the area from Tennessee to meet the demand.  Calves were being weaned early to reduce stress on cows.  Corn in northwest Georgia was being put into silage or fed to cattle because the dry conditions prevented pollination from occurring.  Some wells were reported to be drying up.   In southern Georgia, irrigated cotton was maturing early due to the heat and is expected to be harvested ahead of normal.  Throughout the state, dry land crops were doing poorly except where scattered showers happened to hit, while irrigated crops were taking all the water they could.
Low water levels on Lake Hartwell reduced hydropower generation, and boaters have been warned to watch for submerged objects in the lower water levels.  DeKalb County residents were encouraged to do extra water conservation, according to one newspaper report, but no extra water conservation requirements were put in place.
The outlook for August shows a continuation of above-normal temperatures through the entire month.  The month will start with showers but drier conditions are expected in weeks 3 and 4.  The August through October outlook shows that above normal temperatures are likely to continue.  Drier than normal conditions are slightly more likely than usual to continue in the next three months, leading to likely increases in drought across the state.
For more information please see the "Climate and Agriculture" blog at http://site.extension.uga.edu/climate/  or visit our web page at http://www.gaclimate.org.  Please feel free to email your weather and climate impacts on agriculture to share on the blog to pknox@uga.edu.