Georgia was well above normal in temperature in June, ranging from one to almost four degrees above the 1981-2010 average.  The hottest areas were in the northern part of the state.  Rainfall was less than normal in many areas, causing an expansion of drought over the month and the introduction of extreme drought to two regions in northern Georgia by the end of the month.
In Atlanta, the monthly average temperature was 81.0 degrees F (3.7 degrees above normal), in Athens 80.7 degrees (3.2 degrees above normal), Columbus 81.2 (1.4 degrees above normal), Macon 81.3 (2.4 above normal), Savannah 82.1 (2.2 above normal), Brunswick 81.9 (1.6 above normal), Alma 80.6 (0.9 above normal), Augusta 80.5 (1.9 above normal), Albany 81.9 (1.4 above normal), Rome 79.4 (3.4 above normal), and Valdosta 80.9 (1.5 degrees above normal).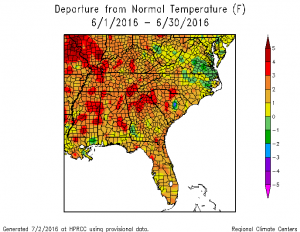 Macon set a new record high temperature of 101 F on June 17, breaking the old record of 100 F set last year.  Brunswick also set record highs of 98 F on June 13 and 17, breaking the old records of 97 F set in 1998 and 1964, respectively.  Alma set record high minimum temperatures on June 13 and 16 with 77 F and 76 F topping the old records of 76 and 74 F set in 2013 and 1976.  Several other high temperature records were tied during the month.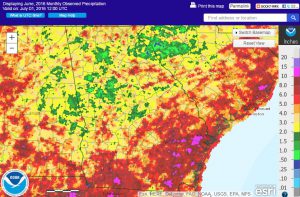 The highest monthly total precipitation from National Weather Service reporting stations was 8.40 inches in Valdosta (2.34 inches above normal) and the lowest was in Macon at 1.87 inches (2.17 inches below normal).  Atlanta received 3.26 inches (0.69 below normal), Athens received 4.09 inches (0.09 inches below normal), Columbus 2.15 inches (1.57 below normal), Savannah 6.96 inches (1.01 above normal), Augusta 2.87 inches (1.85 below normal), Alma 5.20 inches (0.18 below normal), Brunswick 5.69 (0.85 above normal), Albany 4.41 inches (0.53 below normal), and Rome 2.28 inches (1.82 below normal).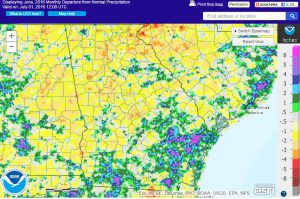 The wettest area of the state was the southeast, where rainfall from Tropical Storm Colin fell on June 6 through 7.  In those areas, that single day of rain made up 30 percent or more of their monthly total.  Conditions were even wetter in Florida where the center of the storm passed.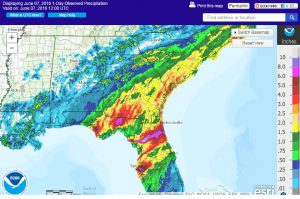 The highest single-day rainfall from CoCoRaHS stations was 5.62 inches measured north of Boston in Thomas County on June 7, followed by 5.27 inches at Thomasville on the same date as TS Colin passed by.  The highest monthly rainfall of 11.23 inches was measured northwest of Savannah in Chatham County, followed by 10.75 inches southwest of Bloomingdale in the same county.  Observers in Thomas County reported almost 10 inches for the month.
Severe weather was observed on sixteen days during the month. The most notable was a brief tornado touchdown identified by videotape in Reed Brigham State Park in Cook County on June 26.  Widespread wind damage also occurred throughout the state on June 17.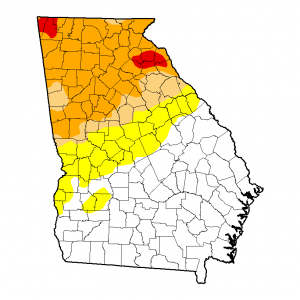 Because of the hot temperatures and lack of rainfall, drought expanded across the northern half of the state.  By the end of the month, nearly half the state was in abnormally dry conditions or drought.  Severe drought increased from 4 to 25 percent of the state, and two small areas of extreme drought were added.  The last time Georgia had any extreme drought was February 2013.
The dry conditions had a lot of impacts on agriculture.  Pastures essentially shut down in northern parts of the state and cattle farmers were feeding hay because the grazing was so poor.  Dryland crops were suffering from the lack of moisture and the hot conditions, particularly corn in higher locations.  Some areas were so dry that late soybeans and other crops could not be planted.  Some farmers reported that they were having trouble producing enough vegetables for local markets.  Urban landscapers reported that lawns were getting "crunchy" and required extra irrigation.  But wine producers noted that the wine grapes this year are almost free of fungal diseases due to the low humidity, and there are less mosquitoes than usual due to the lack of rain.
The outlook for July shows a continuation of above-normal temperatures, starting with a very hot week.  The month will start dry but rain may pick up in the last two weeks.  The July through September outlook shows that above normal temperatures are likely to continue.  The best chances of rain will be near the Gulf of Mexico from tropical activity, which is expected to be more active than usual this season.
For more information please see the "Climate and Agriculture" blog at http://site.extension.uga.edu/climate/  or visit our web page at http://www.gaclimate.org.  Please feel free to email your weather and climate impacts on agriculture to share on the blog to pknox@uga.edu.