In comparison to last month, January 2015 was cooler and drier than normal across most of Georgia.  Several tornadoes hit southern Georgia early in the month and a little snow was seen in the far northwestern region of the state in the second half of the month.
Temperatures at almost all locations were a bit below normal.  In Atlanta, the monthly average temperature was 43.1 degrees F (0.2 degrees below normal), in Athens 41.9 degrees (1.6 degrees below normal), Columbus 45.8 (1.4 degrees below normal), Macon 44.1 (2.2 below normal), Savannah 49.6 (0.1 above normal), Brunswick 52.0 (0.5 above normal), Alma 49.4 (1.3 below normal), Augusta 44.0 (1.4 below normal), Albany 48.0.6 below normal) and Valdosta 51.6 (1.2 above normal).
Brunswick broke their record low maximum temperature on January 8, measuring just 37 degrees F, which beat the old record of 38 F set in 1958.  Columbus tied a record low of 13 F on January 8 (old record from 1970) and Savannah tied their record high minimum temperature of 60 F on January 12 (old record from 1964).  Other stations also experienced their coldest temperatures early in the month, getting down to 10 degrees in some locations.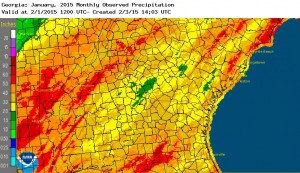 The highest monthly total precipitation from National Weather Service reporting stations was 4.56 inches in Valdosta (0.01 inches below normal) and the lowest was in Augusta at 2.10 inches (1.81 inches below normal).  Atlanta received 4.36 inches (0.16 inches above normal), Athens received 2.98 inches (1.07 below normal), Macon received 2.44 inches (1.80 below normal), Columbus 3.15 inches (0.70 below normal), Savannah 4.12 inches (0.43 above normal), Alma 2.21 inches (2.05 below normal), Brunswick 3.03 inches (0.19 below normal), and Albany 3.30 inches (1.52 below normal).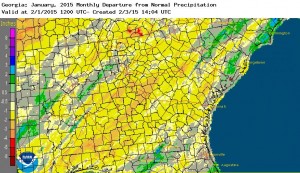 Savannah set a daily precipitation record on January 12, receiving 1.89 inches which beat the old record of 1.81 inches set in 1964.
The highest single-day rainfall from CoCoRaHS stations was 4.21 inches in Woodstock in Cherokee County on January 4, followed by 3.98 inches received near Cedartown in Polk County on the same date. The highest monthly total rainfall was 6.84 inches, observed west of Valdosta in Lowndes County, followed by 6.61 inches by the Cedartown observer listed above.
Snow was observed at a few higher elevations during the month.  A CoCoRaHS station north of Blue Ridge in Fannin County reported 0.3 inches on the 24th.  An observer near Ringgold in Catoosa County reported 0.1 inches on both the 16th and 27th.
Severe weather occurred in Georgia on January 3 and 4 ahead of a strong cold front.  On the 3rd scattered wind damage occurred.  On the 4th several tornadoes were observed, including an EF1 in Tift County which damaged a church, an EF0 in Pulaski County, an EF1 in Dodge County, and an EF1 in Chatham County.  An EF1 in Bacon County east of Alma severely damaged two mobile homes and caused two injuries.
In spite of drier than normal conditions, the cool weather helped retain soil moisture and only a few small patches of abnormally dry conditions were seen in the state by the end of the month.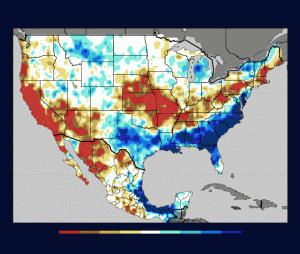 The cold temperatures in early January caused cold burn on some small grains, particularly where they had been fertilized and were growing well.
The outlook for February shows dry and cool conditions may continue into the first half of February, although there is an increased chance of wetter than normal conditions in south Georgia through the end of the month.  Continuing neutral ENSO conditions and high pressure in the western US matched with a trough in the east will continue to bring variable weather to the state for the next few months.  In neutral conditions the chance of a late frost is increased compared to El Nino years.
For more information please see the "Climate and Agriculture" blog at https://site.extension.uga.edu/climate/  or visit our new web site at https://www.gaclimate.org.  Please feel free to email your weather and climate impacts on agriculture to share on the blog to pknox@uga.edu.