Warmer and wetter conditions than normal occurred across most of Georgia in December 2014. The rain eliminated drought across the state, although some patches of abnormally dry conditions were still present at the end of the month.
For the state as a whole, temperatures were well above normal. While final statistics are not yet available, it should end up as one of the warmest Decembers Georgia has experienced since 1984. In Atlanta, the monthly average temperature was 50.0 degrees F (4.7 degrees above normal), in Athens 48.5 degrees (3.1 degrees above normal), Columbus 52.1 (3.0 degrees above normal), Macon 51.0 (3.0 above normal), Savannah 55.8 (4.1 above normal), Brunswick 56.7 (2.6 above normal), Alma 54.5 (1.9 above normal), Augusta 49.8 (2.6 above normal), Albany 54.0 (3.0 above normal) and Valdosta 56.3 (3.2 above normal).
Alma broke their daily high temperature record on December 28 with a new reading of 80 F, surpassing the old record of 79 F from 2008. Savannah tied their record of 80 F on the same date, matching the record from 1982.
The National Weather Service cooperative observer in Washington GA reported that December's average temperature was the 6th warmest in 107 years of record.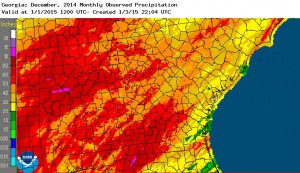 The highest monthly total precipitation from National Weather Service reporting stations was 7.73 inches in Albany (3.98 inches above normal) and the lowest was in Brunswick at 1.32 inches (1.32 inches below normal).  Atlanta received 5.51 inches (1.61 inches above normal), Augusta received 4.21 inches (0.82 above normal), Athens received 4.69 inches (0.96 above normal), Macon received 5.89 inches (1.85 above normal), Columbus 4.62 inches (0.35 above normal), and Valdosta 4.10 inches (0.93 above normal).
Two daily rainfall records were set in December. Macon reported 2.68 inches on December 24, surpassing the old record of 2.04 inches set in 1924. Alma reported 2.54 inches on December 23, beating the old record of 1.35 inches set in 1986.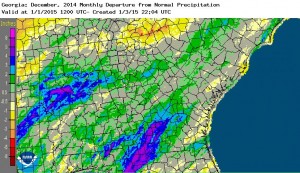 The highest single-day rainfall from CoCoRaHS stations was 6.97 inches east of Thomasville in Thomas County on December 24, followed by another Thomas County observer N of Boston and a Grady County observer near Cairo reporting 5.75 and 5.72 inches, respectively, on the same date. The highest monthly total rainfall was 11.79 inches, observed by the Cairo observer in Grady County, followed by 9.77 inches by the Thomasville observer listed above.
Severe weather occurred in Georgia on four out of 31 days in the month. Tornadoes were observed on December 23 (photos at https://www.srh.noaa.gov/tae/?n=event-20141223-24_photo_gallery) and 29 in Lowndes County, including a strong EF2 storm that injured nine people two miles south of Valdosta on the 29th. An EF1 tornado was also reported in Pierce and Appling Counties on December 24, causing damage to roofs, power lines and trees (https://nws.weather.gov/blog/nwsjacksonville/2014/12/24/pierce-county-georgia-christmas-eve-tornado/). The December 29 Valdosta tornado was caught on a surveillance camera and can be viewed at https://www.youtube.com/watch?v=gAb6LJDGfcE&sns=gp in the top left of the picture.
The wet conditions across the state improved soil moisture in many areas of the state and helped small grains and pastures grow. The moderate drought in southwestern Georgia was removed because of the additional moisture.
The outlook for January shows a slightly increased chance of warmer than normal temperatures for south Georgia and a slightly increased chance of wet conditions in northwest Georgia. However, continued swings in temperature, including the potential for some cold outbreaks, should be expected this month. El Nino-like conditions are still present in the eastern Pacific Ocean but have not reached the threshold for declaration of an official El Nino and not expected to be the major driver of conditions this winter, although the predicted climate for January-March still reflects the likelihood of below normal temperatures and above normal precipitation that are usually associated with an El Nino.
For more information please see the "Climate and Agriculture" blog at https://site.extension.uga.edu/climate/ . Please feel free to email your weather and climate impacts on agriculture to share on the blog to pknox@uga.edu.