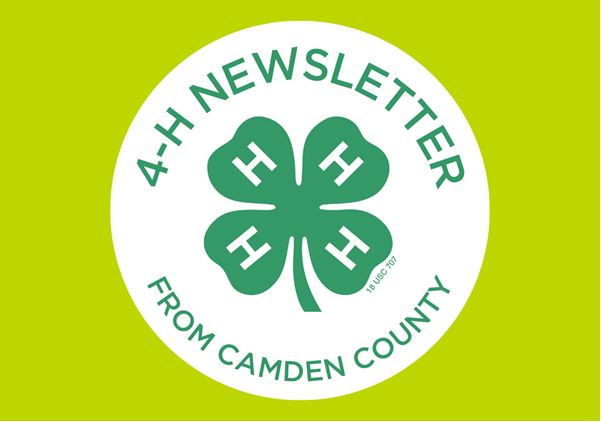 Happy New Year Everyone!
The new year brings new opportunities to plug in to 4-H! Keep reading to find out about summer camps, local programs, and Project Achievement. And as always, please contact us for anything we can help with!

Shawnie Sahadeo, 4-H Agent – ssahadeo@uga.edu
Shawn Clark, 4-H Educator – shawn.clark@uga.edu
Camden County 4-H, 1409 Georgia Avenue, Woodbine GA 31569 | 912-576-3219

Click on the link below to view the 4-H Newsletter.
The Camden Clover – Your Monthly 4-H Newsletter – January 2023
Because our newsletter is fully accessible to everyone, the newsletter is also written out in plain text without all the graphics. An equal opportunity, affirmative action, veteran, disability institution.
4-H Pledge
I pledge my Head to clearer thinking, my Heart to greater loyalty, my Hands to larger service, and my Health to better living, for my club, my community, my country, and my world.
FlowPage
Follow the link below where we list all of our registration links. You can join our Facebook group, e-newsletter, and find the latest on all of our activities here. Website address: Flowpage Web Link
Camp
Register for this camp and more Feb. 1 – March 17 at our office in Woodbine!
CAMP INFORMATION MEETING JANUARY 31, 2023 @ 6 PM
The annual Camden County 4-H summer camp interest meeting will be held on January 31, 6pm at the College of Coastal Georgia Camden Campus. If your 5th-12th grader is interested in attending camp this summer, this is the place to be! We will be going over each camp offered, costs, fundraisers, timelines, and more. Summer Camp registration begins after the meeting, and will continue to accept registration thru March 17.
Project Achievement
Project Achievement is a self-directed, individual competition that helps students develop leadership, creativity, public speaking skills, research skills, and more.
Participants select a project area of interest, research the topic, create a presentation, and present it to others. The project can be almost anything and we encourage youth to choose a topic that they are passionate about.
Your child's 4-H classroom teacher has parent letters and more details if you student is interested in competing, and you can also email us directly.
We will be accepting presentations now thru Jan 27. Winners will be notified by Feb. 2nd and will be invited to participate in our district competition on March 18. We will schedule workshops in February to help them fine tune their work. Transportation will be provided and parents are welcome to attend as well. There is no fee for this program.
4-H News and Things – Special Interest Club Meeting Reminders:
Cooking I: Jan 23 (must have pre-registered for this club)
Cooking II: Jan 18 (must have pre-registered for this club)
SAFE Competition Season begins: Jan 9. (must have pre-registered for this club)
STEM: Jan 19, 5:30-7pm @ our college room location. ALL 4th-6th grade 4-H'ers invited to attend!
JR/SR DPA Timeline:
Final Portfolios due: Jan 10
Presentation Workshops: Jan 18, Jan 25, possibly Jan 28
Competition: Feb. 3-5 @ Rock Eagle.
Sign up for Spring Fishing Club!
This club is for 4th-12th grade 4-H'ers and meets once a month starting in February at different fishing spots around the county (usually on Saturday mornings). Cost is $20, fishing gear and bait provided. For registration information, please email Ms. Shawnie at ssahadeo@uga.edu by Jan 26.
SUMMER CAMP INTEREST MEETING! – JAN 31 @ 6:30PM
Parents, come find out all you need to know about getting your child signed up for 4-H Summer camp! We have opportunities for 5th-12th graders! We will be accepting registration forms accompanied by $100 non-refundable deposits at the end of the meeting. Cash or check only please. Camp registration will be accepted until March 22. We will meet in the auditorium of Coastal Georgia Community College in Kingsland (8001 Lakes Blvd).
Upcoming Events:
JAN 9: DLR clubs, KBYC club, SAFE practices begin
JAN 10: Portfolios due
JAN 11: MHES clubs
JAN 12: SMES clubs
JAN 13: MLC clubs
JAN 17: Cooking 2 meeting
JAN 18: WES clubs & Jr/Sr Presentation workshop
JAN 19: SES clubs & STEM Club meeting
JAN 20: MLG clubs
JAN 23: Cooking 1 meeting
JAN 24: Homeschool clubs
JAN 25: CRES clubs & Jr/Sr Presentation workshop
JAN 26: County Council
JAN 27: last day to sign up for Spring Fishing club
JAN 31: Summer Camp interest presentation/Camp sign ups begin!
FEB 3-5: Jr/Sr DPA competition at Rock Eagle!
Teen Leader Opportunities:
To sign up for teen leader opportunities, you must have completed teen leader training. Email or message Ms. Shawnie through Remind to sin up for these opportunities:
STEM club on Jan. 19
Cooking Club I on Jan. 23
5th Grade 4-H
The competition to see which school can get the most points is heating up! Support your school's 4-H club by participating in Project Achievement! Everyone who turns in a presentation earns 25 points, and everyone who goes to our district competition will get another 25 points! See the article on front for more information, or have your parent/teacher email us!
4-H Points as of January 1, 2023:
KES: 343
DLR: 522
SES: 769
WES: 318
CRES: 408
MLC: 947
MHES: 779
SMES: 825
MLG: 240
Next Month Meeting Dates:
CRES: 2/22
DLR: 2/13
KES: 2/2
MLG: 2/24
MLC: 2/10
MHES: 2/8
SMES: 2/9
SES: 2/23
WES: 2/15
REMEMBER! wear green! can tabs! get points!