Corn
Corn harvest has started in the county, and there are a lot more fields that are physiologically mature (black layer) that is just waiting to dry down. The yield numbers I have heard have been very good so far. I am hearing a lot of irrigated fields doing better than 200 bushels. I am seeing Southern Corn Rust in nearly every field I go in. This is not an issue for older corn, but if you have any late planted corn, it is very important that you stay on a timely fungicide program.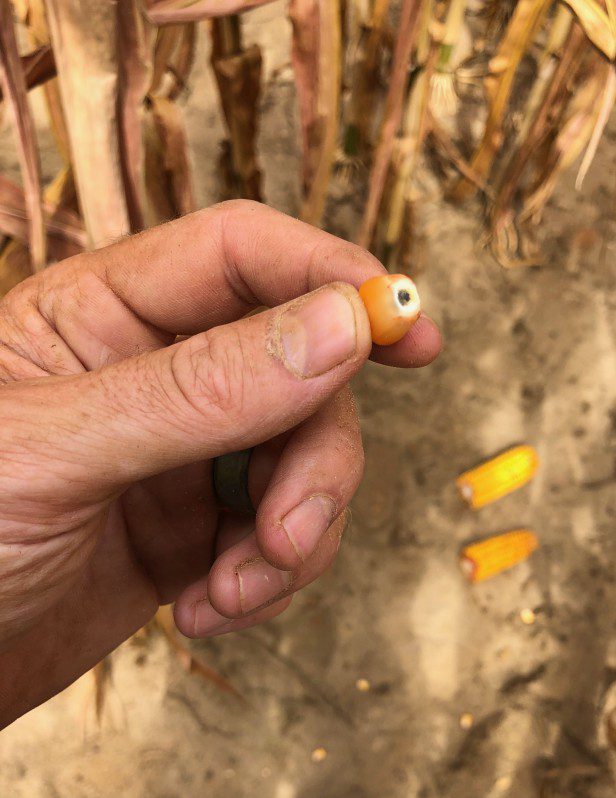 Cotton
After walking cotton fields the last few weeks, a few things are worth mentioning. Stink bug activity has been sporadic from field to field, but we can expect to find large numbers moving over from harvested corn fields in the coming weeks. In a previous post, I spoke about threshold for stink bugs in blooming cotton. Another pest I want to keep an eye out for is corn earworm. I have found some small larvae in cotton on bolls and bloom tags in various fields, but none at threshold levels. I have also found damaged bolls where the larvae has already came and gone. The threshold will be 8 larvae that is 1/4″ or larger per 100 plants. Bt resistance is growing in corn earworm populations, and there are a lot of escapes in 2 gene Bt cotton. Control is still very good in this cotton, but the best control is with our 3 gene Bt cotton. I also have been observing some white flies in fields. The majority of what I am seeing is banded-wing white flies, and not silver leaf. Silver leaf is the one that causes all kinds of issues for us. If you are seeing any in your fields, I would like to come out and identify which type it is.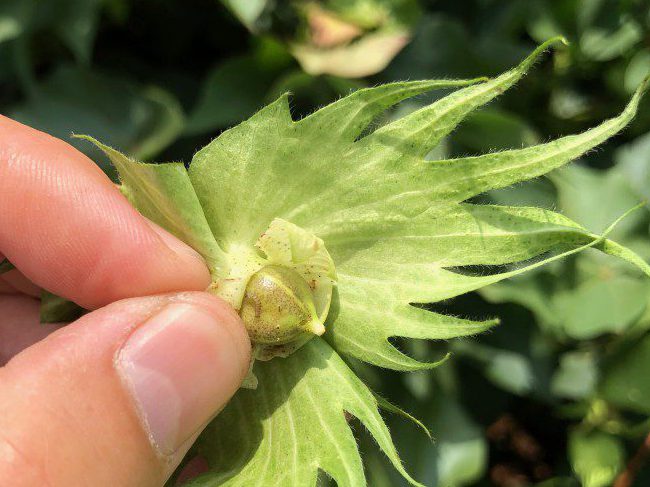 I have also noticed some foliar diseases that have popped up as well. Target spot is showing up in irrigated fields, but I have not heard or seen it at treatable levels yet. A preventative spray at 1st and 3rd week of bloom is the ideal treatment, but not all fields will need it.
Dr. Bob Kemerait: Management of target spot with a fungicide is warranted if, A) the disease is identified within the first six weeks of bloom, B) environmental conditions are favorable for development and spread of target spot, and C) plant growth throughout much of the field is both conducive for disease spread and for good yield potential.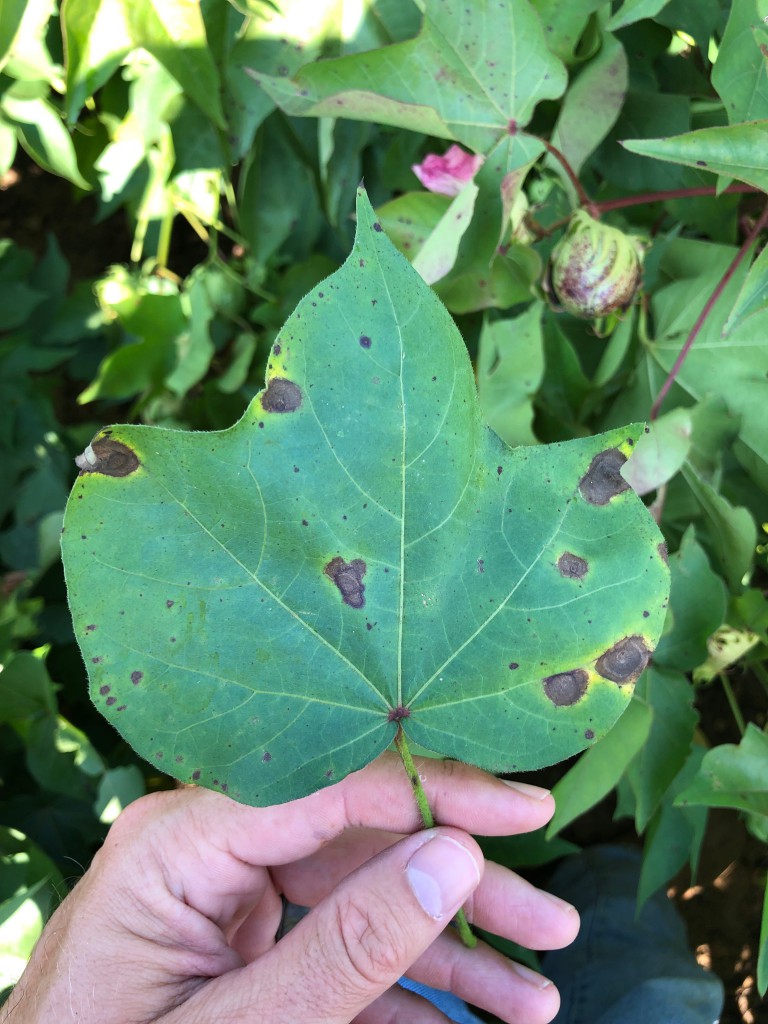 Stemphylium leaf spot is also showing up. This is due to a potassium deficiency in the plant. By the time the symptoms start to show, there is no way to correct the disease.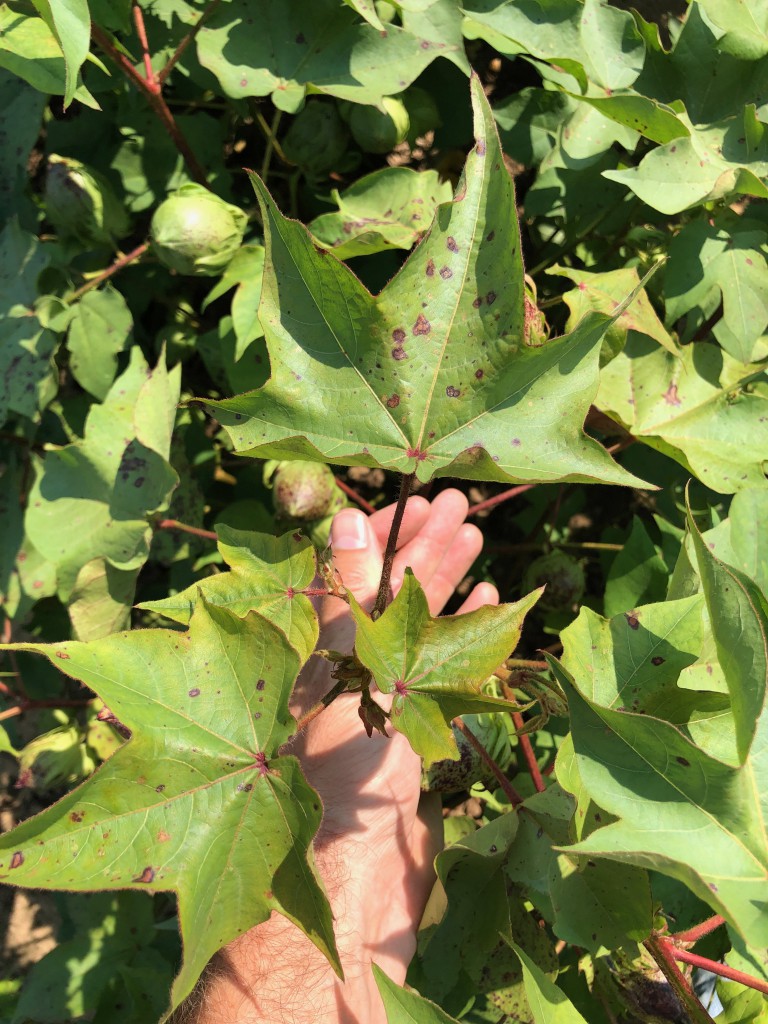 Peanuts
The biggest story in peanuts this month will be insect and disease management. With the hot, dry weather, lesser cornstalk borers continue to be an issue. Dry land fields and dry land corners need to be closely monitored. Their presence is evident in some fields. Be sure you are looking for moths and not only the larvae.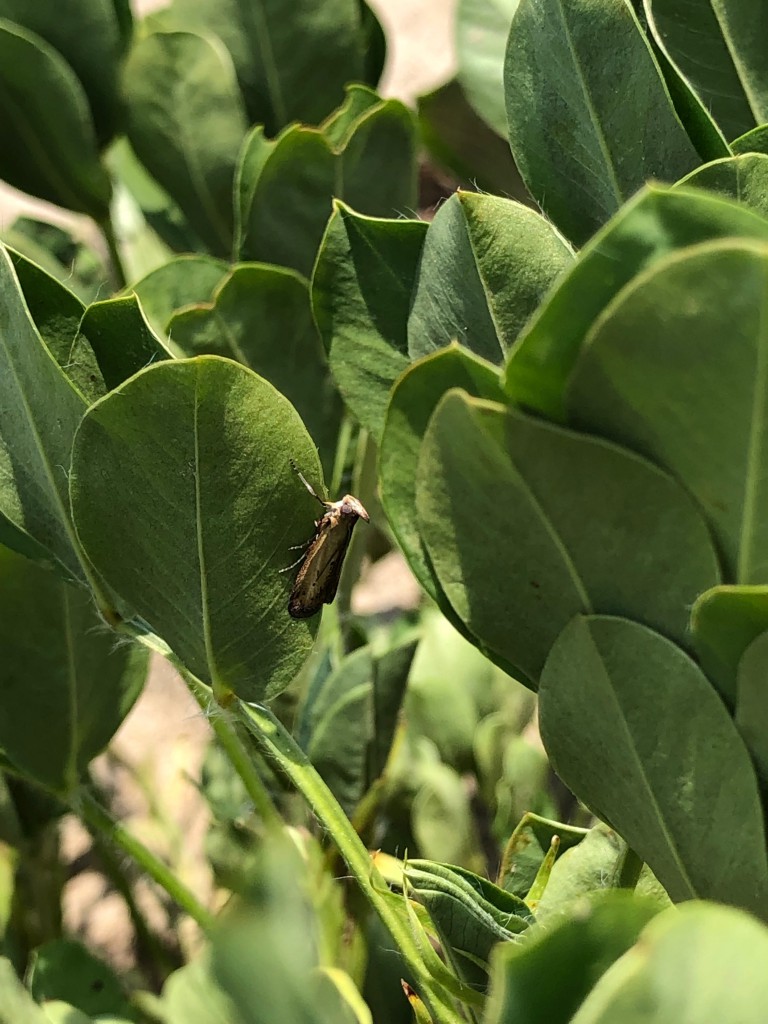 Foliage feeders also will need to be monitored closely.
Extension Peanut Entomologist Dr. Mark Abney:
Velvetbean caterpillars (VBC) have arrived in large numbers in some Georgia peanut fields over the past couple weeks. Peanuts that are 70 to 90 days after planting are likely to be at greatest risk for yield loss from defoliation; the risk is even greater in fields that are drought stressed. VBCs have voracious appetites and can completely defoliate peanuts if left unchecked. This pest has been easy to kill in recent years. A pyrethroid would be my choice for VBC in irrigated fields. I recommend growers choose a caterpillar specific product in non-irrigated fields. The selective, caterpillar specific insecticides will be more expensive up front, but they generally provide better residual activity and result in a much lower risk of secondary pest infestation. This is important with the hot, dry weather we are seeing in many areas, and I expect spider mite infestations will become more plentiful in the coming weeks.
Drought stressed peanut fields need to be checked for lesser cornstalk borer (LCB) infestation. Allowing LCB populations to continue to grow will result in lost yield and significantly increase the risk of Aspergillus flavus.
We need to be checking every peanut field for foliage feeding caterpillars and focusing our LCB scouting in areas with moisture stress. If you were waiting for the opportune moment to scout your peanuts, this is it.