USING PESTICIDES WISELY for Georgia 2022 – Worth County
All applicators driving the tractor/sprayer applying these herbicides (Engenia, Tavium, XtendiMax) must attend UPW during 2022 prior to using these products!
Worth County Extension will offer UPW trainings at 11:00 a.m. on the following dates:
| | |
| --- | --- |
| Wednesday | Friday |
| March 16, 2022 | March 18, 2022 |
| – – – – – – | March 25, 2022 |
| April 6, 2022 | April 8, 2022 |
Please contact the Worth County Extension office at 229-776-8216 for more information or to sign up for a training date.
Individuals that attended and signed in at the Worth County Extension Row Crop Weed Management meeting on February 3, 2022, or one of the approved weed control meetings (listed in the table below) have received credit for Using Pesticides Wisely training and do not need to attend an additional UPW training. If you attended an approved training and signed in, you do not need to attend any of the additional Worth County Extension UPW trainings listed above.
Applicators must also have a pesticide license to apply these products. The information for pesticide applicators license can be found on the Worth County Extension website; the private applicator training program is online and can be taken and completed at an individual's convenience, and then we can assist in submitting the application at Worth County Extension. For more information or questions regarding pesticide applicators license, please contact your local county Extension office.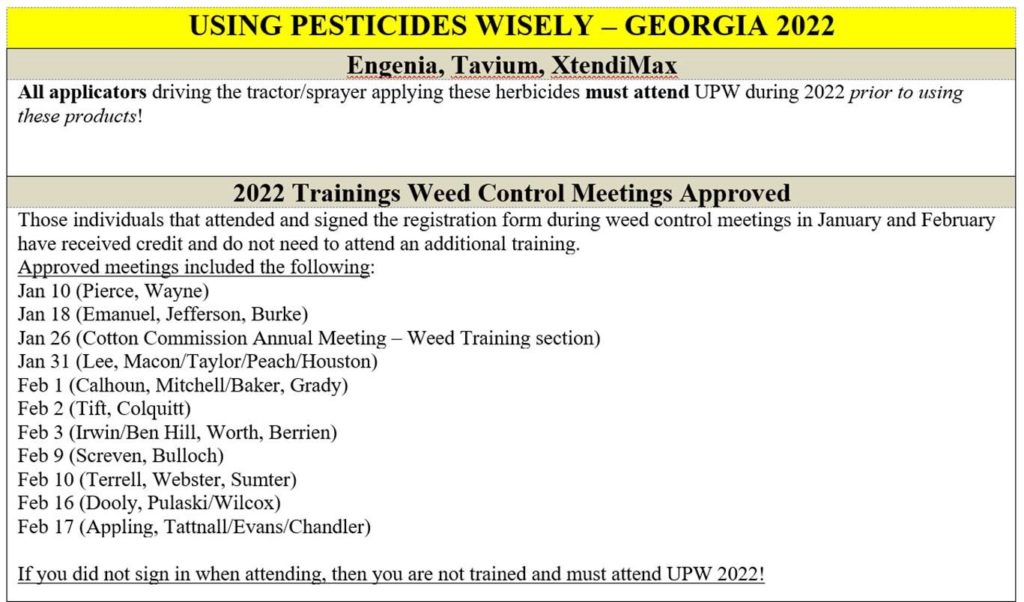 If we can be of assistance to you at Worth County Extension, please let us know.