Southwest Georgia 4-H'ers Learn the Importance of Water Stewardship
 by: Jennifer Grogan, Mitchell County CEC & 4-H Agent  and Debra Cox, Mitchell County 4-H Associate
More than 130 4-H'ers, from throughout Southwest Georgia, participated in the Annual Mitchell County 4-H2O Day Camp held June 21 – 23 where participants learned all about water—the importance of conservation, its significance in agriculture and its environmental impact. 4-H'ers and leaders, from 11 counties, including Brooks, Calhoun, Colquitt, Crisp, Dougherty, Lee, Mitchell, Quitman, Sumter, Terrell and Worth, were in attendance. The three-day camp is a collaborative effort coordinated by Mitchell County Extension/4-H and the University of Georgia's Stripling Irrigation Research Park.
"This year's camp is the ninth year 4-H20 has been held," stated Debra Cox, Mitchell County 4-H Associate.  "It started as a summer activity for Mitchell County 4-H'ers in 2008. Surrounding counties expressed interest in participating, and in 2009, 4-H20 was turned into a district-wide camp."
A minimal registration fee of $25.00 is charged for the three-day camp. Each year, the C. M. Stripling Family provides additional funding, to help make this much needed educational event not only a reality but also affordable for youth in our area to attend. This year the Flint River Soil and Water Conservation District donated funds while Mitchell County Farm Bureau and Dougherty County Farm Bureau sponsored meals for the volunteers teaching the classes the first two days of the camp.
According to Jennifer Grogan, Mitchell County Extension Coordinator & 4-H Agent, "Youth are our future leaders; it is vital that we take time to teach them the importance of agriculture and taking care of water, our precious natural resource. We use our 4-H slogan's "Learn by Doing" approach to reinforce what our 4-H'ers are taught, by their teachers, in school. The hands-on activities practiced, during 4-H2O Day Camp, allow our youth to better understand the impact their actions have on water for future generations."
The first day of camp was spent at the Flint RiverQuarium in Albany where staff member Melissa Martin had a great day planned for participants. 4-H'ers spent the day learning about functionality of rain barrels in the landscape, the importance of water for the human body, and water and soil erosion.  The 4-H'ers also toured the RiverQuarium. Organizations taking part teaching included Dougherty County Extension, Phoebe-Putney Network of Trust, USDA Natural Resources Conservation Service, RiverQuarium, and Keep Albany-Dougherty Beautiful Commission.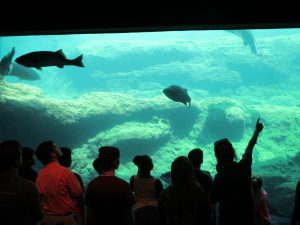 Students at the Flint RiverQuarium in Albany, GA.
The second day of camp was held at C.M. Stripling Irrigation Research Park near Camilla where campers played under the irrigation system, created a water cycle bracelet, and were taught how agriculture and water resources are connected throughout the state.  4-H'ers learned about macro invertebrates, the water cycle, agriculture irrigation systems, the Claiborne Aquifer and careers in water, environment and agriculture. They also became stars on Jeopardy-Conservation Edition!  Representatives teaching classes were from Georgia Soil and Water Conservation, Flint River Soil and Water Conservation District, the University of Georgia College of Agricultural and Environmental Sciences Crop & Soil Sciences department, United States Geological Survey Unit, Golden Triangle RC&D, and Seminole County Extension. Two former 4-H'ers, now in college, also served as teachers for the event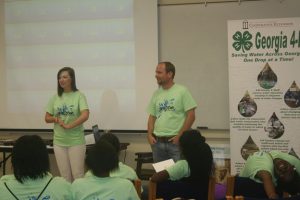 Casey Cox and Luke Crosson presented Jeopardy Conservation Edition at Stripling Irrigation Research Park.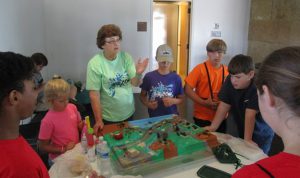 Jeannie Brown talked to the 4-H'ers about the Enviroscape at the Flint RiverQuarium.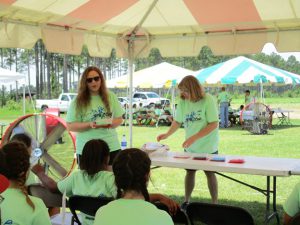 Camilla Summerford, former Seminole County 4-H'er/college student  and Cindy Meadows, Seminole County 4-H Agent spoke on the Water Cycle. 
An international flair was added the second day of camp; Jennifer Grogan gave a presentation on "Water Issues in Ghana" and explained to the campers that water issues are also important globally. Mrs. Grogan serves as mentor and collaborator with AgriCorps fellow, Gena Perry, who is working with 4-H Clubs in Ghana, which is located in West Africa. Ms. Perry participated in the 2015 4-H2O Camp, explaining her role with AgriCorps in Africa. Mrs. Grogan shared pictures of water sources and information about water issues and research being conducted by some of the 4-H'ers in Ghana.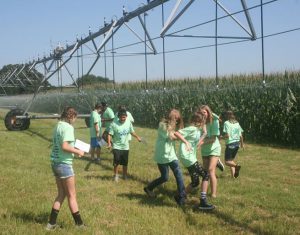 One of the highlights of class at Stripling Irrigation Research Park is for the youth to play under the irrigation system.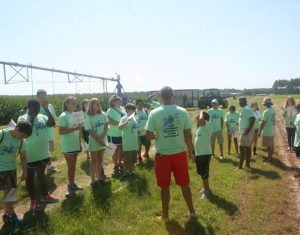 Dr. Wes Porter spoke to the 4-H'ers on ag irrigation systems.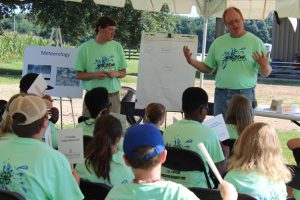 Dillon Blount, former Mitchell County 4-H'er/college student and Dr.  Gary Hawkins talked about careers in Water, Environment and Agriculture.
The third day of camp 4-H'ers traveled to a water park, Water World in Dothan, Alabama, where they celebrated the recreational use of water by having lots of fun playing in cool clean water! While traveling to Dothan and crossing two of Georgia's main rivers, the Flint and the Chattahoochee, leaders discussed water issues such as the Water Wars with Alabama, Florida, and Georgia.
"The camp is all about helping our 4-H members understand the importance of water to our region of the state, why it's important to protect it, conserve it and use it wisely so it will be around for future use," said Calvin Perry, superintendent of the University of Georgia's Stripling Irrigation Research Park. "Time spent working with the youth at 4-H2O Day Camp will help future generations. Who knows, one of the 4-H'ers attending 4-H2O might become our governor, president or county commissioner; if so, we sure want them to be a champion for our organizations, agriculture, and water!"
Plans are already being made for the 2017 Mitchell County 4-H2O Day Camp.  For more information on 4-H20 Day Camp, please call the Mitchell County Extension/4-H Office at 229-336-2066.