By Connie F. Smith-Lindsey, Health Communications Specialist, Division of Communications, Georgia Department of Public Health
The Georgia Department of Public Health's (DPH) Worksite Wellness team, in conjunction with University of Georgia's (UGA) Walk Georgia, is spearheading the 100 Days of Summer challenge to get employees moving more this summer.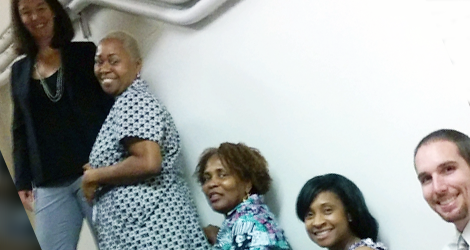 The challenge supports the Surgeon General's Call To Action through the Step It Up! Initiative, which promotes walking and walkable communities for people of all ages and abilities.
"As a statewide event, the 100 Days of Summer challenge is the first of its kind," said Carmen Daniel, interim worksite wellness coordinator for DPH. "We are not just creating a culture of well-being but setting the standard for the entire state."
The Centers for Disease Control and Prevention (CDC) recommends weekly physical activity including at least 150 minutes of moderate, or 75 minutes of vigorous physical activity, and two sessions of resistance training.
Physical activity has numerous benefits, including positive health outcomes and healthy aging. These benefits make physical activity one of the most important actions individuals can take to improve their overall health.
"It is wonderful to work together to promote health in the workplace by truly practicing what we promote" said Maria Bowie, program director, UGA's Walk Georgia. "DPH brings credibility and terrific ideas to the table to challenge and fine tune our platform and processes. By working together, we can continue to improve Georgia residents' access to physical activity on a number of levels."
Tamiko Pickett, program associate, is a wellness ambassador for DPH's Chronic Disease Prevention Section. Pickett's team, The Amazing and Extraordinary Steppers of this Century, participates in activities such as stair climbing, line dancing, desk stretches and dancing at Capitol Hill Fitness Center (CHFC).
"We are very busy with lots of deadlines and assignments," said Pickett. "With our stair climbing group activity, we engage in a fitness activity and talk about work while walking the stairs. This is a win-win for our team."
Golfing enthusiast Todd Wyckoff, emergency preparedness director for the Coastal Health District, is aiming for a double eagle in Brunswick, Georgia.
"I play at least 36 holes a week as well as my workout routine, which includes resistance training and cardio for approximately one and a half hours, three to five times per week," said Wyckoff. "I am very active all year long, riding bikes or working in the yard. It's not just activity, it's how I live every day. I have always been athletic."
As of June 27, 1,300 DPH employees have participated in the challenge. Together, they've accumulated more than 22,000 hours of exercise, logged 134,500 miles and averaged 30 minutes of timed exercise.
"We want every DPH employee to understand that a little goes a long way," said Daniel. "Every movement counts; gardening, house cleaning, walking and boot camp class."
For more information about Walk Georgia and other programs and services available from UGA Extension, please contact your local UGA Extension office at 1-800-ASK-UGA1 or visit walkgeorgia.org or extension.uga.edu.