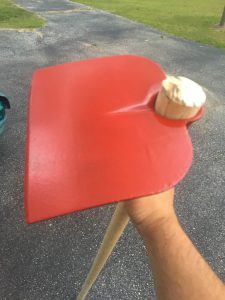 As many old relics are being thrown out the window in this day and age, I wanted to share with you a gift I received from my father 2 weeks ago. My father always uses a scovil hoe, which was given to him by my grandfather before I was born. Daddy finally found one in good condition that he gave to me the other day after painting it and finding a new handle for it.
The Scovil Hoe Company History
The scovil hoe was made by the Scovil Hoe Company that started up around 1840 in Higganum, Ct. It was sold as a self sharpening hoe. This was due to the unique design of 2 metals that were forged to each other in 20 ton presses. One metal was significantly softer than the other. As the soft metal wore away quicker than the harder metal, the edge would still retain a nice sharp cutting angle. The wide blade and angle to the handle make it more appealable than many hoes on the market today (in my opinion). The company made hoes well into the 1900's but I am not sure when the last one was made. according to different features in the design and the great condition it was in, I think this is one of the last ones that was made.
The other picture is of my little girl and her taters. we are going to stack the tires 3 to 4 high as that one plant grows. It is something fun to do with your children if you never have heard of it.